The collapse of West Bengal as a destination for investors has always been subject of discussion in Kolkata's social circuits. But few imagined that the matter would raise a stink in the Calcutta High Court.
Recently, as Chief Justice Manjula Chellur was hearing a case linked to a dubious chit fund, the topic of industrialisation cropped up. Leaving the packed courtroom stunned, Chellur butted in: "Who is going to invest here (West Bengal)? ...I know the chief minister of Telangana talks to investors directly [to sort out deals]." The implication that the state government was not doing enough to attract investment was loud and clear.
Lawyers belonging to the ruling Trinamool Congress association wanted her to say the media had misinterpreted her observation. But she stuck to her statement.
Justice Chellur's observation has given Chief Minister Mamata Banerjee's detractors more ammo. Despite the new-found bonhomie between the BJP and the Trinamool Congress, leaders of the saffron party launched a barrage against the government.
"We know that the government was anti-industrialist. But when the present dispensation came to power after leftists were trounced, people had a lot of expectations," said BJP legislator Shamik Bhattacharya. "Unfortunately, the hope has been shattered."
Though Mamata alone cannot be blamed for the sluggish industrial growth in the state, she has failed to reinvigorate the economy. Industrialisation, in fact, is an area where she toed the line of the Left Front's policy during pre-Buddhadeb Bhattacharjee era. No land acquisition policy, no special economic zone frameworks and no smart business incentives to attract investors.
The land crisis in West Bengal has earned such ill-repute that even the prime minister of Singapore raised the issue with Mamata when she visited the country in August last year.
A businessman, who was with Mamata during the trip, said Prime Minister Lee Hsein Loong asked her, "Why is getting land so problematic in your part of the country?" The trip has not brought any fruitful results so far.
Mamata's recent five-day London trip, however, saw British minister of state for employment Priti Patel showering praise on the cotton sari-clad chief minister strutting around in her rubber sandals.
"For 34 years, Bengal languished under communist rule. The state had tremendous potential―a wealth of natural resources; a creative and highly educated workforce; a hugely strategic geographic location―but that potential remained unfulfilled," said Patel. "...I am delighted to say that things are changing fast. Today, West Bengal is on the move. Under Mamata Banerjee's leadership, the state is enjoying a renaissance and its potential is beginning to be realised."
During the visit, 21 memorandums of understanding were signed, but none of them is linked to industries or mega-investment. Most MoUs are regarding arts, culture, education and health. Notable ones include an academic exchange programme between Cambridge university and Presidency University, and a training agreement between the Royal College of Physicians and the government of West Bengal.
The ongoing eco-tourism project in Kolkata, however, got a boost with an assurance of assistance to upgrade that with micro climate-controlled bio-domes. Incidentally, Patel waxed eloquent about Kolkata, and said the city "can and should become a World Heritage City".
So, is West Bengal really on the move? Nay, chorus industrialists and economists back home. In fact, most of them doubt Mamata's mettle to deal with economic issues.
For instance, the IT park in Kolkata's Salt Lake area, which was set up by Bhattacharjee ten years ago, today looks like a ghost town. Infosys refused to set up shop as its application for an SEZ had been rejected. Other biggies such as Wipro, Capegemini and Tech Mahindra, too, cancelled their expansion plans. Overall, investment in the IT sector has been just about Rs400 crore (not enough to expand even a single unit).
Amit Mitra, minister of finance and industry, did raise tax revenue by a small margin by introducing e-governance and expanding the tax base by including the unorganised sector. But that has not been enough to plug the policy hole.
The massive spending on salaries and services forced Mitra to borrow Rs1,000 crore in four years―against Rs2,000 crore borrowed by the previous governments in 34 years. He, in fact, admitted the state was heading to a "vicious cycle".
The Mamata government has spent huge sums on electrification of streets, setting up parks and introducing AC buses, but that is just not enough, say pundits. "The government needs to do more," says economist A.K. Roychowdhury of Presidency University. "Think of the complete restructuring of the industry policy to save Bengal. Yes, we have more lights on the streets and more air-conditioned taxis and buses, but a large part of the state is in darkness because of lack of investment."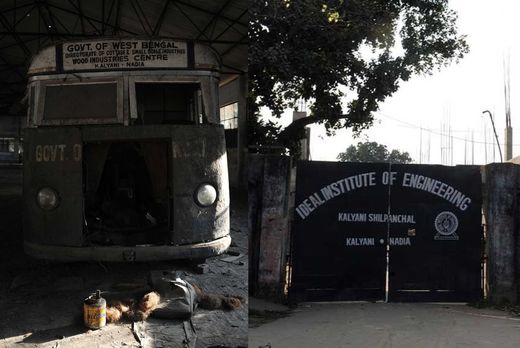 Sources say Mamata herself is realising her folly, especially the no-land-intervention policy. "The chief minister will definitely try to help investors find land in the long run if the investment is big," says a minister close to her. "But she would not allow snatching farm lands."
A.K. Samanta, a professor of economics in Kolkata, sums up the need of the hour: "What the chief minister needs is a good adviser who would guide her on the right path, not just always support her."
The Bong disconnection
* Information technology: No fresh projects. Investment of just 0400 crore for the expansion of some existing companies.
Downslide: Wipro and a few other IT majors decided not to expand their operations. Infosys refused to start operations in West Bengal, saying its application for an SEZ had been rejected.

Manufacturing: Most investments have been made by public sector units in the power and steel sector. The only notable investment is Rs1,000 crore pumped in by Steel Authority of India Limited for upgrading its existing project. No major private investment.

Debt: The Mamata government has borrowed Rs1,000 crore in four years―against Rs2,000 crore borrowed by the previous Left Front governments in 34 years.