It is almost 7am. The training hall of the Pullela Gopichand Badminton Academy in Hyderabad is partially shrouded in darkness. Soon, members of the Indian team troop in. Tall and lanky, with his hair falling over his forehead, Kidambi Srikanth stops at the cafeteria upstairs. He munches on a banana and takes in the breezy weather, enjoying the last few minutes of solitude. There would be no respite for three hours.
And, it begins. All you hear is the sound of racquets meeting shuttlecocks, followed by the odd groan or yelp of joy. Srikanth starts with a doubles session, with elder brother Kidambi Nandagopal as his partner. Then, a singles session, against four players. Chief coach P. Gopichand keeps a close watch on Srikanth and on P.V. Sindhu, the world No 14 in women's singles.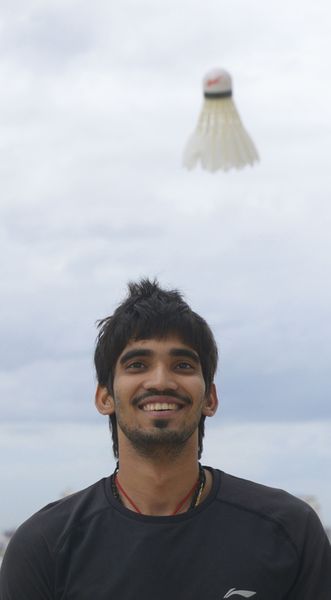 The man from Guntur has come a long way since he picked up the racquet as an eight-year-old. At 22, he is world No 3 in men's singles. A peak that has been scaled only by two other Indian men―Prakash Padukone and Gopichand.
On November 15, 2014, Srikanth won the China Open Super Series Premier by beating Lin Dan, double Olympic gold medallist and five-time world champion. The capacity crowd in Fuzhou, China, was stunned. Until then, only two players had beaten Lin post-London 2012―world No 2 Jan Jorgensen and former world No 4 Sony Dwi Kuncuro.
At his best, Lin is a Roger Federer unleashing poetry at Wimbledon, and, at his worst, a dogged Rafael Nadal unwilling to give up. But, that day Srikanth made him run all over the court, finding smart angles that were difficult for him to retrieve.
"I spoke to Gopi bhaiya before the match," Srikanth said. "I had played Lin twice and lost very badly both times. [Gopichand] told me not to give up and 'to just be in the game all the time'." Srikanth is a bit amused by all the attention: "I saw the match video later and even I am surprised. Some 10-15 strokes which I normally do not use came off!" The China Open was a double delight for Gopichand as another student of his, Saina Nehwal, won the women's singles.
However, Gopichand seems more chuffed about Srikanth's win. Perhaps, because he bested a legend. "In China, Lin is like really big," says Gopichand. "To go out there and believe you can win! I have seen lots of players falter at that final stage [because they are in] awe [of the opponent]. If Srikanth gets his chance, he takes it."
In June 2014, before the Commonwealth Games in Glasgow, Srikanth was world No 29. Then, a bout of brain fever put him in intensive care. Srikanth says that his career could be divided into before that Commonwealth Games, and after. "The hard work I put into [the game and fitness] before the Commonwealth Games was lost. When I returned from hospital, I was a little nervous whether I would make it to Glasgow or not. Gopi bhaiya did not want to push me too hard. I do not think any other coach would have so much patience."
In the week preceding the China Open, he broke into the top ten. Before the China Open win, he had won the 2013 Thailand Open Grand Prix Gold and was the runner-up in the 2014 Indian Open Grand Prix Gold. In 2015, he has won the Swiss Open and the Indian Open, both Super Series.
Gopichand and Srikanth insist that the rankings are mere numbers. "I actually do not even look at rankings," said Gopichand. "They are representative in terms of big tournaments, help get better draws or qualifies you for tournaments. If you are looking for medals, rankings and seedings do not matter. But, broadly, Srikanth has done well for a 22-year-old, which is very young in men's badminton."
But, as the rank goes up, the spotlight gets harsher. "People adapt to your game and take you more seriously," said Gopichand.
In 2011, Srikanth's performance was disappointing during the junior national championships. His childhood coach Sudhakar Reddy and Gopichand were disappointed. Reddy even called him "laid-back". But, Gopichand decided to make him a specialist singles player. "His style was unorthodox, his physicality was there, so were the skills," Gopichand said. "The easier option was doubles, because when under pressure he could deflect it to his partner. Here, he has to take responsibility."
Does Srikanth like this description? "It feels good to be something different from the normal set of players," he said. Gopichand said, "He doesn't listen half the time... He listens to the point of what needs to be done."
The Kidambi brothers are quite close to their parents; father K.V.S. Krishna is a farmer in Guntur and mother Radha a homemaker. Nandagopal aka Nandu has been a constant in Srikanth's career. A senior national doubles player, Nandu was his sparring partner at the NTR municipal stadium, which is opposite their Chandramouli Nagar home in Guntur. As an eight-year-old, Srikanth joined Nandu at the Sports Authority of Andhra Pradesh's hostel in Visakhapatnam. Then, to SAAP's Khammam centre, and, in 2009, to Hyderabad.
"From the beginning we always stay together, share a room," Nandu said. "Our parents did not put any pressure on us. We are more friends than brothers, he does not even call me anna." It was Nandu who found him unconscious in the dorm during the brain fever attack. The brothers do not get much time together. "Only time to talk is after the day's session," said Srikanth. "We go out a few times, other than that I stay in the room. I am not so much into movies."
Compared with the outgoing Nandu, Srikanth is quiet. Then, how does he express himself? "I do get angry when I lose, but I do not like to show it on court. What's the point in breaking a racquet? You lose a match, you also lose a racquet! I guess I have started enjoying my losses too," Srikanth said.
Gopichand's efforts to create depth in the singles department―rather than depending on a single player―are reaping dividends. There is Parupalli Kashyap at world No 10 and H.S. Prannoy at No 12.
Srikanth has earned $1,30,072 in prize money, of which $50,000 came from the China Open. The win also bagged him an equipment and apparel sponsorship with Li Ning, but a big title sponsor continues to be a dream. He is looking towards completing his graduation this year. "When I joined here I was a normal young boy who was studying and enjoyed playing," said Srikanth. "I just enjoy playing badminton now."