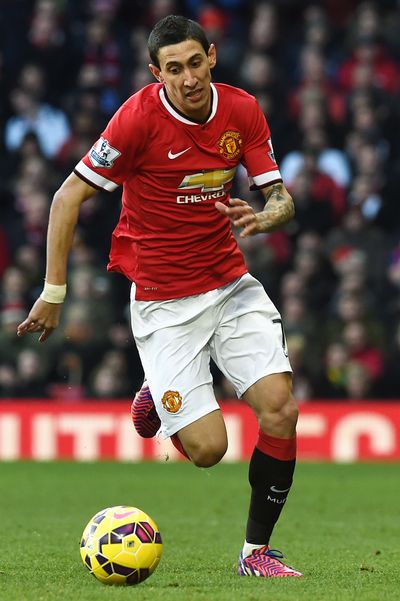 When Angel Di Maria went absent without leave from Manchester United's recent US tour, there was not a single football follower who did not know what he was playing at. The Argentine was forcing his departure from Manchester to Paris Saint-Germain. It is a players' market these days, and the winger was in Doha, Qatar, for a medical examination prior to his transfer to Paris.
The buying and selling of soccer players is one of the oldest legal trades in human beings. Di Maria's move was the 5,220th transfer between European clubs in the summer window, which remains open until the end of August.
Moving for a better offer is becoming his seasonal habit—last year he left Real Madrid to join Man U. When Di Maria is good, he is very, very good. Teams covet his wonderful pace, his balance and his instinct for creating or scoring deadlock-breaking goals. He is as slender as a whippet, but with the nose of a goal ferret.
His excuse for wanting to quit the English league was that his wife could not settle in the grey and cold Manchester after their luxury home was targeted by burglars. Players and their spouses are only human, so we should not mock Mrs Di Maria's phobia, though I have to warn her that Paris is hardly more secure.
Why did Di Maria go to Doha to take his medical? Because, the owner and paymaster of PSG is owned lock, stock and oil barrel by Qatar Investment Authority, a spin-off of the Gulf state's sovereign wealth fund. Making the Paris club a Champions League challenger is one of Qatar's foreign investment challenges. It is why Zlatan Ibrahimovic, Thiago Silva, David Luiz and Di Maria's countryman Javier Pastore already play for PSG.
Money is close to being no object. Just like Abu Dhabi fuelling Manchester City's spending, or Roman Abramovich pouring rubles into Chelsea, Americans investing in Arsenal, Man U and Liverpool, the game of high finance in soccer runs through every truly ambitious team in Europe.
We should stick to Di Maria's move for the moment. He is a world-class talent, or he might be if he stays in one place long enough to prove his worth. On the other hand, why should he? The Di Marias are seeing the world, and not on a shoe string. Madrid one year, Manchester the next, Paris the year after.
Manchester lost heavily on the shortened stop. The English club paid £59.7 million, a British record, to buy him last year, plus a salary of, say, £12 million per annum. So, if the fee paid by PSG is £44.4 million as reported, then United's losses for one year of rapidly diminishing performance will be at least £20 million.
Forgive me a second time for using English currency. We will all need calculators and currency charts to make head or tail of the £44.4 million in terms of rupees (0441 crore by my reckoning). For the convenience of using a single currency, let it be pound sterling, since the bulk of money thrown at football worldwide tends to centre on the English Premier League.
This is the league that dominates global television and, aside from the investment from sheikhs, oligarchs or entrepreneurs, it is largely broadcasting rights that have turned EPL into one of the richest drains on wealth on the planet. When the league was formed in 1992, it was a breakaway of the top 20 teams in England's 92-club football pyramid. Right from the start, the 20 clubs (the number can vary, because England still has promotion and relegation) shared, more or less equally, the spoils of a five-year domestic TV pool of £191 million.
Every time the rights have been renewed, the amount has spiralled. The current deal is for £3 billion over three years, from 2013 to 2016. The next contract has already been agreed. It is £5.13 billion for the years 2016 to 2019. That means each team will get close to £100 million just for being in the EPL. Foreign TV rights are extra. Then there are the sponsorships each team can attract for itself and gate receipts from stadiums.
It is time I stopped writing about money and concentrated on the human factor. Before doing so, you should know that Spain, where Real Madrid and Barcelona negotiated their TV income separately to all the rest, allowed those two giants to bank £98.6 million per year. The lowest club in La Liga raked in just £12.6 million from television revenue. From 2016, by government decree, the Spanish are going to move towards a more equable, English-style share of the TV pot.

In Germany, where Bayern Munich is so wealthy that it regularly plucks the best stars of its closest rivals, there is a fairer league share-out. But Bayern, by far, has the biggest backers.
Away with the finance now. Where is all this leading? To the tops of the domestic leagues and the finals of the Champions League. When you win the big one, as Barcelona did this year, the first thing you do is spend on strengthening your lineup. Barca is actually under a FIFA embargo on recruiting new players, or rather on fielding them.
But, like in the case of all teams, its players grow old and leave. Xavi, who had been the metronome of the team's pass-and-move excellence, left in July to play out his final years in Qatar. He is irreplaceable, though not quite so much as Lionel Messi will one day become. To take the place of Xavi, Barca signed the most technical player of Atletico Madrid, Arda Turan. The Turk, who will be eligible to play for Barca only in January, will sacrifice six months of playing prime for the opportunity to be at the centre of the finest team on earth.
The reason: The righteous FIFA, that pristine band of administrators, was told by somebody that Barcelona recruited from outside the European Union youngsters for its world-renowned academy. We can guess which jealous club made the call to FIFA.
Italy once spent more than anyone else, in the days when industrial barons such Juventus's Agnelli family, who own the FIAT motor empire, or AC Milan's Silvio Berlusconi hired the best Latin Americans and European stars. Juventus is a rejuvenated power, Roma has American investors, and both the Milan teams, AC and Inter, are being backed by foreign entrepreneurs.
Real Madrid, ever since the start of the European Cup (now the Champions League) in the 1950s, has set the pace of world record foreign signings. Di Maria was a lightweight, in financial terms, compared with Cristiano Ronaldo (£80 million) and Gareth Bale (£86 million). Players were once called the richest slaves in the world. But, the way things are, a handful of them can play the transfer market on their own terms.
The EPL will again be a race between Chelsea, the Manchesters and Arsenal this season. In Spain, it will be Real or Barca. Bayern Munich will dominate Germany, and Juve is set to extend its run as the Italian champion.
And France? The Qatari club is buying omnipotence there, and Di Maria is simply the latest cog in the sheikh's wheel.