One, two, three, four, five. At the post-match news conference in Feroz Shah Kotla on December 7, Indian Test captain Virat Kohli was counting, waiting for that one controversial question. When it finally came, he was ready. "I was wondering why it was not being asked," he quipped. The query was, expectedly, about the condition of the pitch. But is was an issue that had died by the time of the fourth Test. "We are international cricketers, we work hard. The match is not pitch dependent. [It's not like] you see the pitch and one team loses. I think we are focusing on what we can do well, and ignoring things that we don't want to focus on."
India had won the inaugural four-match Gandhi-Mandela series 3-0, beating South Africa, the world's best Test side. With the win, India jumped from 4th to 2nd in the International Cricket Council Test rankings. But, more importantly, after a second consecutive Test series win—the previous one coming against Sri Lanka—India seems to have regained the reputation it lost after being thrashed by South Africa, New Zealand, England and Australia in 2013 and 2014.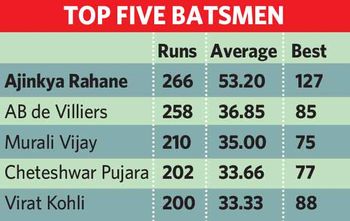 Kohli admitted that the turnaround started in Australia, in 2014, when Mahendra Singh Dhoni decided to retire and he was made captain. "Test cricket has been one format in which we have all wanted to do well," he said. "I would like to give credit to the team for showing character and bouncing back in the last two series. I feel that it all began with the way we played in Australia. The team showed character even in defeat. [But] these were not one-sided defeats. That gave us a lot of belief as a Test team. We can play well around the world."
Kohli is not the only one beaming. The national selectors, too, are satisfied with the team's performance. Calling it decent, one of the selectors said they had no reason to complain.
The man of the series, off-spinner Ravichandran Ashwin, bagged 31 wickets in four Tests. But, the scalps aside, he completely outfoxed and demoralised the Protean batsmen. After the third Test in Nagpur, Ashwin said with a half-smile: "Yes, I think it is mental. If you keep getting out to a particular bowler, you feel like you are going to nick one any time." South African opener Stiaan van Zyl, one such victim, fell to Ashwin in all of his five innings.
It was sweet redemption for Ashwin, who had been dropped for six matches after the Johannesburg Test in 2013. He trained and improved, and is now India's spearhead in subcontinental conditions. His temperament, too, was tested during the fourth Test. With Chennai flooded, he hadn't heard from his family for more than two days. But he proved his mettle with a five-wicket haul in the last innings of the series. The real task, however, would be performing like this in foreign conditions.
Individual brilliance aside, it was the bonding that Kohli infused in the team that shone through. The other spinners—Ravindra Jadeja and Amit Mishra—complemented Ashwin's efforts perfectly. Even the pacers—Ishant Sharma, Varun Aaron and Umesh Yadav—were effective in their cameos. Team director Ravi Shastri was also perfect in his protective role, and took on critics who blasted the team's strategy and the turning pitches.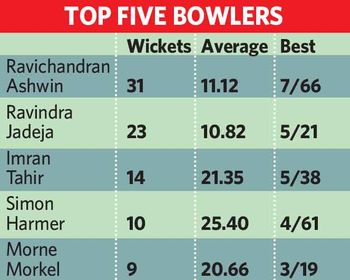 Kohli's tactical nous and cool temperament have been widely appreciated. He said rules had been put in place and each player given some responsibilities, which resulted in better performances. "You have to give your 110 per cent every single day. As long as you are being honest to the work the team requires of you, [results will come]. We were not focusing too much on the opposition or what people were saying. We focused on our skills. There is a strong bond that a team requires."
Kohli seems to be enjoying his stint as captain and exudes confidence. During the fourth Test, for instance, he did not panic when the South African batsmen frustrated the Indian bowlers for more than a day. Kohli persisted with the same bowlers and, eventually, their defences were broken. "I relish making plans with bowlers because, when they come off, that particular feeling is hard to explain," he said. "I like the fact that I am always involved in things. It fits me perfectly."
The only real worry that the selectors and, perhaps even Shastri, have is the lack of application shown by the Indian batsmen in spin-friendly conditions. Players like Cheteshwar Pujara, Murali Vijay and Jadeja have returned to the team on the back of domestic performances on similar pitches. But, there is a feeling that the today's batsmen don't have the patience that their predecessors had. Even Shastri acknowledged this. It was then that Kohli and Ajinkya Rahane showed the way in Kotla. Both, especially Rahane, who scored centuries in both innings, showed how a Test innings should be constructed.
Kohli and Rahane are an interesting pair to watch. It is not the first time they have had solid partnerships and they feed off each other's confidence. "We had a discussion that although we are up in the series, we still need to enjoy and learn from this situation for future games," said Kohli. "I enjoy batting with him. We had some really good partnerships in the past. What I like about him is that his intent is really good and it is backed by solid technique, which is rare. To find that balance early in the career is a commendable effort and he has played some very important knocks for us in the past couple of years. He is probably one of the most important people in our middle order."
As of now, Kohli's India appears to be sorted. They will, however, have more testing conditions ahead.