The pacers—Nagarkoti, Mavi and Porel—were so lethal that the Australian think tank apparently spent more time discussing how to tackle them, rather than the batsmen.

Rahul Dravid's stamp is on the team. And, as had been his mantra during his playing days, he made it all about work ethic and preparation.
Before the final of the International Cricket Council Under-19 World Cup, opener Manjot Kalra's personal coach told him: "Focus on making a big score. Scoring in the 40s will not work." The southpaw took it to heart, scoring an unbeaten 101 en route to victory against Australia at the Bay Oval in Tauranga, New Zealand.
But, Kalra wasn't the only one who stood out. Captain Prithvi Shaw, too, had his moments, most notably the 94 against Australia in the group stage, which helped India notch a 100-run win. In the semifinal in Christchurch, Shubhman Gill, the man of the series with 372 runs, scored a match-winning century against Pakistan. Gill, aggressive in his outlook, followed coach Rahul Dravid's advice in the match. "Dravid sir only tells me one thing—don't hit the ball in the air and play along the ground," he said. Gill's innings, therefore, was circumspect, and had a lot of ones and twos. Others, too, chipped in with crucial performances, and, collectively, the batsman, as is expected from India, delivered throughout the series.
It was the bowling unit that took most people by surprise. The pacers—Kamlesh Nagarkoti, Shivam Mavi and Ishan Porel—were so lethal that the Australian think tank apparently spent more time discussing how to tackle them, rather than the batsmen. Venkatesh Prasad, chairman of the junior selection committee, said: "Even now I can't believe that speed! It is good for the future of Indian cricket. I hope these boys can sustain this pace and maintain their fitness."
Paras Mhambrey, the team's bowling coach, said: "Everything related to their game was monitored at the National Cricket Academy [in Bengaluru]. Where they stood fitness wise, what their comfort areas were, and what the other options they could work on were. We watched videos of the matches they played. The pace was always there, but they started peaking at the right time. The consistency came from bowling a lot in the nets and playing practice matches."
Practice, it seems, made perfect. The Indian team was a well-oiled machine throughout the series, winning all its matches by huge margins. The team executed what it had planned, and looked more polished than its opponents and predecessors. The boys went about their business professionally, without unnecessary aggression, even when there was some chatter from the Aussie lads.
"We had a good camp in Bengaluru before going to New Zealand," said team manager Rajesh Verma. "The team was there two weeks in advance and that helped a lot, too. There was also a session where the young boys interacted with senior players like [Indian captain] Virat Kohli. Also, a boat ride ahead of the quarterfinal against Bangladesh helped the boys relax and bond. [During the tournament] they were told to report back by 10.30pm and they were all very responsible. They knew they were representing India."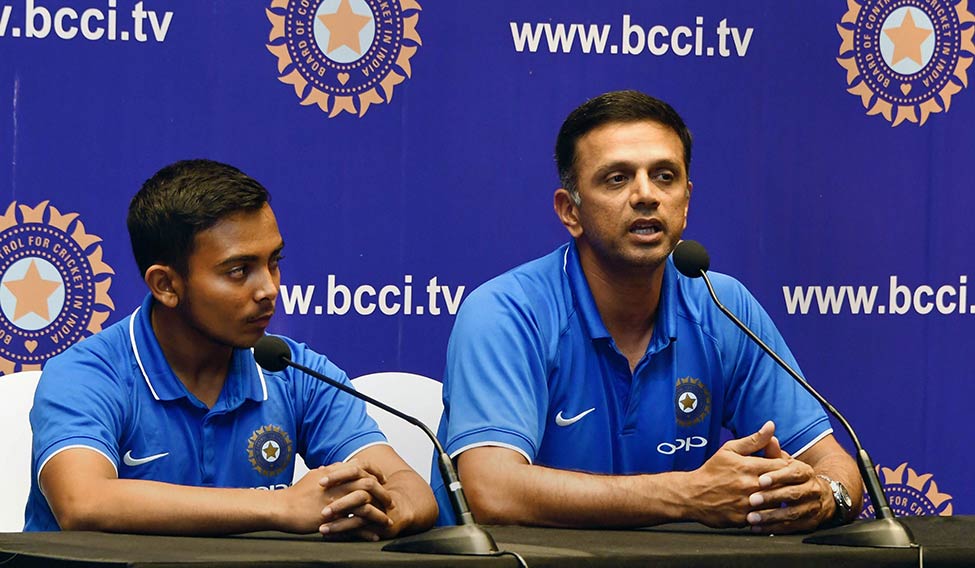 The one time the boys were distracted was three days before the semifinal. It was the Indian Premier League auction. Nagarkoti and Mavi were the hot picks; Kolkata Knight Riders bought them for Rs 3.2 crore and $3 crore respectively. KKR also picked up Gill for Rs 1.8 crore, while Delhi Daredevils snapped up Shaw for Rs 1.20 crore, Kalra for Rs 20 lakh and all-rounder Abhishek Sharma for Rs 55 lakh. Mumbai Indians bought spinner Anukul Roy for Rs 20 lakh. Apparently, Nagarkoti was so tense during the auction that he locked himself in the washroom. After the auction ended, Dravid reportedly told the boys to switch off their phones and focus on the game ahead. "That week, during the auction, was a bit stressful," said Dravid. "I was a bit worried. But, all credit to them. Once they were done with it, they came back for practice switched on."
Said Verma: "Rahul did a fantastic job. He spoke to the players and explained that a few of them may be getting mega bucks in the auction, but there was a senior India player like Ishant Sharma who went unsold. He has seen the IPL closely as player, mentor and coach, and he told the boys all that goes with it."
After the tournament, Dravid and his coaching support staff, including fielding coach Abhay Sharma and bowling coach Mhambrey, had a series of one-on-one chats as well as a group interaction with the players. "We told the boys to be humble, especially around players who didn't get an [IPL] contract. We didn't show much excitement, nor did we encourage them to show it. We gave them examples of what media hype and attention could do to players," Sharma told THE WEEK.
After the tournament, Prasad, too, cautioned them. "It is important to be grounded and humble," he said. "The key to future success will be to focus on learning and improving."
Dravid, Prasad's close mate, said after returning to India: "The satisfaction is about the process that has been put in place to nurture these players."
The coaching staff's efforts have ensured that a foundation has been laid. Dravid's stamp is on the team. And, as had been his mantra during his playing days, he made it all about work ethic and preparation. Ajay Ratra, former Indian wicketkeeper and current coach of the Punjab Ranji team, said Dravid's effect could be seen on Gill, who played first-class cricket this season. "He has definitely become more systematic in his work ethic," said Ratra. "He understands that he needs to concentrate on the process."
Shaw echoed Dravid's philosophy when he said, "We worked really hard in the past year. We managed to execute our plans really well. Winning the cup comes down to all these things coming together."
Indeed, success did not come overnight; the boys' journey began more than a year ago. About 50 teens were identified, and each player's progress was tracked. Said Prasad: "I came on board as chairman when Rahul became coach. We have played and hung out together, so the communication between us was open and fair. Both of us had agreements and differences, but we acknowledged each other's ideas."
The coaches and selectors said they didn't have one specific plan. "We were looking at two-dimensional players, for example a bowler who could field or a batsman who could field," said Prasad. "Nagarkoti and Mavi were really good at bowling and fielding. After the skill set, we looked for attitude and learning ability."
And, in Ishan Porel, they found the never-say-die attitude. The medium pacer got injured in the first match against Australia, but was adamant about making a comeback. And, eventually, he did, picking up two wickets in the final. "He was sitting in the dressing room, head in his hands, tears in his eyes," said Mhambrey. "Playing here meant a lot to him. All credit to our physio and trainer who worked very hard on him. Perhaps, if we hadn't seen how hungry he was to play, we could have even asked for a replacement."
Team set, it was time for the process. In an important move, the Board of Control of Cricket in India accepted Prasad's and Dravid's suggestion that domestic Under-19 matches be played with a white ball and in coloured clothing, which was not the norm. This helped the boys get a feel of playing in major international events. A few of them, including Shaw, Gill and Nagarkoti, also played first-class cricket.
Interestingly, the coaches had worked on the players' skills before going to New Zealand. "When we reached New Zealand, we worked more on the mental aspect," said fielding coach Abhay Sharma. "The idea was to make them peak at the right time." Once during practice, he said, he bruised his elbow while fielding, but did not call for a physiotherapist. "The boys got the point," he said. "They understood that I was doing it as I wanted to see more effort from them."
After they won the World Cup, Dravid and company told the boys about the opportunities and pitfalls ahead. The expectations and pressure will increase, they were told. Most importantly, they were told that their entry into the senior team would not be direct or easy. Their journey, in fact, had just started.