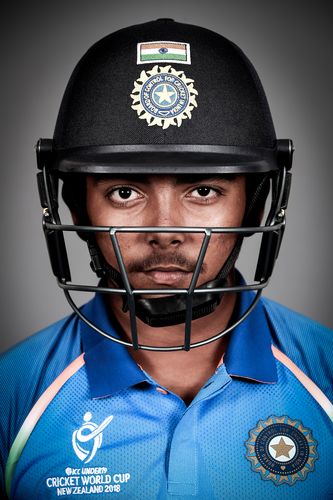 Do you feel grown up after playing first-class cricket?
Wherever I play, be it in the Duleep Trophy or the Ranji Trophy, each of my teammates is senior to me. For them, I am still a child. That is why they call me chotu, and not because I don't have maturity. If that was the case, I wouldn't have gotten a chance.
You have scored heavily in the Ranji Trophy. Has your confidence improved?
When you score runs at a high level, [especially when] you represent Mumbai and score a hundred, the confidence is altogether different. You focus better in the next game after scoring a first-class hundred.
What did you tell yourself when you were selected for first-class cricket?
When I got the call for the Ranji Trophy, there was no such plan in my mind. I had just returned from the Under 19 Asia Cup. I had not thought that I would get a chance [to play] directly in the semifinals [of the Ranji Trophy], and I thank the selectors and coaches for the support. I was coming from the Under 19 level to a big stage, where a lot of India [national team] players play. [It is only after] you play a match or two that you understand what it takes.
Whom do you discuss your cricket with?
With Dad. I speak to him daily, about both cricket and personal stuff. When I am away from home, I speak to him mostly about cricket—how the weather is, how the wicket is, how I got out etc.
Who has been your main mentor?
My dad has contributed the most to my growth. I have had so many coaches that I cannot single out anyone.
When did you realise you had something extra?
I haven't seen myself as any different [from others], but I felt I could do well in life. When I used to practise in Virar, Dad used to think that I could go far. When I realised that there is a lot of hard work involved, beyond just scoring runs, I worked on those other aspects and realised that, yes, I could do it.
Where does this hunger for runs come from?
In Mumbai [cricket], if a player scores a 100, he scores a big one. Mumbai players have garnered this reputation, and I have that khadoospana [stubbornness] in me. [I also want] to convert 100s into 150s and so on.
How do you compare your game at the Under 19 and first-class levels?
There is quite a big difference. When you play state and international matches [India A], you get good bowlers. At the Under 19 level, you get only one good bowler. In the Ranji Trophy, there are so many good bowlers, [and] they have planned their bowling.
Have you been sledged?
All these things happen, but I don't give them too much thought.
What is the best compliment you have gotten?
(Thinks hard) My grandmother watched my Ranji Trophy debut on television. She saw it only because I was playing. When I came home, she was so happy, and she said I was playing well. [She told me that] she was praying for me.
What do seniors like Rahul Dravid and Sachin Tendulkar tell you?
They don't talk much about my technique, but more about the mental aspect. They advise me to never change my natural game.