As he slogged it out at Eden Gardens in Kolkata, Amir was a picture of intense focus. He is the most protected player in the team.
Mohammad Amir was 17 when he first bowled against India, at the ICC Champions Trophy match at Centurion in South Africa on September 26, 2009. The left-arm seaming sensation from Pakistan, his long lock of hair bouncing across his forehead as he ran up to the wicket, dismissed Sachin Tendulkar cheaply that day. People sat up and took notice.
A year later, however, Amir's career was in ruins, following charges of spot-fixing. He was exposed for bowling deliberate, pre-planned no-balls during a Test match at Lord's in 2010. The following year, he was banned from playing all forms of cricket for five years and was sentenced to six months in prison in London after he pleaded guilty to the charges.
He said he was entrapped by captain Salman Butt and team manager Mazhar Majeed, who asked him to bowl no-balls. Pakistan Cricket Board allowed Amir to return to domestic cricket in September 2015, eight months before his ban was to end. Early this year, he was picked for the Pakistan side touring New Zealand.
After a seven-year gap, Amir bowled against India at the Asia Cup match at Mirpur in Dhaka on February 27. This time round, the hair was shorter, the 6ft 2in frame a bit broader, and the looks, a lot wiser. He pitched a good-length ball around opener Rohit Sharma's off stump, beating the batsman fair and square. Sharma was adjudged leg before wicket.
It was just the second ball of Amir's first over. More was to come. He soon dispatched Ajinkya Rahane and Suresh Raina back to the dressing room and, 15 balls later, set up a pulsating bat-and-ball contest between Virat Kohli and him. Kohli prevailed, but Amir had proved that he was back into the swing of things.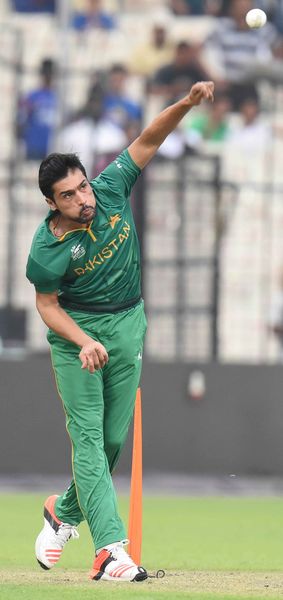 Twelve days later, Amir landed in India for the ICC World Twenty20. As Pakistan gets ready to battle it out in the tournament, the air is buzzing with anticipation of more such lip-smacking contests between the Pak pace spearhead and India's batting mainstays.
Mind games are already on. Sharma has dismissed the hype around Amir, saying he still had a long way to match the likes of Wasim Akram. Pakistan skipper Shahid Afridi, however, has been vocal in his belief in Amir's match-winning abilities. "For me, Amir is the best," said Afridi. "The way he has been performing, and how he has performed in the past, his name is there among the top international bowlers."
AS HE SLOGGED it out in the nets at Eden Gardens in Kolkata, Amir was a picture of intense focus. He is, understandably, the most protected player in the team. Asked how he approaches his game now, Amir's reply was simple. "Approach is the same as always," he told THE WEEK. "I have to bowl with a new ball and get breakthroughs. True, cricket has changed a lot in the past five years. But, as a professional, you have to handle all situations."
His response may be simple, but his five-year comeback from ignominy has been anything but. To purge himself of the blot and to return to the game that had earned him accolades at an early age, Amir had to go back to where it all started. He went back to his school in Rawalpindi—to his mentor and coach Asif Bajwa, who discovered him, at age 11, at a tape-ball tournament in Pindi. It was Bajwa who played the biggest role in Amir's resurrection. "I was very happy and satisfied with his performance in Asia Cup," Bajwa said over the phone from Rawalpindi. "He played a very positive role. In India, the conditions will be very different from those in Dhaka. He will have to contain the batsmen, apart from getting initial breakthroughs."
Amir hails from a humble background. He was born in Changa Bangial village in Gujjar Khan, 70km outside Rawalpindi, as the sixth of seven siblings. Bajwa, who runs a school, hostel and cricket academy in the city, took him in. Education and training were free.
Four years after he joined the academy, Amir was picked for the Pak under-19 team. A year later, he was fast-tracked into the Pakistani national team. He came into the spotlight with his performance in the 2009 ICC World Twenty20 in England, which Pakistan won.
"It was a very worrisome matter for us," said Bajwa of Amir's ban. "We had to make sure he remained involved with cricket during the five-year period. We planned it out, kept him away from the public eye and ensured his training was stringent, so that when the call did come, he would be fit and ready."
Those were tough times, even for the coach. Amir went through difficult phases and struggled to keep himself motivated. During that period, he was even reported to have signed a Pakistani movie, called Blind Love. For his part, Bajwa had never dreamt that one of his wards would fall prey to spot-fixing. Amir's case was a lesson for him, too. "I was worried about how he would react to the public's response when he made his comeback in domestic, grade-two cricket," said Bajwa. "I told him not to get involved with anyone, even if there was provocation on field."
Amir said he did not feel pressure on his comeback to domestic cricket and credited his mentor for his successful return. "I was small when I went to his academy," he told THE WEEK. "I grew up there, played there, got educated there. He is my godfather. He helped me a lot when I started playing cricket. He guided me and kept me mentally strong."
HIS COMEBACK TO international cricket was not smooth. There was resistance from within the team, as seniors like Mohammed Hafeez and Azhar Ali refused to join the team in protest. It took a lot of persuading from PCB to make them agree. Coach Waqar Younis, too, played a huge role in his assimilation into the team. "He is such a legend and if such a big player backs you, your confidence does get a boost," said Amir. "The backing he has given me has helped me a lot."
Amir said the support his family gave him through his difficult times was "massive". Even as he maintained his focus on cricket, he found time to settle down in personal life. He married Nargis, a British national of Pakistani origin, in 2014.
Amir is fortunate—no other player found guilty of spot-fixing has ever got a chance to redeem himself. He has been rehabilitated and brought back into mainstream cricket. "He is older and more mature," said Bajwa. "He can now judge between good and bad."
Now, it remains to be seen how far Amir can go as a pacer, and whether he can fill the shoes of his legendary predecessors.