The Premier League clubs share more than £8 billion of television income over the next three seasons.
Last time Liverpool played Manchester United, it was claimed that 600 to 700 million watched on television around the world. The next time they meet, on October 17, live television will favour the west. Kick-off at Liverpool's Anfield Stadium is 8pm British Summer Time, which is between mid-day and mid-afternoon across the US, but after midnight India Standard Time. Further east, and even deeper into the night, there will be insomniacs willing to stay up and pay up in hotspots like Singapore.
Liverpool FC and Manchester United are both nowadays owned by Americans. And there, the giant television corporation NBC has committed $1 billion to grow its English soccer subscriber base over six years.
This is all part of the globalisation of football.
Manchester City FC's English ground is now known as the Etihad Stadium, but the club owns or holds significant holdings in Melbourne City FC (Australia), Yokohama F. Marinos (Japan) and New York City FC. It has financial deals with Japan's Nissan motor company and the New York Yankees baseball franchise, and incoming investment of $400 million from China Media Capital.
A single club, mushrooming into a world entity, creates multinational promotion for Abu Dhabi, which has poured in unprecedented amounts of petrodollars from its ruling royal family.
Man Utd, meanwhile, was purchased with heavy borrowings by the American Glazer family and is registered on the New York Stock Exchange. Barcelona sold its famous blue-and-burgundy shirt to Qatar Airways, and recently opened a commercial office in New York. Real Madrid markets itself wherever there is wealth. And, Liverpool, trying something new with its sponsor Standard Chartered bank, pioneers a virtual reality "fan experience", starting at the end of this month when fans in Singapore can listen through headphones to manager Jürgen Klopp giving his team talk in the Anfield dressing room 11,000km away. There is night and day between Singapore and Liverpool, but the "experience" will play out in real time.
What Liverpool, and the rest, are selling is deep-rooted history broadcast through a digital age. Sixteen of the current 20 Premier League clubs are either owned by or heavily dependent on foreign investors. They have investors from America, Abu Dhabi, the Bahamas, China, England, Egypt, Iran, Italy, Russia, Switzerland, Thailand and Uzbekistan.
Then, they share more than £8 billion of television income over the next three seasons—£5 billion from domestic television rights and £3 billion from global broadcasters. And sponsorship deals, again running into toe-curling deals worth upwards of hundreds of millions of pounds, dollars or euros.
It can make so-called "gate-money", the proceeds of audiences actually inside the stadiums, almost into petty cash. Yet, from the time games between Liverpool and Manchester United began, in 1892, this has grown into arguably the most intense and passionate rivalries in the game.
For the record, United has won 67 times to Liverpool's 55, with 44 tied. A quarter of a century ago Liverpool was in the ascendency, with 18 English league titles and five European Cups. The essence of their power was simple: Anfield was a fortress. How well I remember listening to Bill Shankly, the team manager who built up the era of dominance with the rhetoric of an American preacher-man. "I don't know if you ever saw Anfield when I first came here," Shankly once said. "It was the biggest toilet in Liverpool!"
He waited for the words to register, then in his rasping Scottish tone he went on: "My idea was to build Liverpool into a bastion of invincibility. Napoleon had that idea, and he conquered the bloody world. And that's what I wanted, for Liverpool to be untouchable."
If only Shankly could see it now. If only Bob Paisley, his quietly dependent, yet ultimately even more successful successor in the 1970s, could share what we see now.
Anfield proved an Englishman's home really is his castle. Between January 1978 and January 1981, the Reds were unbeaten at home for 85 matches. Then, after the formation of the Premier League, Liverpool fell behind. Manchester United overtook its record of league championships, going on to 20. Arsenal, then Chelsea and then Manchester City went beyond Liverpool's means and playing power.
Liverpool used to be the Best of British. Nowadays, every Premier League club recruits from all over the world. Next Monday at Anfield, the line-ups will show how much the "English" game has changed.
Liverpool will probably field at least seven foreign players, and at most four Englishmen. United could put eleven overseas players onto the pitch, though again the balance could feature three English stars.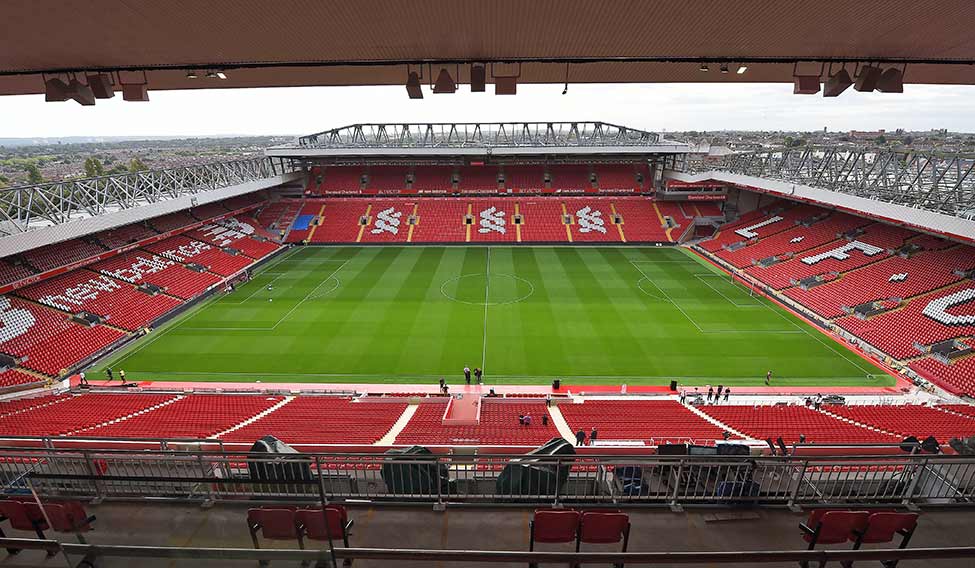 The nationalities involved cost hundreds of millions in transfer fees, and span players from most of the world's finest football powers. Watch out for the elegant Philippe Coutinho, the industrious Roberto Firmino and the speedy Sadio Mané in Liverpool's attack—two Brazilians and a Senegalese.
Keep your eyes on Paul Pogba, the French giant in United's midfield, for Zlatan Ibrahimovi´c, the veteran Swede, in attack and, if selected, for the emerging young English striking talent Marcus Rashford.
Observe, too, the antics on the touchlines. Klopp, the "new Shankly" bringing unbridled enthusiasm, is making himself almost a 12th man to the Liverpool side, as he used to do with Borussia Dortmund in Germany.
Klopp is an exponent of the extreme "pressing" style. His teams hound the opponents. They hunt the ball, they run faster, higher, stronger than the opponents. They seek to harass the other side until they grow weary, and then strike.
Against that, José Mourinho, the brooding Portuguese once of Chelsea, Porto, Inter Milan and Real Madrid, will have a plan. Usually it is based on concentration, on defence, on waiting to strike in an unguarded moment. To play for a draw, but take victory as and where his team can get it.
But United has won, perhaps stolen, a victory in three of its last four visits to Anfield. This has been because a)Liverpool was not what it once was and b) the bond between the crowd and the home team was less powerful.
They used to say that "Scousers" (the term for a Liverpudlian) "learn to read between the lines before they learn to read."
In the Anfield context, that could mean that whatever promises they were told, or whatever they wanted to believe, they need to see the evidence of progress before they open their emotions to hope. In another era, the Scouse wit was writ large, to the point of arrogance.
Heading to the stadium one day, I saw a sign outside a church that read: "What will you do when Christ comes to lead us again?"
"Move St. John to inside forward," some cheeky fan scrawled across the sign, a reference to Liverpool's then famous winger, Ian St. John.
Those were the days when 60,000 could get into Anfield on match days. In recent years, with the reduced capacity nearer to 44,500, there were long waiting lists for seats, and endless promises of either expanding Anfield or moving to a new site.
The second option was like tearing the heart out of a patient. Liverpool has played at Anfield for 124 years. If it was a "toilet", it was their toilet.
Competition, febrile at times, goes back to the industrial revolution, when Liverpool, a port city, blamed Mancunians for snatching trade and commerce that they believed was their right. Sport mirrors life. United grew into England's biggest club, able to generate greater income than any other, and to develop its Old Trafford stadium to 75,653 capacity that dwarfs most in their league.
Liverpool's present owners, the Boston sports investment company Fenway Sports Group, bought the club in October 2010. From the start the expectation was that Fenway would redevelop Anfield.
This autumn, Fenway provided a loan of £114 million for work on the main stand and the local Liverpool council and a property developer combined to redevelop the surrounding area with new housing. The approaches to Anfield used to take fans through cramped streets of red brick Victorian housing, with dark narrow alleyways almost into walls of the main stand. Now there is a wide, tree-lined concourse, with the statue of Shankly, and the Paisley Gates offering a much freer, safer, modern environment.
The Americans do buy into the essence of a club and its people. However, when the owners proposed to double the price of some tickets to £77 per game, some 10,000 fans staged a mass walkout in the 77th minute of a game last February, waving black flags.
The owners dropped the price increase. They will make much more revenue from television and perhaps eventually naming rights to the new stand. And from 64 corporate boxes. Usually these 10-seat VIP boxes, offering five-course meals, hostess service and satellite television, cost £4,200 per game. On Monday, because Manchester United is in town, the price is £7,245.
Arsenal has 146 such executive boxes. Manchester United has 150 private boxes and 20 suites. 
But Liverpool versus Man Utd is top dollar because that is the way it has always been perceived by those who regard themselves as the very best of English rivals.