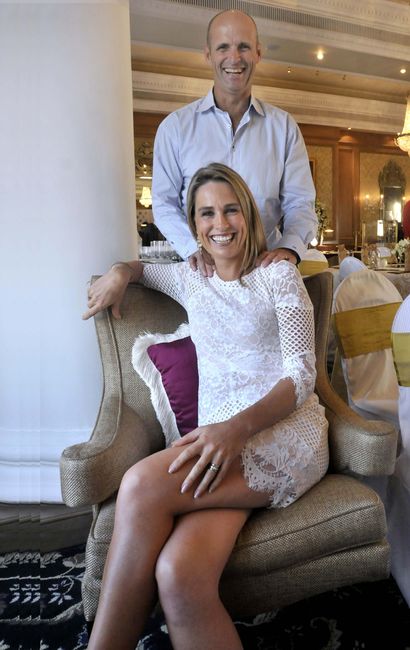 But we by a love so much refined,
That ourselves know not what it is,
Inter-assured of the mind,
Care less, eyes, lips, and hands to miss.
These beautiful lines by John Donne, from his poem A Valediction: Forbidding Mourning, perhaps, best describe the love between South African cricketer Gary Kirsten and his journalist wife, Deborah, who celebrated their 16th wedding anniversary in September. "Like I always say, I don't know if it has been 16 years because we spent a lot of time apart, but yes, it has been a great journey," says Deborah.
Deborah, who met Gary when she was working at a restaurant during her college days, says initially she was "very sceptical" about getting involved with a sportsman because of the "reputation" and "the whole generalised thinking that goes, especially with international sportsmen". "I was cautious and played it very slow," she reveals. "Gary proved to be an exception to the rule, and we dated for four years before we got married. So, we did take it nice and slow," says Deborah, who has just launched her book, Chai tea & Ginger beer, in India—the second country after South Africa.
Deborah, who trained as a primary school teacher and has a master's in education, felt that education was the field for her because she "loved teaching". But, when she met Gary, she realised she wanted something "a little bit more flexible", something she could "do on the road," so that she could travel with him. "So, I began to explore the world of journalism and managed to land a job, which I was very fortunate to because I hadn't studied journalism," she says. From being a food and travel writer to writing a woman's column, Deborah seems to have done it all. "I could write about different topical issues, and I really enjoyed addressing the space of women as wives, as mothers," she says. "There are different challenges that we have as women, so I am very passionate about that space, discovering what their stories are, their passions, and their callings in life, and really having the courage to follow through with that."
We turn the conversation to Gary, who has been sitting beside Deborah, playing the strong and silent husband, listening intently, never interrupting, and being in what seems like total agreement of whatever she says. Inter-assured of the mind?
One of the enduring memories of Gary in India, perhaps, was when India won the World Cup in 2011, and Virat Kohli and Suresh Raina lifted him on their shoulders and walked around the stadium. "There were two emotions that I had at that time," says the former India coach. "One was complete embarrassment, wanting, very quickly, to get off their shoulders and get behind the scene. And, I guess, the second one was gratitude for the experience. I often say to people that if we hadn't won the World Cup, I would have had as rich an experience and that wouldn't have changed. The journey does come to an end but I would do the journey irrespective of the result."
Clearly, Gary is one of those people who understand the true meaning of contentment. After India won the World Cup, Gary was asked to name his price but he says he has never been driven by money. "In fact, every year or every two years, as a player, I would sign a contract and I never got anyone to negotiate it," he says. "I signed my own contracts. Whatever they put on the contract, I was happy with [it]. I never negotiated, I just signed." When he joined the Proteas after winning the World Cup, he initially turned down the contract because they were offering him too much. "So, I changed the contract, got paid less, because I don't think my value is set at that space. I thought they were paying me too much," he says. "I have always viewed financial reward as a byproduct of the work you do. So, if you put in the hard work, whatever reward you are getting is what you are worth."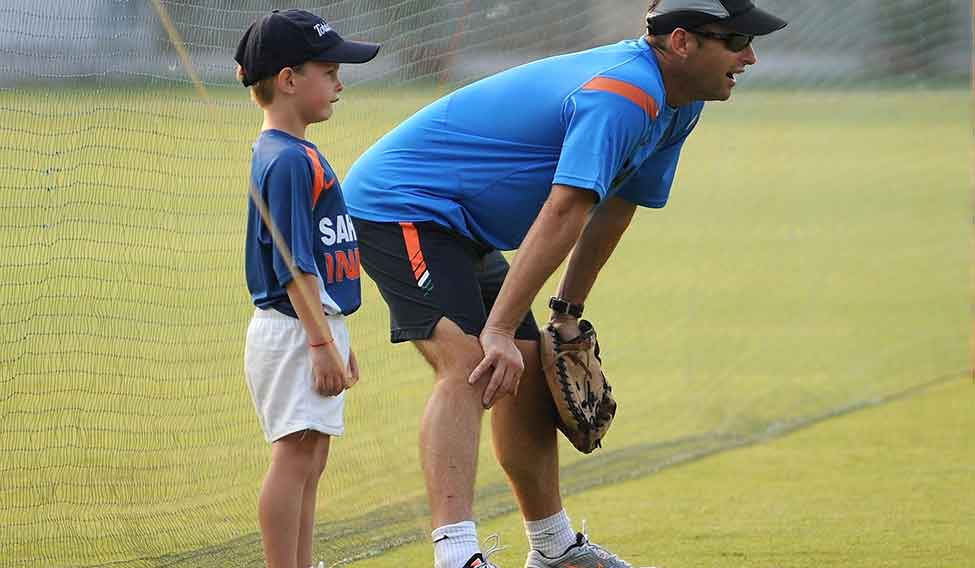 Deborah says work is Gary's greatest passion. "He says 'I don't feel like I am working when I am working because I love coaching so much and love the game and it is a privilege to do that'," says Deborah. Inter-assured of the mind? Not rocket science, exactly.
But sure enough even he went through a rough patch as the coach of the Indian cricket team. "Like in any work, you have frustrating days, tough times, and I think there were one or two times when, before the three years were over, I had written my resignation letter because it was just frustrating," says Gary. "We had a few bad series and I felt I am not adding value anymore, it is time to move on." Gary was mindful of that. "I am not particularly thick-skinned and am quite sensitive to criticism and stuff like that. Often, I didn't take it very well and stayed away from the media, never read newspapers or anything, just completely stayed away from the criticism. But then people get you through that," he says.
Gary confesses that he is not much of a multitasker, and why he, as an individual, has been able to achieve any sort of success is because when he embarks on something, he puts "blinkers on" and moves into that space. "That is good and bad," he says. "The bad side to that is you lose your creativity, and the strength is that focus and single-mindedness allow you to do one thing really well." That's Gary's personality trait. "For me, it is important to move away from the result because in sport you are going to win and lose; you are not going to win every day," he says.
Gary is also involved with a lot of charity work in Cape Town, which he is really excited about. "We have a massive population of informal people in the country [people living in informal setups]—majority black people, and through the Gary Kirsten Foundation we are running a cricket infrastructure development project," he says. "We began with two schools, where we are building nets for them and encouraging them, giving them cricket equipment and we will have a coach that runs a full cricket programme there. My goal is to try and reach 20-30 schools."
Staying together in today's society is not easy; it is twice as hard for a celebrity couple. But evidently, the Kirstens have a successful marriage, and religion finds a special place in their lives. "There are so many aspects that you have to work on to make a marriage work, but I would probably say above everything, our Christian faith and having similar values is the glue that has kept us together," says Deborah. "I think having a set of non-negotiables and making your relationship a real priority has ensured that we are on the same page."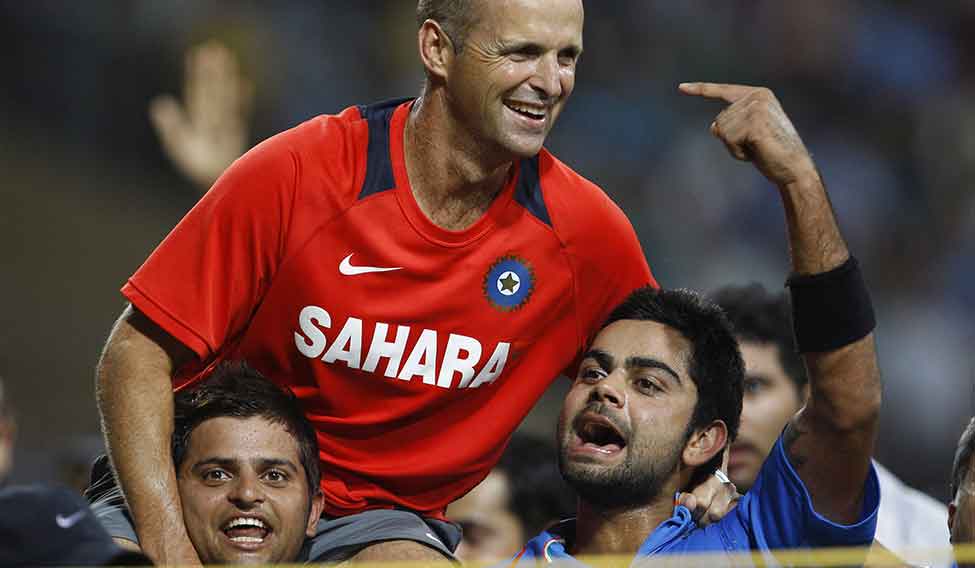 Parents to two boys and a little girl—aged 11, 8 and 3—their days now usually revolve around their children. Gary is up and about early, as he is training for a big trail mountain biking. Deborah's day begins at six, and "it is lunch boxes, getting the kids ready for school, packing bags, getting breakfast for them". After packing them off to school, she would get back to writing. Gary usually does the run to school when he is at home, and then he heads to his office in Cape Town. Otherwise, he is out on the nets doing coaching work.
"After they [kids] come home, they like to go straight to the garden," says Deborah. "Then, it is some sports [rugby, soccer, cricket, golf or fishing] until I have to haul them in for homework and bath. And, we try and always sit around the table as a family for a meal. That is important and it allows us to check in with each other. We don't do it all the time but we try to and we also have a 'no TV in the week' rule."
The Kirstens have a cottage by the Breede river, near Cape Town, where they like to go as a family—"our happy place," as Deborah calls it. "It is quite rustic and rural; there is no cellphone reception and we pump water from the river," she says. "It is just a place where we can sort of simplify life… far from the madding crowd, as it were. As a family, it is our favourite holiday destination. The boys fish and canoe and are outside all day, getting dirty."
Surely, Deborah and Gary must have an 'our song'. "I remember when we got married—we had a day wedding—so we weren't planning to dance at our wedding," says Deborah. "But it went on and on right from the morning to the evening. So, we didn't even have a proper DJ. Someone brought a little CD player and they put that song by Wet Wet Wet—Love is all around. I will never forget that. It wasn't really planned but it came on first and we danced to it. So, it has been like that ever since and it has become a significant song." As if on cue, Gary starts humming it. Truly, inter-assured of the mind.