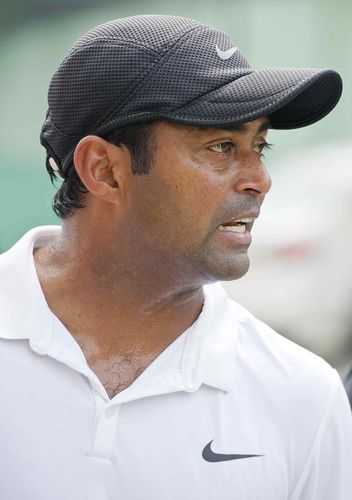 Interview/ Leander Paes, multiple grand slam winner
Back home after winning the French Open mixed doubles title with Martina Hingis and completing a career grand slam, Leander Paes is now gearing up for the Rio Olympics. Controversies, however, have kept pace with Paes. Recently, Rohan Bopanna said he wanted youngster Saketh Myneni as his doubles partner for Rio. Being ranked in the world top 10 in men's doubles, Bopanna had the right to choose his own partner. Paes, however, left no stone unturned to make sure he represented India at his record 7th Olympics. And, on June 11, the All India Tennis Association paired Bopanna with Paes, saying "the decision was made merely on best medal prospects". In an interview with THE WEEK, Paes, 43, talks about his French Open victory and his training and preparation for Rio. Excerpts:
With your experience, does it hurt to have to ask for a chance to represent India at the Olympics?
I always like to fulfil dreams. I feel part of my responsibility as a sports icon is to give a dream to my countrymen and tell them that they, too, can fulfil it. So, I have to practise what I preach. My racket does the talking and I believe the selections are on merit. I have achieved a career grand slam and have won 10 grand slams; I really believed the AITA would do the right thing.
But this controversy makes a regular appearance before every Olympics or Asian Games.
The difference between just getting selected and winning a medal is huge. I have been working for that. This trophy [French Open] behind me is a reflection of the fact that, in the past 18 months, I have completed a career grand slam.
Was the phase preceding the French Open one of the toughest in your career?
Yes. Health is important. I have been through my own share of health concerns. I am a very private person when it comes to my daughter—I didn't want to talk about her health [she was diagnosed with a brain tumour] as an excuse and I am really grateful all that is behind us and she is back to regular life. In a short span of time, my team got me ready to win a trophy that I had never won.
Your performance in the French Open pushed up your rankings for the Rio qualification. Was there additional pressure?
As a human being, I have never felt pressure. Or rather, you feel pressure but you know how to handle it. That being said, my main target was to complete a career grand slam—now there is no trophy left to play for.
What helped you win the trophy?
It is tough to explain. I worked on my physical fitness and my mental calmness. I made sure I was doing a lot of meditation and yoga so that I would be mentally fit to handle the pressures around me. I was training for 16 to 17 hours a day.
When you want to achieve something, and that burns inside you, it is deeper than the pain it takes to win it. That is what I was doing. For me, every trophy has a meaningful story behind it. This one was probably the most meaningful.
What did you and Martina Hingis discuss going into the final?
After losing the quarterfinal last year, there were some things I had to change in my approach, one of them being patience. My style on court is about energy and I had to evolve because the surface is so slippery, you cannot anticipate and intercept every shot; you need to be patient. That is why, during that match point tie-break, I actually waited ten shots before intercepting one of the balls. That is a huge mental adaptation for me.