"Twenty20 is quite an interesting format. In the end, you have to be brave. Pressure does not give you anything, it only gives you blood pressure"- Hardik Pandya, Indian all-rounder
Do you think Mahendra Singh Dhoni is finished as a finisher?" THE WEEK asked chairman of selectors Sandeep Patil soon after he announced the Indian squads for the Asia Cup and the ICC World Twenty20. He paused for a second and let out a chuckle. "I hope not," he said.
That was on February 5, and the Indian captain had been misfiring in the series against South Africa and Australia.
But, exactly a month later, Dhoni dispelled any such doubts, by hitting 17 runs in the last over of the Asia Cup final in Dhaka. "I am not here to give answers to anyone," he said on reaching Kolkata, India's initial base for the World Twenty20. "I know where I will bat, I know I have to fulfil those roles. Ninety per cent of the time, I will be playing in the position I did in the Asia Cup. I have to prepare myself for a 10- to 12-ball innings at most. I am definitely feeling good about it."
The captain looks good, too. He seems relaxed, there are no big injuries to worry about and all departments seem to be on song. Remember, this is the tournament that, in 2007, saw the birth of Dhoni as a leader when, under his captaincy, India marched to a surprising victory in South Africa. There are also glimpses of the wry humour he had in his early days as 'captain cool'. "We are running in sixth gear," he said. "Everything is set; don't think there are any more gears left to operate on."
This has been India's finest run up to a major tournament. Even Dhoni said so. Of 11 T20 internationals in 2016, India has won 10 and lost 1. The turnaround started in Australia, where India won the series 3-0, followed by the series win at home against Sri Lanka and the Asia Cup victory.
And, of course, India has been picked as the frontrunner to lift the trophy. The team is playing in its own backyard and also has momentum. Former Indian opener Virender Sehwag, in his inimitable style, told the audience at a T20 conclave: "India has a 99 per cent chance of winning the T20 World Cup…. I say this because India, today, has one of world's best batting and bowling lineups. The team is fit to take on any challenge."
Why not? After all, the Twenty20 revolution was born in India with the Indian Premier League. Yet, the inaugural champions have not had a great outing in subsequent tournaments—India's best show after 2007 was reaching the final in the 2014 edition, which it lost to Sri Lanka. Many hearts were broken, some careers were cut short. This year, however, promises better results.
For Dhoni, this might be the last chance to lift another cup. He has led India to the top of the Test rankings, a Twenty20 title and an ODI World Cup win. A win now would be a good way to bookend his career. For veteran Yuvraj Singh, who was blamed for the loss last time, the 2016 edition offers redemption; for youngsters Jasprit Bumrah and Hardik Pandya, it provides opportunity. And, for Virat Kohli, Rohit Sharma, Shikhar Dhawan and Ravindra Jadeja, it is a chance to stamp their name on a young, confident and bullish team India.
The only nagging worry has been the bowling. The selectors had to fall back on the experience of left-arm seamer Ashish Nehra and off spinner Harbhajan Singh, while blooding more youngsters in the hope that a combination would click. The repeated injuries to medium pacer Mohammed Shami also weakened the lineup. The team management seemed to have had enough and put Bumrah and Pandya together. And, with the duo responding well, Dhoni said he wouldn't tinker with the bowling. "I know who will bowl in the death overs," said Dhoni. "In the past few years, after seeing all the bowlers, I [have] sorted [out] whom I will use in the slog overs. It's a relief to have specific death bowlers."
The conditions are familiar—the tracks will assist batting and the bowlers will be tested. But, the players seem to be up for the challenge and teams like Bangladesh and Pakistan have reworked the composition of their teams around their bowling strengths. India, in Group 2, will face Australia, New Zealand, arch-rivals Pakistan and a qualifier among Bangladesh, Ireland, the Netherlands and Oman. "I think South Africa and Australia will be really good here," said Rohit Sharma. "They have played in these conditions and have done really well."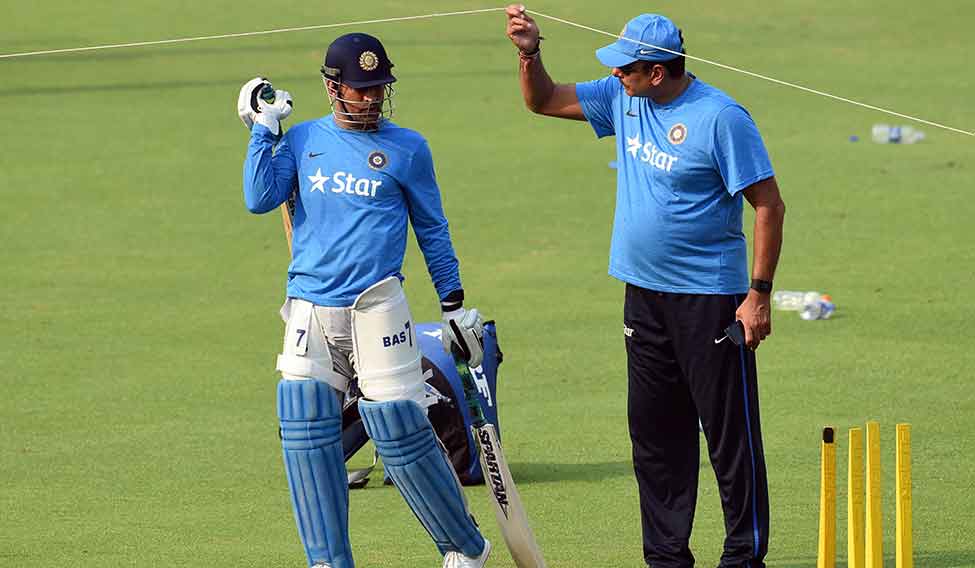 Said Harbhajan: "T20 is no more about hitting the ball all around the park. You have to think about every ball you bowl. You have to bowl to different types of batsmen. You have to sniff chances to get wickets and be smart and brave to take those chances."
AND ONE OF the men to assist Harbhajan in this task is 22-year-old Pandya. Handy with the bat, he will also partner with Dhoni to finish the innings. But, is he a bowling all-rounder or a batting all-rounder? "I am a proper all rounder who can do everything," he said. The responsibility and the stage don't faze him. His attitude is simple—nothing to lose and everything to gain. Perhaps this was why, during the previous IPL season, Sachin Tendulkar said Pandya, his Mumbai Indians teammate, would play for India within a year and a half. He donned Indian colours in seven months. "Twenty20 is quite an interesting format," said Pandya. "In the end, you have to be brave. Pressure does not give you anything, it only gives you blood pressure."
India's stronger half, its batting lineup, seems to be in good form. Opener Rohit Sharma and star batsman Virat Kohli will be the mainstays. The latter has been, in Yuvraj Singh's words, "in the form of his life for the last few years". The other opener, Shikhar Dhawan, seems to be back at his belligerent best. The left hand-right hand combination at the top probably cost opener Ajinkya Rahane his place in the first eleven. However, with his proven adaptability, Rahane gives Dhoni a reliable alternative if required. "I may not be in the playing eleven but my job is to give my 100 per cent, be it in the practice session or on the field," said Rahane. "I keep looking to improve my game so that, when I do get an opportunity, I am well prepared. It is a team sport, your team always comes first. Even if I am not playing, I am giving water to those on the field and I feel I am contributing."
Among the batsmen, the spotlight would be on Kohli, India's highest run getter in the last World Twenty20. He took a mini break, skipping the Sri Lanka series, and it helped. "I knew that I needed a break mentally and needed to refresh myself and come back and do the same thing over and over again," he told bcci.tv after the Asia Cup final. "Good habits are really hard to create and, once you get them, you need to be in full flow and continue with them day in and day out. I think that break really helped me focus again and continue what I did in Australia. I am really glad I could contribute in all the games in the Asia Cup."
Kohli is a peerless chaser and is equally good at anchoring the innings while batting first. But, is he also a finisher? "The finisher is usually me and the lower-order batsman," said Dhoni. "The entire setup is for the lower-middle order to finish the game. If your top order is doing it, that's fantastic, but 'finisher' is a very specific term and should be used with players batting at numbers 5, 6 and 7."
REGARDLESS OF THE position, a recharged Kohli will spell trouble for other teams. In a format that compels batsmen to chuck convention, Kohli has held on to the basics, and he is also currently number two in the international T20 rankings.
But, however good Kohli and his teammates are, they have to be better than the competition. Slotted in a tough group with Australia, New Zealand and Pakistan for company, Dhoni's men will be in for a tough ride. Though they recently played and defeated Australia and Pakistan, they cannot be complacent. New Zealand, with its talented batting and equally strong bowling, could also be a roadblock in India's path. On the batting-friendly pitches, David Warner, Aaron Finch, Kane Williamson, Martin Guptill and Ross Taylor will test the Indian bowlers. Also, all three bowling attacks are of high quality and have pace. An example of this was seen in the Asia Cup when Pakistan's Mohammad Amir and Mohammad Irfan gave a torrid time to Kohli, Sharma and Dhawan. Amir, in particular, became an overnight sensation with his vicious spell.
Rohit Sharma, however, played down the hype. "We have stopped talking about him already," he said. "He isn't the only bowler; Pakistan have five other bowlers who are doing well. I don't think it is right to give him too much hype after one match. He is good, but he needs to prove it over and over again. He is just a normal bowler. On a given day, if he is good, he is good. It is not as if he turns up and blows everyone away." Also, with little lateral movement expected at home, the onus will be on the visiting bowlers' ability to adapt.
Said Dhoni: "Every team is very good. All have players who hit big shots, and fantastic all-rounders and bowlers. Everything will boil down to how well you play on that day. Especially big hitters, even if they are facing two overs, can change the game."
High on success but not complacent, the players look ready to make history by capturing the cup twice. All smiles, they amble into a room called 'Mandarin' at Taj Bengal to be photographed by the tournament broadcaster. The players don't look grumpy or jumpy during media sessions; they even crack jokes. Surely, the team has changed; but will the name on the trophy change, too?