As Rajkot prepared to host the first Test between India and England on November 9, fans lined up for hours outside the stadium and the team hotel to catch a glimpse of the action. There were smiles all around.
The England team, however, has little reason to cheer. The visitors recently lost a Test in Bangladesh, which was a shocker, and have had little time to recuperate. Now, they face the world number one team and cede the home ground advantage. "There is no bigger occasion than a series in India, against the number one team in the world," said English pacer Stuart Broad, who will play his 100th Test in Rajkot. "It is great to reach a milestone in such an important game. We know how vital it is to start these tours well. So, we have been training really hard for the past couple of weeks to right some wrongs. We are getting there and are about ready to go." Broad was part of the squad that won the 2012 series in India, but it was a forgettable tour for him. He was plagued by injury and didn't get wickets. Fast bowler James Anderson, who was crucial in that series, is due to return from injury and has been ruled out of the first Test.
The Rajkot wicket will expectedly be a slow turner, the first of many. And local boy Ravindra Jadeja, India's utility man, would be at his best at the Saurashtra Cricket Association ground. "I have been playing on these pitches for so many years," he said during the recent series against New Zealand, talking about bowling a wicket to wicket line and forcing the batsman to make a mistake.
Jadeja, however, won't be the only thorn in England's side. Ravichandran Ashwin, ranked number one in the world, has made a career of flummoxing visiting batsmen. However, his previous performances against England have been lacklustre. In six Tests against England since 2012, he has got 17 wickets with an economy rate of 3.0. He has a record 21 five-wicket hauls, but none against England. However, he has been in prime form this year—44 wickets in 7 Test matches—and, with his subtle variations, would likely torment England's top order.
Jadeja and Ashwin will be aided by leg-spinner Amit Mishra and young off-spinner Jayant Yadav. To match up to them, England's spin quartet of Moeen Ali, Adil Rashid, Gareth Batty and Zafar Ansari spent a week learning from Pakistan spin legend Saqlain Mushtaq. The fast bowlers, Broad and Steven Finn, would have to rely on reverse swing to repeat the success of their last visit.
However, more than the bowlers, it is England's batsmen who need to improve their game. Their frailties against spin were exposed in Bangladesh.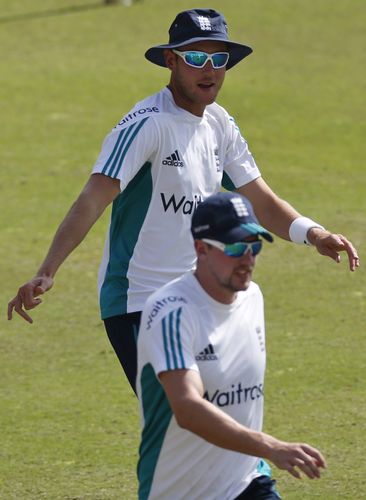 Another challenge for England is the Indian captain. During the last outing in India, England faced M.S. Dhoni. Now, a younger and hungrier Virat Kohli helms the Indian team. "The mindset is not to compete but to win Test matches," Kohli said before the Rajkot Test. Under Kohli, India has won four consecutive Test series and has lost only one match.
Said Indian vice captain Ajinkya Rahane: "England has a decent side. The batting line up is experienced. Yes, the spinners are new, but I always believe we have to respect our opponents."
The Decision Review System will be another crucial factor in the series, especially for the spinners on slow turners. India had previously been against the system but, with changes and enhancements in the technology, the team has become bullish about it. This would be the first Test series in India with DRS. Said Rahane: "We have been discussing this since the last series and we have some plans."
The English camp, too, would look to utilise the system, at least better than it did in Bangladesh. "It will play quite a big part in this series," said Broad. "We probably didn't utilise it as well as we could have done in Bangladesh. We are looking for the wicketkeeper and bowlers to have strong views on this."
In the batting department, England will depend heavily on captain Alastair Cook and Joe Root, who have proved they can handle spin well. But, will the rest of the team be able to keep the spinners at bay? "I don't think the English batsmen are equipped to handle Indian spinners," said former Indian spinner Maninder Singh. "[While] playing on helpful wickets, the mindset of Indian spinners is different. On tracks like ours, the pitch is an equal artist. If you keep bowling a tight line and length, how long can a batsman concentrate and not make a mistake?"
However, Virat Kohli and head coach Anil Kumble have not asked for tailor-made pitches. After winning the Indore Test against New Zealand, Kohli said: "We believe in our skills more and don't focus on creating an atmosphere or conditions that might suit us."
To counter the spinners, England will look to use the sweep shot, which brought Cook success during the last tour. However, against a miserly Jadeja and an aggressive Ashwin, along with DRS, the sweep might not be as successful.
The series gives India the opportunity to erase recent bad memories, while England would look to rediscover its lost mojo. In 2011, England beat India 4-0 at home and then 2-1 in India the following year. In 2014, England beat India 3-1 at home.
As captain, Cook has seen highs and lows, but that has not affected his batting. In 53 Tests as captain, he has a batting average of 47.84, and was the chief architect of England's win against India in 2012, along with Kevin Pietersen. Kohli's batting, too, has not been burdened by captaincy. Recently, he became the first Indian captain to score two double hundreds.
Both teams have also propped their batting with all-rounders. England has Ben Stokes, while India has opted for the unteste d Hardik Pandya. Said Kumble: "The importance of an all-rounder is something we all understand. If someone can bowl 140kmph and give you the option of batting really well lower down the order, that is a great option to have. We are really looking forward to how Hardik develops."
For now, the experts seem to be betting on an Indian victory. Former England captain Michael Vaughan tweeted: "More right handers in the top order.... More consistency with the ball. Even if it means playing another seamer to do so.... If not 5-0 in India." Former Indian captain Sourav Ganguly, meanwhile, said it would be 3-0 in India's favour.