MICHAEL PHELPS
Michael Phelps and India are tied at 28 Olympic medals. In fact, according to a US news website, if Phelps were a country, he would rank 32 on the all-time medal count.
However, in Rio, it was his son, three-month-old Boomer, who made headlines. His stars-and-stripes outfit, dripping with patriotism, made baby Boomer an accidental style icon. In a Facebook video before the Olympics, Phelps had talked about his child's flexibility, perhaps hinting at a swimming career. But, he would not force it, he said. After all, nobody had forced it on him.

Years ago, a young Phelps, battling attention deficit hyperactivity disorder, had taken to water like a duck. Rather, like a duck with boosters under its wings. He apparently decided to throw himself into the pool to treat the disorder. It worked, and how. He was seven at the time, and reluctant to put his head under water. So, he was asked to float around on his back, and mastered the backstroke first.
Nearly 25 years later, Phelps has hung up his trunks, retiring as probably the greatest Olympian ever. His time in the pool was studded with milestones, including his exploits at the Beijing Olympics—he won eight gold medals, the most by a competitor in a single edition. He dominated Athens, Beijing, London and Rio, where he won five gold medals, along with an unlikely silver. Joseph Schooling of Singapore, who idolised Phelps growing up, beat his hero in the 100m butterfly event. In the post-race interview, the media flocked to Phelps, who playfully protested, telling them they should direct their questions to Schooling. Swimming into the sunset, with grace.
USAIN BOLT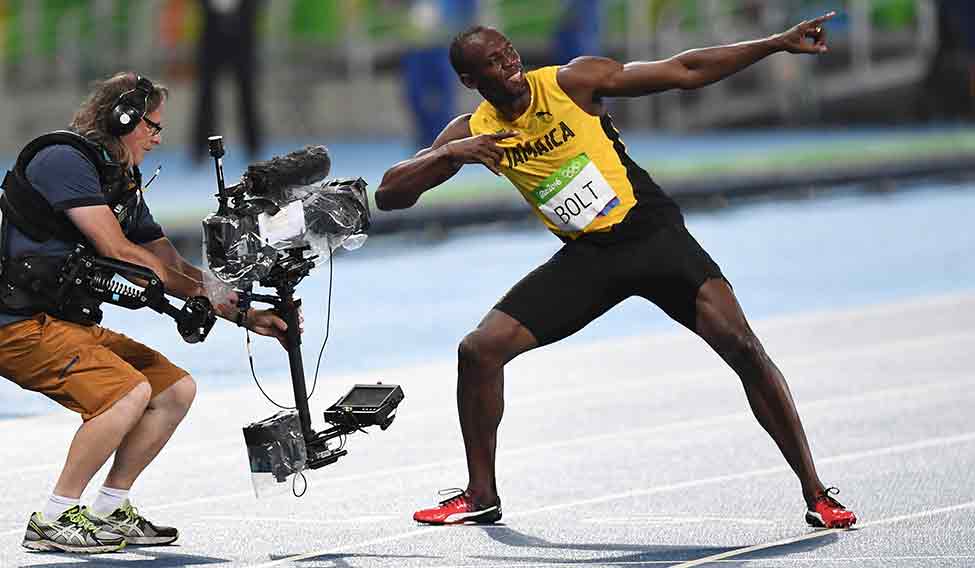 If Usain wasn't bolting down tracks, he would probably be a cricketer. Or, a footballer. The jovial Jamaican has often announced his ambition to play for Manchester United. Also, he once bowled out West Indies batsman Chris Gayle.
And, now that he has bid the Olympics farewell, the fastest man on earth could still pursue those dreams.

However, we would be remiss to overlook his Rio outing, which, pardon the pun, was a runaway success. He completed the 'triple triple', winning the 100m, the 200m and the 4x100m relay thrice. It was a phenomenal feat, unlikely to be repeated. He has the world record in 100m—9.58 seconds—and an array of other feats.
But his legs alone haven't propelled him to stardom. There is an intangible quality about the runner that draws millions to him. For instance, in Rio, he stopped a reporter mid-interview as the American national anthem was playing in the background. He stood silently, resuming the interview only after the song ended. In another gesture, Bolt insisted that any commercial he appears in should be shot in Jamaica, using a local crew.
Now, as Bolt's career comes to a halt, there is talk of a successor. Canada's Andre De Grasse seems to be in contention, at least in Bolt's eyes. In the 200m semifinal, the two crossed the finish line grinning at each other. After the race, Bolt patted De Grasse on the back. Passing the torch?
KATIE LEDECKY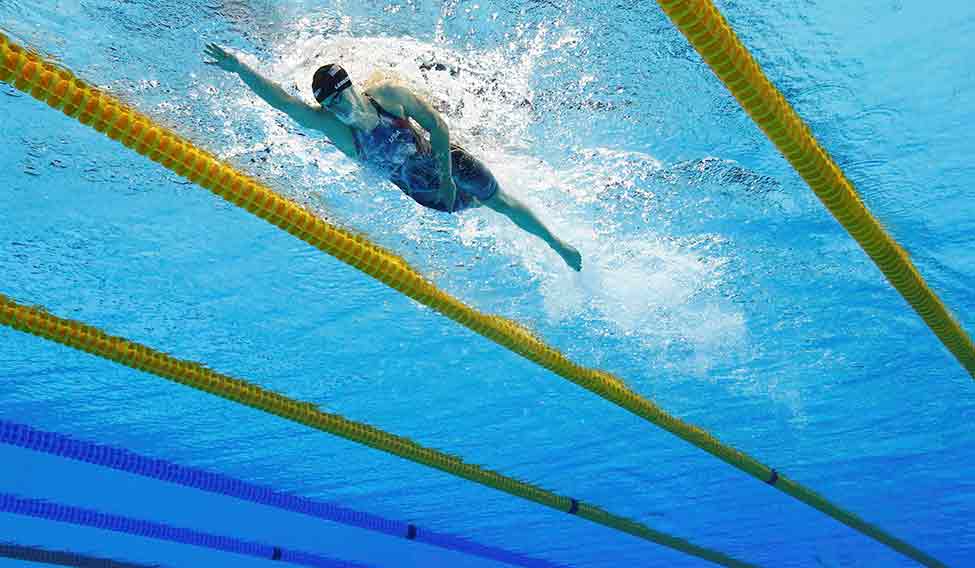 In the 800m freestyle final, Katie Ledecky finished eleven seconds before the silver medallist. If she wanted to, she could have turned around to watch the rest of the race as a spectator. It is this dominance that led an American news channel to proclaim her the world's best athlete. She consistently beats competition by 2 to 3 per cent, which, if she were a cyclist in Tour de France, would translate to a 40-minute lead, said the channel.

Ledecky, an American, won her first Olympic medal, a gold, in London. She was 15. Ever since, she has been in competition with herself. The 'First Lady of Freestyle' currently holds more than a dozen world records and often outpaces her male teammates. "She's beating me now, and I'm, like, 'What is going on?'" US swimmer Ryan Lochte told Sports Illustrated. But, it shouldn't come as a surprise, especially when her style has been, in some ways, modelled on a man, Michael Phelps. In fact, in Rio, Phelps said Ledecky reminded him of a younger version of himself. Over distances of more than 400m, Ledecky is reportedly faster than Mark Spitz, a nine-time Olympic champion. And, given her progression, she could soon beat some male contemporaries.
SIMONE BILES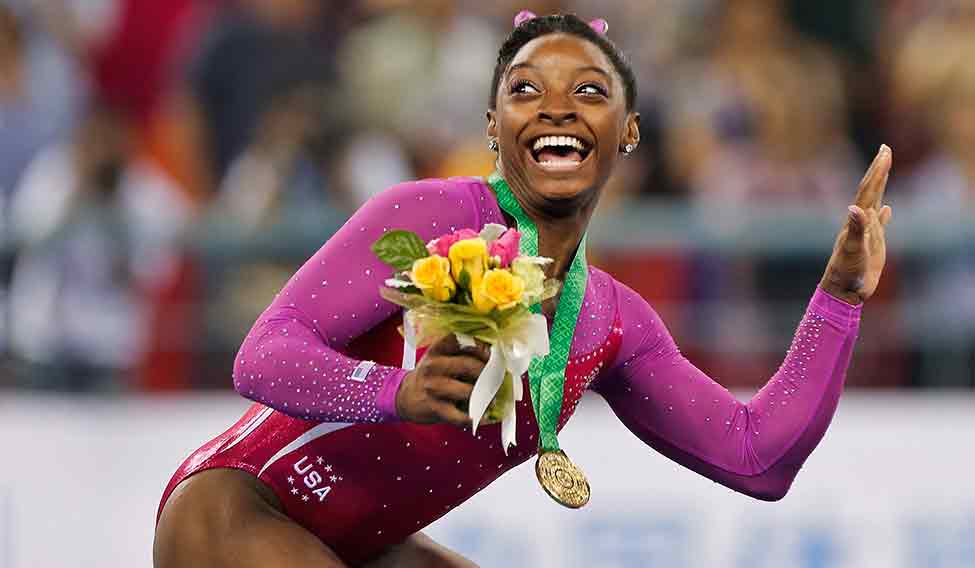 Simone Biles may be short—she's four foot nine inches—but her stature grows every day. In Rio, she won four out of a possible five gold medals. An unfortunate stumble on the balance beam cost her the fifth gold; she settled for bronze.
At 19, Biles has already been clubbed with the best gymnasts in history. She is America's most decorated female gymnast and the first African-American to become the world all-around champion. And, with several endorsement deals lined up, she is also likely to become the world's richest gymnast.

Apparently, Biles was always a daredevil, and did backflips off the family's mailbox even before she got proper training. On a daycare field trip to a gym, little Biles was fascinated by some girls doing their routines. She was hooked. Ever since, she has grown by leaps and bounds, dominating the world of gymnastics. While Biles is a great all-round performer, her speciality is the floor routine; many say she is untouchable in the event.
However, with all she has accomplished, Biles is just another teen—she likes singers Justin Bieber and Taylor Swift, and has a crush on actor Zac Efron. She sometimes travels with a statue of Saint Sebastian, the patron saint of athletes. Also, she loves experimenting with eye makeup and is apparently scared of bees. At the 2014 World Championships, she jumped off the podium to escape a bee that she found in her winning bouquet.