"Virat and I understand our strong points and our calling and running between the wickets has been good" - Yuvraj Singh
On the eve of the World T20 match between India and Pakistan at Eden Gardens in Kolkata, on March 19, the men in blue had an intense training session, focused on keeping alive their unbeaten streak against Pakistan in World Cups. Captain Mahendra Singh Dhoni was to attend an event organised by the International Cricket Council's radio partner at the team hotel. The team management decided it would send out a wrong message and cancelled Dhoni's appearance.
The following day, India extended its winning streak and the smiles were back. Preparing for their next clash against Bangladesh, in Bengaluru, the players were more relaxed, and indulged in some music and masti (fun).
The hosts, tagged as pre-event favourites, have had a roller coaster of a ride. There have been hits and misses in their quest to lift the trophy. They lost unexpectedly to New Zealand, but beat Pakistan. All eyes are now on the last column of the points table—the net run rate. India is in a tough group and its progress to the next stage could hinge on mathematics.
Dhoni, who was unusually subdued after the loss in Nagpur, was back to his jovial self after the win in Kolkata. The sigh of relief after beating the arch-rivals, however, was accompanied by a reality check. "There are areas of improvement that we have to look at in the coming games," said Dhoni. "In the first game, our run rate was quite down. It is not only about winning, you have to look at the run rate at some point."
The net run rate, however, is second priority; winning is the first. The focus, as of now, is to ensure there are no more blips like Nagpur. Said India's pace spearhead Ashish Nehra: "Before the net run rate, the main thing is winning the game. Everybody knows every game is important. [The most important one] will come in Mohali against Australia; that's the fourth game."
To add to its woes, India's openers have failed to provide good starts. This has put too much pressure on Virat Kohli, the team's batting mainstay. Fortunately, he has been well supported by veteran Yuvraj Singh. The dashing southpaw used his experience to forge a vital 61-run partnership with Kohli against Pakistan. Speaking to bcci.tv, Yuvraj said: "I just wanted to bat according to the situation. No matter how big the occasion is, I always feel it is very important to focus on the right things. When I was batting, I just wanted to watch the ball closely and rotate the strike, and I was glad I could do that."
A few years ago, Yuvraj was the master and a young Kohli the learner. Now, Kohli seems to have become the master. "I am happy that I could score run-a-ball and get a partnership going," he said. "Virat and I bat well together and understand each other's batting. We understand what are our strong points and our calling and running between the wickets has been really good."
Though he is playing the supporting role, Yuvraj is still a brutal finisher. His batting is improving with every match and the fans are waiting for him to unleash his elegant yet powerful stroke play.
While this is good news for India, the key to success lies with openers Shikhar Dhawan and Rohit Sharma. They fell early in the first two matches. Also worrying is the form of number four batsman Suresh Raina, who is considered by many as a master of this format. As the openers have returned to the dugout early, Raina has had to take guard in the first few overs. This added pressure on him—he scored 1 and 0 in the first two matches.
After the successful series in Australia, India's openers have reached double figures only thrice in 10 T20s. In this tournament, their first two opening partnerships were 5 and 14. Though Dhoni has the tantalising option of letting Ajinkya Rahane open, the lefthand-righthand combination of Sharma and Dhawan could be too strong an advantage to give up.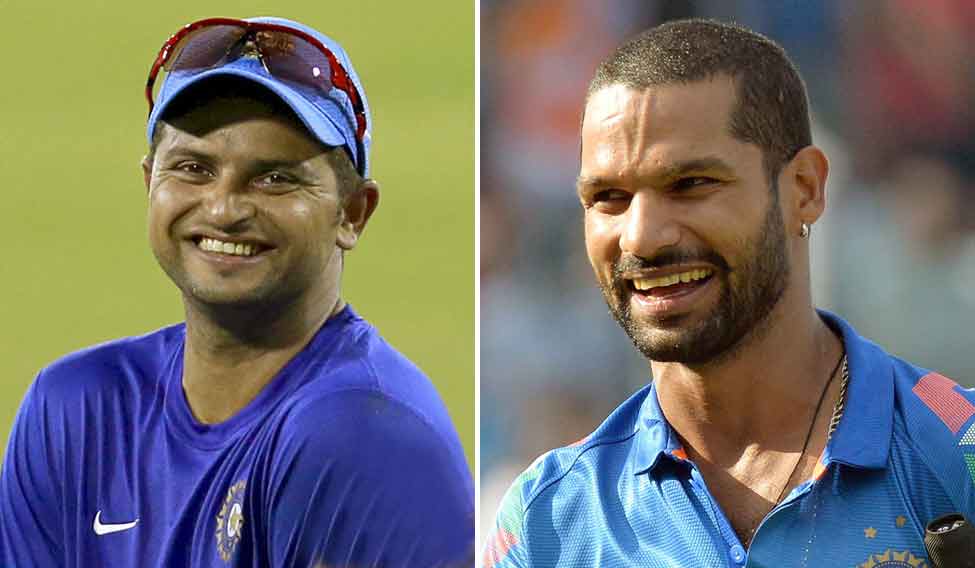 Despite their lack of form, Dhoni was quick to defend Dhawan and Raina. Asked if Raina was the best option for the number four slot, he said: "Well, there is a very obvious answer. When people don't score runs in one or two games, that question will be asked. If Shikhar doesn't score in one more game that question will be asked—why not leave out Shikhar and open with Jinks (Rahane)? I feel it is important to back players."
Comparing Raina's position with Kohli's nearly permanent number three spot, Dhoni said: "There are too many people who need to bat at number three. If you compare the stats, especially in India, you will see there are a lot of individuals who bat at three. But Virat gets an edge and, in the same way, I think he [Raina] deserves that number four position more than anyone else. It is important to back him. Yes, there might be tactical changes, in which case he won't get that slot but, overall, I think he is the best option."
Batting hiccups aside, the players were surprised by the nature of the wickets. Almost all the wickets, barring Mumbai and Mohali, have been slow. The Nagpur wicket, on which India lost to a better balanced New Zealand, has been the worst. And, at Eden Gardens, the spin was aggravated because of the moisture after the rain. It led to both captains—Dhoni and Shahid Afridi—misreading the wicket.
Usually, Twenty20 cricket has been about batting on flat tracks, especially in India. So, while teams came prepared with players who could bat and bowl on spinning tracks, the slow nature of the wickets at this time of the year has surprised many. The ball has been gripping the surface and has not come on to the bat easily. Daljit Singh, chairman of BCCI's grounds and pitches committee, said: "It is the end of the season for us. The wickets in Nagpur and Kolkata have been the exception, not the rule."
After the match against Pakistan, India's leading spinner Ravichandran Ashwin told bcci.tv: "I think these kind of wickets require a certain type of bowling. Any spinner cannot just throw the ball up and get purchase. You saw Ravindra Jadeja and me hitting a certain length and that length was important for the ball to grip or go straight."
Some teams, however, have prepared and adapted well to the conditions. Especially New Zealand, whose young left-arm spinner Mitchell Santner dismantled the Indian lineup in Nagpur, taking four wickets for 11 runs in four overs. Australian leg spinner Adam Zampa, too, looked at home against Bangladesh at Chinnaswamy Stadium in Bengaluru.
Though India came in as the frontrunner, its future in the competition will also depend on other results. However, Dhoni's men can draw comfort from the fact that they tend to perform in big events. And, of course, they can also rely on the man called Virat Kohli, who seems determined to deliver the cup to India. Said Kohli after beating Pakistan: "When you are sitting in that room, you want to be the guy that makes the difference in the game and win the game for the team single-handedly. If all eleven guys can think like that, the team is in a good space."