Meerut is known for the 1857 sepoy mutiny, a large cantonment and a sports goods industry. But, recently, Victoria Park cricket academy, located in the heart of the city, has been added to the list. Over the past decade, the academy has trained two international bowlers—Praveen Kumar and Bhuvneshwar Kumar—and a lot of budding talent. Gone are the days when aspiring cricketers from Meerut and nearby areas flocked to cricket academies in Delhi; Victoria Park has become a booming cricket nursery in its own right.
The Kumars' coach Sanjay Rastogi, along with curator Ravindra Chauhan, has toiled for years in a corner of the large ground to hone the skills of local talent. Bhuvneshwar was 13 when his father, Kiran Pal Singh, a police inspector, brought him to the academy. So began his journey.
Praveen, the first international cricketer from Meerut, has been the guiding light for Bhuvneshwar. "He was always talented; you could see it from [his days] as an upcoming bowler," said Praveen. "He had the in-swing delivery. And he would discuss a lot of things with me. He would watch in the nets carefully and picked stuff up well. Soon, he even developed an out-swinger."
The boy who followed Rastogi's every command has become Virat Kohli's pace spearhead. Quiet and understated, he has given India's bowling that extra edge, and will play a crucial role in the next 18 months. "He is a massive contender to start in every Test," said Kohli. "He will be a vital part of our plans, especially overseas. His bowling has picked up pace. His ball is [hitting the bat harder] than [before]."
It's huge for a bowler to be playing all three formats the way he is, said Praveen. "If he is able to extract so much on our own flat wickets, imagine what he would be able to achieve when he goes outside India," he said.
From being a bowler who relied mostly on swing to becoming a more rounded player, Bhuvneshwar has now become India's X factor, say experts. He has forged a fruitful partnership with Jasprit Bumrah in ODIs and with Mohammed Shami, Umesh Yadav and Ishant Sharma in Tests. And, though the team management has been focusing on rotating players, Bhuvneshwar is likely to remain a mainstay in all three formats. "When I made my debut, I was totally dependent on swing, but when you are on the international circuit, you know what you can improve on. I have worked hard on my fitness and that is paying off," Bhuvneshwar said after the Kolkata Test against Sri Lanka in November.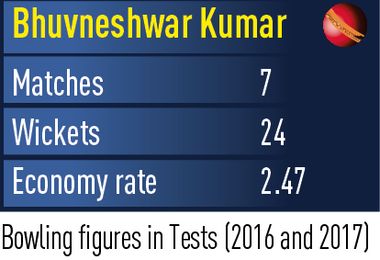 Kumar made his Test debut against Australia in 2013 and ODI debut against Pakistan in 2012, both in Chennai. He was one of the few bright spots in India's miserable tour of England in 2014, taking 19 wickets in the series. However, an ankle injury during the Australia tour in 2014 forced him to miss the 2015 World Cup and led to a dip in his career graph. The swing went missing and, at his pace (around 130kmph), he became an easy target for batsmen. He was dropped from the team and did not play a Test for more than a year. When he finally returned to the team, against the West Indies in 2016, his pace had increased sharply, the swing was back, and he was able to use the conditions to his advantage. Since that return, he has played seven Tests and has taken 24 wickets at an economy rate of 2.47. "My bowling speed has gone up, and I have also done well with the bat. All this has given me more confidence," said Bhuvneshwar.
Said Rastogi: "When you are bowling with good rhythm, the ball is coming off your hand right, the pace is good, and there are no jerks as such, the result is what you see with Bhuvi's bowling. His entire cricket is a reflection of the confidence he has in his overall ability."
Bhuvneshwar and Rastogi had many discussions about the loss of swing. "We worked on the grip of the ball, watched old videos and had him bowl with different balls to figure out the varying swing," said Rastogi.
According to Praveen, the key to Bhuvneshwar returning stronger and faster was patience. "I told him that taking care of your body was extremely crucial. Fast bowlers keep getting injuries, that is part of the deal, so no need to get overly worked up about that."