When sport generates billions of pounds, Wada must get by on an annual budget of about $25 million.... Sport talks a good game about anti-doping, but does not want to pay for it.
Perhaps your sympathy lies with Maria Sharapova. You may believe that she is in need of a heart medicine that just happens to be performance-enhancing, and was simply careless.
I will save my concerns for the World Anti-Doping Agency (Wada) and all those bodies striving to keep sport clean. This case has only gone to show what an impossibly herculean task they face, fighting to make sport fair on our behalf.
Sharapova is the stellar name, the startling headline, the jaw-dropping press conference and the shock news for tennis. But the story is far bigger and more alarming than one player trying to plead that she has been a bit ditzy.
What deeply troubles me is the extent of meldonium seemingly taken across many sports. Wada reportedly put it on its prohibited list after 8,320 random doping control urine samples were analysed and 182 showed up positive. That is a lot of elite athletes with heart problems.
Did they report those health conditions when the drug was put on the Wada watch list last year? Did any speak up when it was banned on January 1? Of course not. Wada confirmed that since meldonium was put on the banned list, it has been found in 55 samples (though it did not say how many athletes were involved).
In introducing meldonium (also known as Mildronate) to a wider world, the Sharapova affair has helped show up once more the rotten culture of athletes and coaches exploring the frontiers of medicine and straying deep into very dubious territory.
It is easy enough to see how it happens. An online advert for mildronate claims that it can improve mental processes, including focus and concentration; reduce fatigue; enhance athletic performance and promote oxygen delivery. No wonder sport is braced for a plethora of positive tests. Already there are a handful of cases known—from Ethiopian runners to Ukrainian biathletes and a Russian ice dancer and cyclist.
Until January 1 it was legal and seemingly safe for athletes to take even if they lacked any medical condition. This reminds me of sitting with Lance Armstrong as he talked about why he had binged on EPO (erythropoietin, a hormone that controls red blood cell production). "Totally undetectable, unbelievably beneficial, and most would say, if monitored by a doctor, totally safe. What were we all gonna do? Trust me. We're all in," Armstrong said. He described EPO as "the perfect drug".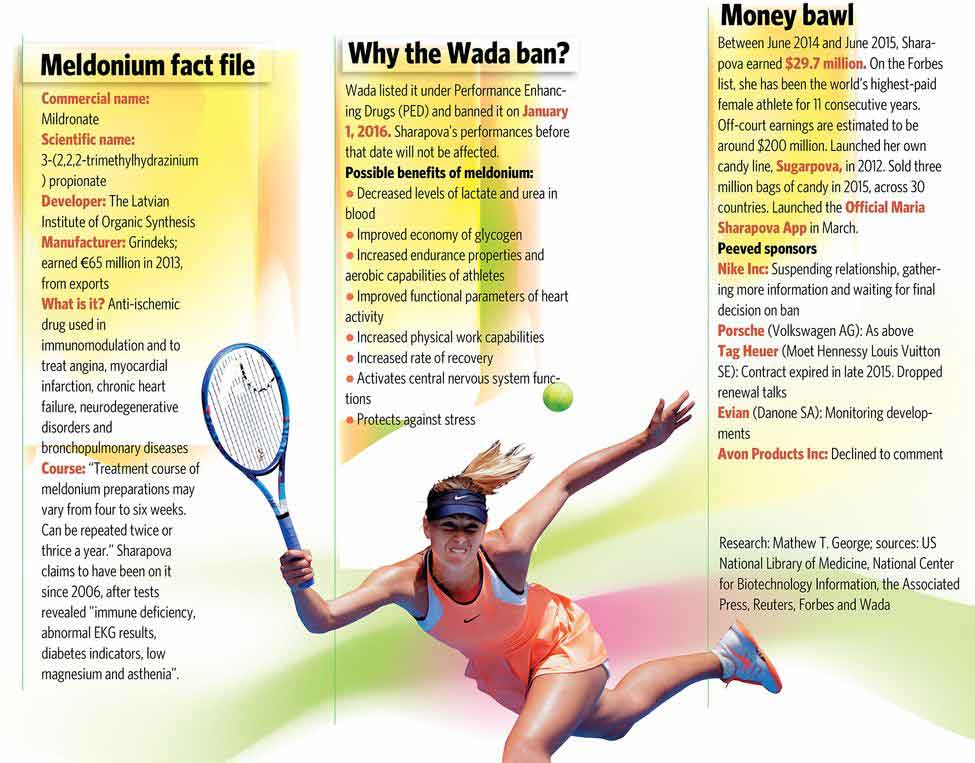 This is a culture that Wada still faces across many disciplines and regions; the sense that anything goes, that the boundaries are there to be explored, that "legal" makes it fair and legitimate. And, when it becomes illegal, the only mistake is getting caught.
A conference on anti-doping is due to be held at Twickenham in the UK; heavyweight speakers include Dick Pound, the former head of Wada, and Sir Craig Reedie, the organisation's president. Among other things, we can expect to hear them complain about the lack of resources when sport generates billions of pounds, yet Wada must get by on an annual budget of about $25 million.
It is a huge concern, which requires cutting-edge detective work, but the funding that sport devotes to the problem remains scandalous. Sport talks a good game about anti-doping, but does not want to pay for it. In the case of many sports, we have seen that it would rather look the other way. This is the scale of the challenge for all the anti-doping agencies who must try to keep up with the advances in medicine, and all the many ways that athletes will try to push the limits.
So as Sharapova protests her case, helped by expensive lawyers and slick PR, and tries to explain why she was taking a heart medicine that was not even authorised in the US where she lives, the big question is not whether one tennis player was dozy but how the anti-doping forces step up their attacks in this seemingly un-winnable war.
THE INTERVIEW PEOPLE