"Kumble should encourage Kohli's aggressive captaincy... rather than tone down his enthusiasm for chasing victories" - Ian Chappell, former Australian captain"

"Strategically, Anil Kumble belongs to this generation. He understands the pulse of the players. Javagal Srinath, former Indian bowler"
It was a family vacation in England, after nine years, that helped Anil Kumble decide that he would apply for the post of Indian cricket team coach. This was despite chances of rejection being high, mainly because he did not meet key eligibility criteria. But, he had made up his mind, and informed all his close friends and former teammates, including Javagal Srinath, Rahul Dravid, Sachin Tendulkar, V.V.S. Laxman, Sourav Ganguly, Virender Sehwag and Zaheer Khan. At 9pm on June 9, he emailed his job application to the Board of Control for Cricket in India. The deadline was 5pm on June 10.
Till June 13, incumbent team director Ravi Shastri was considered the frontrunner for the job, ahead of his former teammate Sandeep Patil. On June 13, however, news was leaked that Kumble had also applied. This stunned some BCCI officials and many Shastri-backers. The race was now between Kumble and Shastri.
Reportedly, the list of 21 contenders—which BCCI secretary Ajay Shirke shortlisted and forwarded to the Cricket Advisory Committee—did not have Kumble's name. However, the committee members—Shirke, Ganguly, Laxman, Tendulkar and former national selector Sanjay Jagdale—had the option to interview any candidate they deemed fit for the job.
So, on June 21, the CAC interviewed Shastri, Kumble, and former Australian cricketers Tom Moody and Stuart Law. The committee had to decide by June 22, but were unable to do so. The BCCI then extended the deadline by two days. On June 24, around 6pm, BCCI president Anurag Thakur announced at a news conference in Dharamsala that Kumble would be the coach. "The CAC recommended a few names to the BCCI," he said. "After discussions with various stakeholders, we have taken the final call that, for the next one year, Kumble will be the head coach." After his appointment, Kumble spoke at length to Test captain Virat Kohli and texted ODI skipper M.S. Dhoni.
What stumped many, including Kumble, was the one-year contract. Usually, coaches are given more time so that the processes they establish can show results. BCCI officials, however, said that the 12 months, including both away and home assignments—starting from the West Indies tour in July to the Champions Trophy in England in mid-2017—would give them enough time to assess whether Kumble had been able to make the transition from a former cricketer to a successful coach.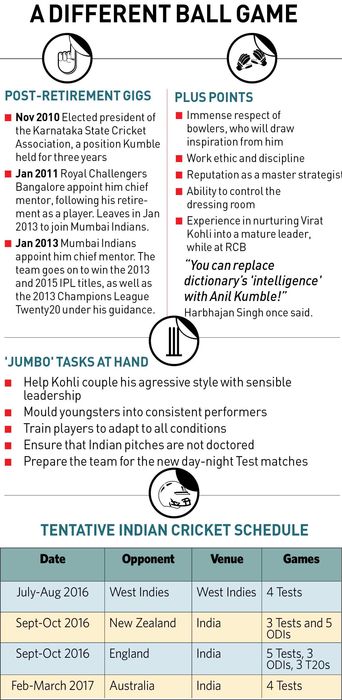 "As for the one-year period, Kumble is now transforming himself from being a great on the cricketing field to probably becoming the great coach we expect him to be," said Thakur. "That transition has to be smooth. This is a professional appointment, and all professional appointments tend to cover all bases. He is now in the driver's seat. We have given him the keys and he has to now prove himself."
Not everyone, however, was as welcoming. Shastri, along with his backers, heavily criticised the CAC's approach to headhunting. A small anti-Kumble fraternity, supported by his rivals in the Karnataka State Cricket Association, also joined the bandwagon. They questioned the CAC's choice and specifically highlighted Kumble's inexperience as coach. His involvement in TenVic—a consulting firm that mentors young cricketers, which he cofounded—was also brought up. Conspiracy theories flew thick and fast. One of them was that it was Ganguly's idea to make him coach and he manipulated the CAC. "The CAC's decision was unanimous," said a BCCI official. "If Ganguly was trying to impose his choice, he could easily have been voted against." A more bizarre theory was that Kumble, who is close to BJP leaders in Karnataka, was trying to put pressure on Thakur, a BJP MP, to get the job. "It is a shame that people are coming up with such theories," said a former player, disgusted by the tales. "A legend like Kumble doesn't need a job in cricket via a reference from a politician."
Shirke, too, dismissed the allegations of conflict of interest. "I think conflict of interest has become a fashionable phrase," he said. "That has been completely addressed prior to making this decision. There will be no conflict of interest."
The CAC members, and those who helped them make the choice, have not gone public with their reasons for picking or rejecting any candidate. Even Ganguly, who has been under pressure to reveal something, refused to react to Shastri's charges against him. A few top BCCI office bearers felt Ganguly eclipsed the coach's smooth and transparent appointment, and pointedly brought up his growing clout as an important player in BCCI politics—Ganguly controls five crucial east zone votes.
However, it was the BCCI that decided to look for a new coach. Had it wanted Shastri to continue, the board could have extended his tenure, as it had been doing in the past.
Even the genteel Laxman wasn't spared. As he is the batting consultant for the Cricket Association of Bengal, which Ganguly is president of, there were whispers that he was toeing the latter's line. However, the BCCI knew Laxman's CAB role before it asked the CAC to headhunt for the coach. Besides, Laxman did nothing that benefitted him or Ganguly directly or indirectly.
Shastri's major objection, however, was that Ganguly was absent when the CAC interviewed him, via Skype, between 5pm and 6pm. Laxman and Jagdale were in Kolkata, while Tendulkar had joined in from London via video link. At the time, Ganguly's presence was necessary at the CAB's working committee meeting. Shastri was understandably upset and saw this as a deliberate snub. However, it was later revealed that Ganguly had informed the BCCI and the CAC that he would not make it. And, the CAC members had kept him posted. However, they had not told Shastri about Ganguly's absence. The latter is putting in long hours at the CAB, apparently to rein in his rivals. He will chair his first CAB annual general meeting on July 31.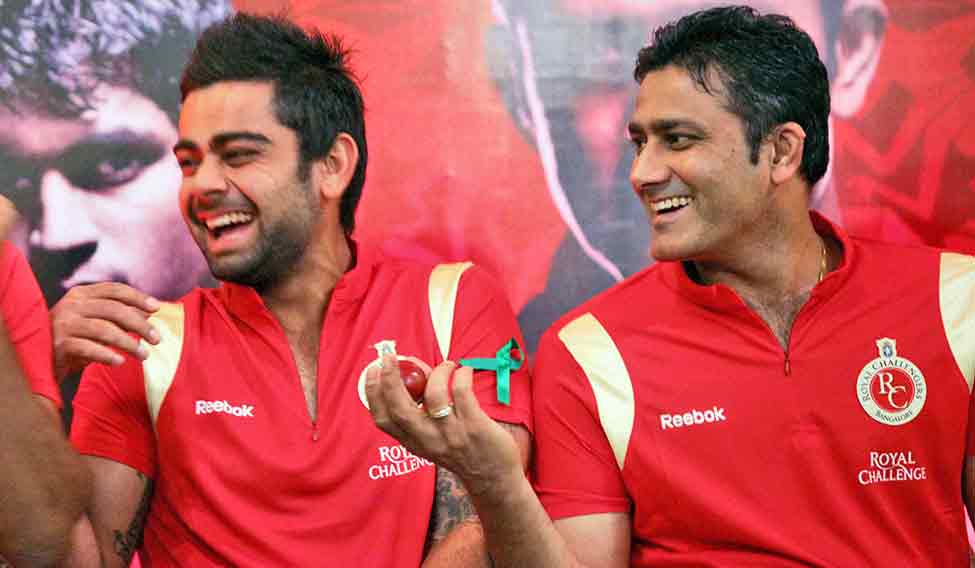 The road ahead However, amid all the cacophony, Kumble appeared calm and controlled. Soft-spoken, yet aggressive, he plans to be the silent force in the background. Interestingly, he is the first Indian to be appointed coach after Kapil Dev's disastrous run in 2000. Kumble, however, looks up to John Wright, India's first foreign coach, for inspiration. "I played a lot under John Wright. He has been a great influence on how I'll go around in terms of being in the background," Kumble told bcci.tv. "When I became a mentor for Mumbai Indians [in the Indian Premier League], I brought John in because he understood a lot about Indian culture and the way coaches work. So, I'll pick his brain."
Kumble was KSCA president for three years (from 2010) and also mentored Royal Challengers Bangalore and Mumbai Indians. He quit RCB in 2010 and joined Mumbai Indians in 2013. In his first year as mentor, MI won the IPL and the Champions League, and then won the IPL again in 2015.
Wright told THE WEEK: "Anil will be very thorough and detailed in his approach with his trade-made attitude of determination, which I am sure will rub off on the team. He is very positive in how he views the game should be played and that will continue. With Rahul lately playing a big role in the development of India's emerging talent, this could provide the opportunity for great continuity for India's best young cricketers."
One of the questions the CAC asked all hopefuls was how they planned to take India to the number one spot in all three formats of the game. Kumble reportedly gave two presentations—one was a short-term plan and the other was a long-term one leading up to 2019 World Cup in England. In the former, he focused on the immediate areas of concern like bowling combinations and the state of pitches. The latter looked at how the young players were to be groomed for challenges like performing consistently at home and away, improving their overseas record, and adapting to the pink ball and day-and-night Tests. Most importantly, he wanted to ensure a smooth transition from Under 19 to India A to the senior team.
Kumble's state mate Srinath was bullish about Indian cricket, which he felt was now secure in the hands of not just Kumble, but also of the other fabulous four. "There couldn't have been any arbitrary picking of a candidate," he said. "These five guys have done a great job. Anil is with the senior team, Rahul with the junior side, Laxman and Dada are in the CAC and even Tendulkar is more involved now. Some kind of long-term plan for the next five to ten years will now be in place as these guys will be around in different capacities."
The five legends had emphasised on the need to improve India's overseas record and had worked hard to do so during their time on the field. They could also adapt to any condition, and this seems to be the CAC's brief to Kumble.
J. Arun Kumar, Kumble's Karna-taka teammate, friend and now coach, recalled how Kumble had handled him as a player. Kumar was an aggressive batsman and attacked the ball a little too early. Kumble, however, remained calm throughout his reckless batting. "Basically, Anil loves to keep it simple," he says. "People may think he overdoes things, but he always sticks to basics. He is a very focused man. He never gets angry off the field, but he would give me dirty looks if I let a run go off his bowling. However, he would apologise profusely later on. Even as mentor to the Karnataka team, he was very good at managing the young boys coming in. He has seen it all."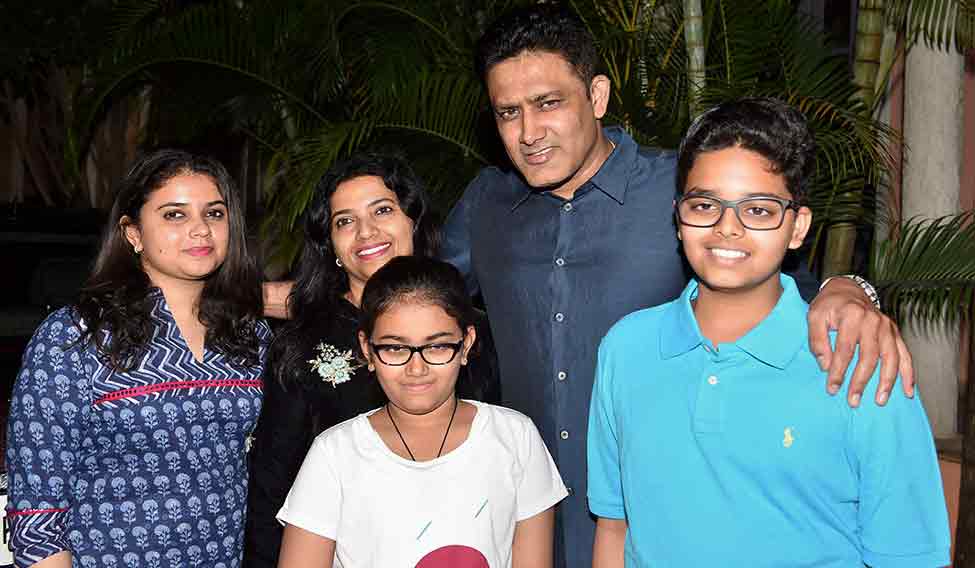 Former Indian coach Greg Chappell described Kumble's appo-intment as "inspired". In an article in The Hindu, he wrote: "There was never any fuss with Kumble, he prepared himself well and never relented on the field until the job was done.... On one occasion, I asked Kumble to speak to the bowling group about the key issues in his success at the international level. He never once mentioned technique; he talked about effort, belief in his ability and the importance of not giving up no matter how hopeless the cause may have looked."
Greg's elder brother, Ian, said Kumble had an advantage as he did not have to deal with star players nearing the end of their career. In his column on espncricinfo, he wrote: "He should encourage Virat Kohli's aggressive captaincy instincts... rather than trying to tone down his enthusiasm for chasing victories." On that count, there will be little to worry about. Kumble has always been a positive player with controlled aggression, on and off the field. "Strategically, Anil Kumble belongs to this generation. He understands the pulse of the players," said Srinath.
The new coach, however, has had little time to plan for a four-match Test match series against the West Indies, which starts in July. Preceding it will be a five-day camp in Bengaluru. But, knowing him, Kumble would be least fazed by the upcoming 'test'.