"The Africans have elevated this format. Instead of two, at least three Africans should be allowed to play for a team" - K.T. Ahmedkutty, president of Jawahar Sports and Arts Club, Mavoor
They speak with their feet, using kicks as their words. And, every year, Kerala listens intently. Such is the appeal of the Africans who play sevens football, a format fans say is peculiar to Kerala.
In sevens, as the name suggests, each team has seven players. It is played in the northern districts of the state and lasts only an hour. The style is rough, the rules are lax and the pitches—mostly dry paddy fields—are hard and dusty. The chances of injury are higher, but hundreds still lace up their boots to make a quick buck. And, though it deems the format unsafe, the Kerala Football Association officially recognised sevens in December, mainly to promote the sport in villages without stadiums.
Throughout the state, before every monsoon, the paddy fields grow, not rice, but talent. But, more than the quality of the game, it is the passionate following that sustains sevens football. And, it is into this fertile ground that the Africans are planted.
Most of them come from Nigeria, Liberia, Ghana and Ivory Coast, usually to play in other leagues, especially in Kolkata and Goa. But, once they fulfil their club duties, they head south for the winter. Here, about 60 to 70 Africans (two a side) play as part of the 32 teams recognised by the Kerala Sevens Football Association. About 300 others, not as talented and possibly without documentation, find their footing in unsanctioned tournaments.
The team managers are their crutches in a foreign land, arranging travel documents, accommodation and food. The match fee, of course, depends on the stature of the player. "You can't give Rs1,000 a match to Cristiano Ronaldo," says Sharafuddin, manager of Asian Youth Club in Malappuram. "The African players in my club earn as much as Rs9,000 a match. Even a Malayali player, if he is good, can get up to Rs6,000 a match." It is, however, money well spent. The presence of the Africans boosts ticket sales and attracts sponsors. "But I do it more for passion and not for the money," he says. "Having a club is a matter of pride for many, like owning elephants used to be." Apart from their popularity, the Africans, he says, are also dependable. "If the match is far away, some of the Malayali players might not show up, citing flimsy reasons. The Africans always make it," he says.
The living space
It is in a dusty town in Malappuram that I meet Sharafuddin's trusted men. A ramshackle building, next to an automobile workshop, is their temporary home. And, as I walk past a row of dingy rooms, I bump into one of the players. After initial pleasantries, he leads me up a narrow staircase to the terrace. This open space, with some cots and a table, doubles as their rooftop kitchen. As I sit down with the players, I see two dirty boots, having borne the brunt of the day, resting atop a cabinet.
The star of the team is Jeribe Kelechi, a 23-year-old Nigerian who has been playing sevens football for about three years. He also plays for the Shillong-based I-League team Rangdajied United FC, a role that has increased his fan base here. "Compared with other people in India, Malayalis are nicer," he says. "They are better at hospitality and I love their language." So, has he picked up any Malayalam? "Sukhamano? (Are you well?)," he asks with a bashful smile.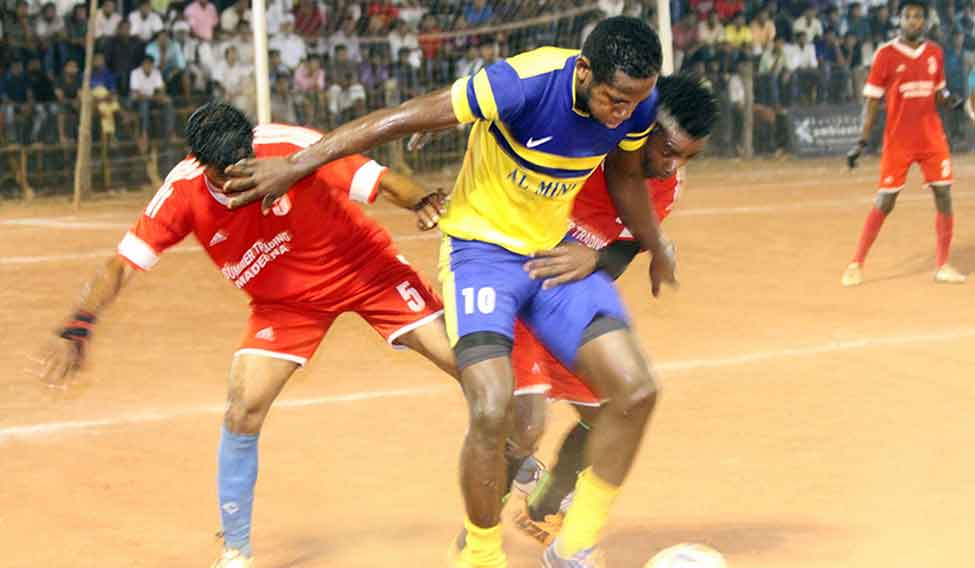 Our conversation is interrupted a few times by his ringing phone, which leads him into animated financial talk. After every season here, Jerry returns home to Nigeria, which also pops up a lot during his phone call.
I notice some spices in the rack above the stove. Isn't the food here too alien? "Not really," he says. "We get familiar items such as cassava and okra. We use the spices here to cook slightly different versions of our native dishes. We make a spicy soup using melon seeds."
Jerry gets another call and I start talking to his compatriot, 26-year-old Edward Antony. He, too, goes home in the off season, only to return when the whistle sounds. Antony also plays in a local league in Delhi, which he prefers to the sevens tournaments. "Eleven-a-side football is better, but this is a job, and I do it." He does, however, like the state. "Kerala has a very good atmosphere. The surroundings are similar to my hometown in Nigeria. Food poses no problem, the language does. I understand Hindi, but Malayalam is very difficult to comprehend. The accent makes it harder."
As I wrap up the conversation, Antony's teammates, huddled around a table, call him for an evening snack. And, as I leave, a Jeep rushes down the road, its speakers lauding the stellar African participation in the local tournament.
A live match
In Mavoor, about 20km from Kozhikode, a raucous crowd of 6,000 has packed the small ground. A thousand people wait outside, rattling the gates, impatient to get in. Some have occupied treetops, some others perch on nearby roofs. The makeshift stands creak under the weight of boisterous fans. The atmosphere is electric.
This is the semifinal of a local sevens tournament, organised by Jawahar Sports and Arts Club, Mavoor. The loudspeakers blast Bollywood songs as the teams, Fifa Manjeri and Town Team Areecode, take the field. The crowd, rowdy otherwise, fall into a minute of silence as the national anthem is played. The Africans bow their heads in respect. The match starts off slowly, with the Africans giving away possession easily. Eager to impress, they go for goal at every chance. The audience cheer and jeer periodically, and a few vuvuzelas keep the tempo alive. The crowd's passion surpasses the quality of football and, as the last goal is netted, a handful of fans raid the pitch. The police, hovering on the sidelines, intervene, with lathis in hand, to keep the match going. Fifa Manjeri beat Town Team Areecode 2-1, and the spectators pour onto the field. A while later, they disperse, content with the evening's match.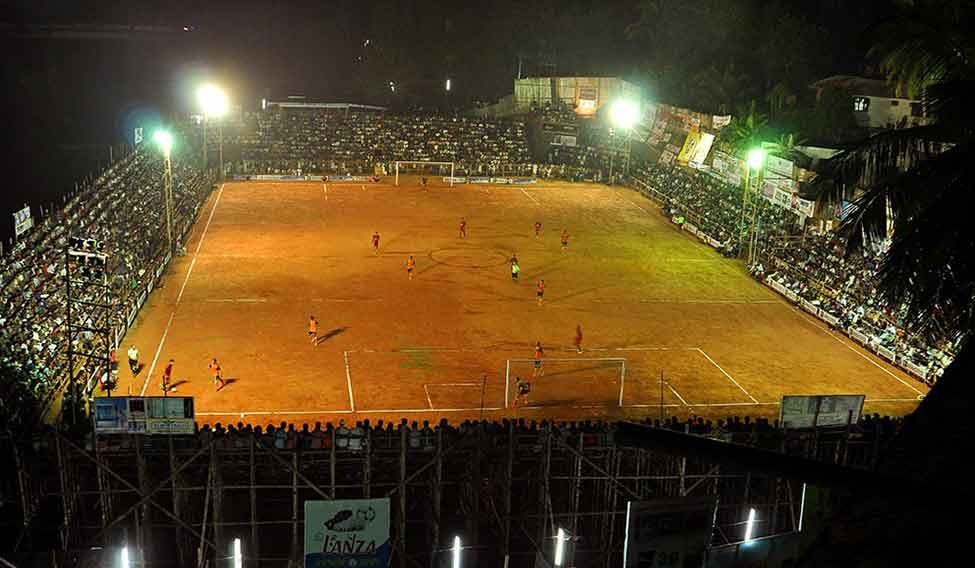 I catch up with Frances Senior and Frances Junior, both from Liberia, who play for Fifa Manjeri. Sweaty from a tiring clash, they talk about the tougher aspects of life here. They find the language hard, and the game harder. "It's not eleven-a-side, so you always have to keep moving. No chance for rest," says Frances Senior. Yashik, their manager, stands close by during our conversation. "I have been playing for this club for four years now. Sevens is tougher than the football I play at home in Liberia," says 23-year-old Frances Junior. Food, they say, is not a problem. But it has to be "less spicy," stresses Frances Senior.
Later, I meet 22-year-old Fafana Ibrahim, the star of the losing team. The youngster shows no signs of dismay, perhaps because of his experience. "I have been at this club for two years. I earlier played in the Goa league," he says. Asked about his grasp of Malayalam, he laughs and gives me thumbs up. No, he doesn't know the local language. In fact, he picked up English living in Kerala. Growing up in Ivory Coast, he was taught French in school. So, his stint in Kerala has been a learning experience in more ways than one.
"The Africans have elevated this format," says K.T. Ahmedkutty, president of Jawahar Sports and Arts Club, Mavoor. "The presence of more foreign nationals in each team improved the Indian Super League. I feel that the sevens rules for African participation should be relaxed. Instead of two, at least three Africans should be allowed to play for a team. I've asked the association, let's see what happens." Indeed, the fans will wait to see what happens. Next year, too, as the monsoon recedes, they will wait for the African storm.