They are accordingly discharged. Bail bond, surety bond cancelled," said the last line of the 175-page judgment by Additional Sessions Judge Neena Bansal Krishna in a packed Patiala House court. Those were the words 36 persons accused in the Indian Premier League spot fixing case were waiting for. Among the 36 were three cricketers of Rajasthan Royals: S. Sreesanth, Ankeet Chavan and Ajit Chandila, whose arrest in May 2013 kickstarted a massive inquiry into the IPL. They walked out of the court separately, not even looking at each other. Each one was surrounded by their lawyers, family and friends.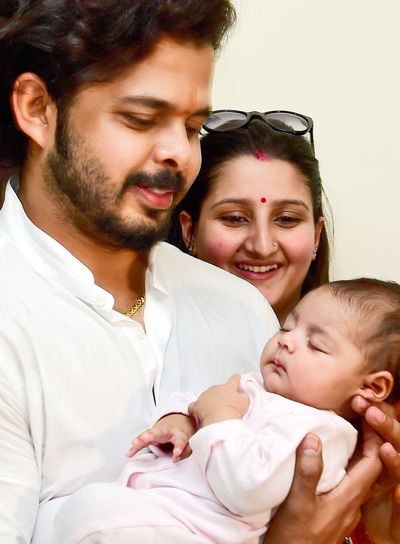 For the cricketers, the verdict could not have been better. They were not acquitted; they were discharged, which meant their case did not even merit a trial. "I hope to start training soon," said Sreesanth, 32. "My bowling spikes and India jersey are kept in the puja room. I will wear them again."
But Sreesanth's wish to play again for India may not come true any time soon. The Board of Control for Cricket in India, whose disciplinary committee had banned the three cricketers after finding them guilty of spot fixing in IPL 6, plays by its own rules. "The decision of the BCCI shall remain unaltered," said a BCCI statement after the verdict.
The Kerala Cricket Association was quick to bat for Sreesanth. "The KCA has written to both the president and secretary of the BCCI, formally requesting the board to lift the ban on the basis of the verdict," said KCA president and BCCI vice president T.C. Mathew. He said the decision of the disciplinary committee was based on charges of the Delhi Police, which the court had dismissed.
The BCCI has shown willingness to discuss the matter in its working committee later this month. "One must understand the criminal proceedings are different from disciplinary proceedings," said BCCI secretary Anurag Thakur. "Whatever decision was taken was based on in-house findings."
He denied that the BCCI was softening its stand on the matter. "We can't shut the door on our associations. So many people in Kerala have requested for the ban to be revoked; even Chief Minister Oommen Chandy has said so."
Rajeev Shukla, chairman of the IPL governing council, told THE WEEK: "There is no harm in the matter being discussed in the working committee. But the BCCI secretary has already stated that the decision won't be revoked."
The Mumbai Cricket Association and Haryana Cricket Association are yet to write to the BCCI for lifting the ban on Chavan and Chandila. Interestingly, the Delhi Police Special Branch, which had charged accused under the Maharashtra Control of Organised Crime Act, is set to challenge the verdict in the Delhi High Court, even as it is taking flak for failing to present the "watertight" case it had promised. Said Sreesanth's counsel Rebecca John: "The prosecution took it for granted that the court would put its stamp of approval on the charge-sheet. Despite the time court gave the prosecution to build the case, it did nothing."
The verdict, however, did not say that there was no spot fixing and betting in IPL. On the contrary, it acknowledged that IPL 6 was ridden with such problems. The verdict even applauded the efforts of the police in unearthing the issues, saying they "exposed the conduct of not only the players, but also the so-called bookies and conduits."