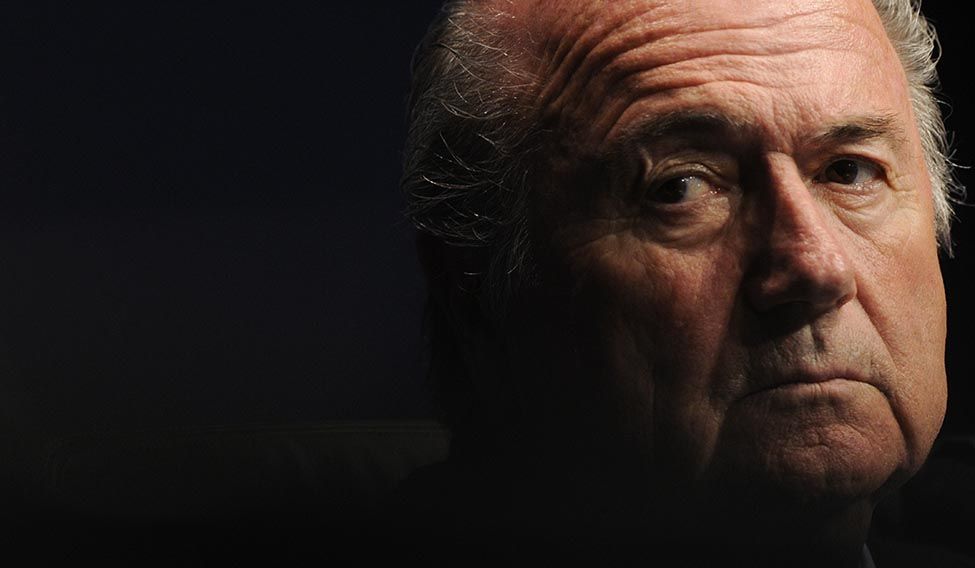 When Sepp Blatter announced that he was stepping down, four days after being re-elected as FIFA president, he had the audacity to also appoint himself as the man to clean up the mess that makes his organisation currently the most despised and, apparently, the most corrupt on earth.
Amazingly, there seem to be no powers to remove him before any of the evidence within the FIFA headquarters in Zurich can either be inspected by financial police, or shredded.
Every passing day brings fresh allegations of bribery on a scale so far established by American prosecutors to be worth at least $150 million. The outcry was debated at the G7 summit in Germany, as well it might be, given that governments have been sucked into the mire of the FIFA malfeasance.
It is as if a bowl of contaminated spaghetti has been passed out to the entire universe—every strand suspected of carrying the poison emanating from FIFA's greed. Right now, the finger points to the bidding that resulted in Russia and Qatar being granted hosting rights to stage the 2016 and 2022 world cups. But the probing goes further back, to the 1998 event in France and the 2010 finals in South Africa. And, believe me, the line of suspicion will not stay in the past. Everything—including the FIFA U-17 World Cup scheduled for India in 2017—will be looked at, probed, besmirched by suspicion.
Some observers have called this the end of the reign of Blatter. It goes back further than that. It is the end of a fiefdom that began in the 1970s when a Brazilian, Joao Havelange, ousted England's Stanley Rous as president of the global game.
Havelange was not a football man. He was a swimmer and water polo player, going way back to the 1936 Olympics (the Hitler games) in Berlin. While Sir Stanley, an English schoolmaster, expected to receive votes from old colonies, Havelange bought those votes, particularly in Africa.
It wasn't illegal, but it was and remains soft bribery. Havelange pledged to reward every FIFA nation with a share out of profits. He was business savvy—an entrepreneur who saw a way to turn FIFA's then parlous coffers into a billionaire's paradise.
The plan, carried out by Havelange and handed on to his appointee as general secretary and eventual successor, Blatter, was simple: It involved the game, burgeoning TV rights and commercial sponsorship.
This golden triangle, first proposed to Havelange and Blatter by the Adidas sportswear mogul Horst Dassler, transformed the fortunes of FIFA and of the International Olympic Committee.
Members of the IOC were expelled after being found to have sold their votes in favour of Salt lake City to host the Winter Olympics of 2002. And members of the FIFA executive committee have likewise been expelled and/or arrested for selling votes for the world cups.
The FBI raids of seven FIFA bigwigs follow two years of whistleblowing and undercover detective stings in New York. The crimes include racketeering and money laundering, and defrauding the US treasury.
Three of the figures helping the US justice department are right out of some Shakespearian play. There is big Chuck Blazer, a bloated American whose blogs featured a holiday in Russia with President Putin and flying in a private jet with the late Nelson Mandela.
Blazer based his principles on Havelange and, when the American was handed the commercial and TV negotiating role of FIFA, he filled in his biography on the FIFA website by stating that his inspiration was not a player like Pelé, it was a commercial player like Havelange.
Shortly after that, Havelange (still living in Rio de Janeiro at the age of 99) resigned his honorable positions with both FIFA and the IOC after he was found guilty in a Swiss court of siphoning off millions of sponsorship monies into his own, or his family's accounts.
A similar dynasty embroiled in the FBI bust involves the Warner family from Trinidad and Tobago. The father figure, Jack Warner, resigned from FIFA rather than answer to its quasi court over allegations that he distributed bribe money on behalf of Mohamed bin Hammam, a Qatari who allegedly tried to buy votes in 2011 to help him unseat Blatter as FIFA president. Bin Hammam denied, and continues to deny, rumours that he paid bribes for votes towards the Qatar World Cup.
All these claims and links to Jack Warner, and the 35 votes that he might have influenced as head of FIFA's Concacaf region, are spurious according to bin Hammam and Warner.
However, while Warner is on the FBI list, his sons Daryan and Daryll, are involved as informants to the US prosecutors. Like Blazer, the junior Warners agreed to furtively supply information to the law in mitigation for their freedom, for the time being. Blazer even assisted the law enforcement agents by using a microphone hidden in a key fob to entrap his fellow FIFA members in the FBI stings. And the Warner brothers have shown federal agents the money trail.
In Blazer's case, that evidence has already been presented to the court—it has to be because Blazer is a sick, maybe a dying man. He has colon cancer, he can barely speak at the moment, and is in intensive care.
If the US can finish what it has started, it needs to get the extraditions it seeks of now foreign nationals abroad.
This work, seemingly carried out through the cooperation of newspapers and TV investigating teams that probe beyond the areas of US jurisdiction, is an interesting extension of hunting down suspected criminals to crack a global and a very select group of suspects.
So far, Blatter is not on the list of men subjected to arrest and the extradition procedure. That might change if any of those in custody have any credible evidence to implicate the boss man.
Putin, for one, says this is an American plot to meddle in fair and free FIFA business. Presumably, all this will end only when the accused have had their day in court, with proper defence, prosecution counsel and judgement.
By then, Blatter should be gone and some of the elderly men under suspicion might even be dead. But the ramifications are wider even than the placement of two world cups—one in Russia despite the alleged aggression towards Ukraine, the other in Qatar where the heat might still be insufferable and where migrant workers are dying building stadiums.
Somewhere, though it might seem like a mirage, there is the game that Pelé played so beautifully in his time, and Lionel Messi does today.
Is that protected from the contamination of money? Alas, no. Recently, the chief executive of the Irish football association, John Delaney, made a wretched, almost boastful statement. He said on radio that when a deliberate handball by Thierry Henry had helped France eliminate Ireland from qualifying for the 2010 World Cup, he (Delaney) threatened to sue.
Blatter, he claims, then paid Ireland $5 million out of FIFA funds. It was compensation, tantamount to hush money. You could view it as an inducement to settle out of court. Or, like me, you could fear that this is the most damaging bribe of all because it actually constituted a payment to deflect an injustice that altered the outcome of action on the field.
All the rest is done in the corridors of the sport, and only KPMG, the FIFA auditors, know how it failed to show in the books.
But by paying that compensation sum and not replaying the game, Blatter went further. You might consider this, alone, makes him the last person who can clean the house. I wouldn't disagree.