A relaxed Sunday morning is giving way to a lazy afternoon. The only sounds in the fourth floor apartment of a posh housing complex in central Delhi come from the kitchen. Former Delhi chief minister Sheila Dikshit is checking on what's cooking. A help, just back from grocery shopping, comes to her with the expenses. And like a scrupulous housewife who keeps track of every penny, she asks him in detail about how much money was spent on what and takes the balance from him.
This meticulousness of hers was evident in the way Dikshit ran Delhi for 15 years. Also, this very quality, perhaps, was what brought her to the notice of former prime minister Indira Gandhi while Dikshit was assisting her father-in-law, the legendary Uttar Pradesh Congress leader Uma Shankar Dikshit. Now, as she was settling down into a sort of political retirement, she was brought back into the limelight as the Congress's chief ministerial candidate for the 2017 assembly elections in Uttar Pradesh.
Done with her kitchen supervision, Dikshit settles down on a sofa in the tastefully done-up living room of her daughter Latika's apartment for the interview. Her house in Nizamuddin East, from where you can see the Humayun's Tomb, is on rent, she informs. "From here, you can see Maharaja Agrasen's Baoli," she says.
Dressed in a fawn-coloured cotton sari, which is neatly pleated, and her grey hair done in a simple bun, the 78-year-old looks relaxed. Dikshit is enjoying a few moments of calm before she jumps into the next phase of the poll campaign. Soon, she will be spending more time in Lucknow, where she has rented a house.
"It is almost like [coming] a full circle, coming back to where I started," says Dikshit. She made her electoral debut from Kannauj in the 1984 Lok Sabha polls, defeating Chote Singh Yadav of the Janata Dal. She, however, lost the seat to Yadav in the 1989 elections. Almost a decade later, she was brought to Delhi to end the BJP reign. She was attacked by her detractors for being an 'outsider' in Delhi politics. But Dikshit won Delhi and how.
As she goes back to Uttar Pradesh, Dikshit has to underline her status as the 'bahu of UP'. "I belong to Uttar Pradesh. It is the state I was married into. I belong to Delhi because I studied here, I lived here as a child. I also belong to Punjab because I was born there," she says, with a smile. "I think I am a real Indian."
A colonel's daughter, Dikshit was born into a Punjabi Khatri family in Kapurthala, Punjab. She, along with her two sisters, grew up in Delhi. She did her schooling at the Convent of Jesus and Mary, and her degree course at Miranda House. It was while doing her master's from Delhi University that she met her husband, Vinod Dikshit.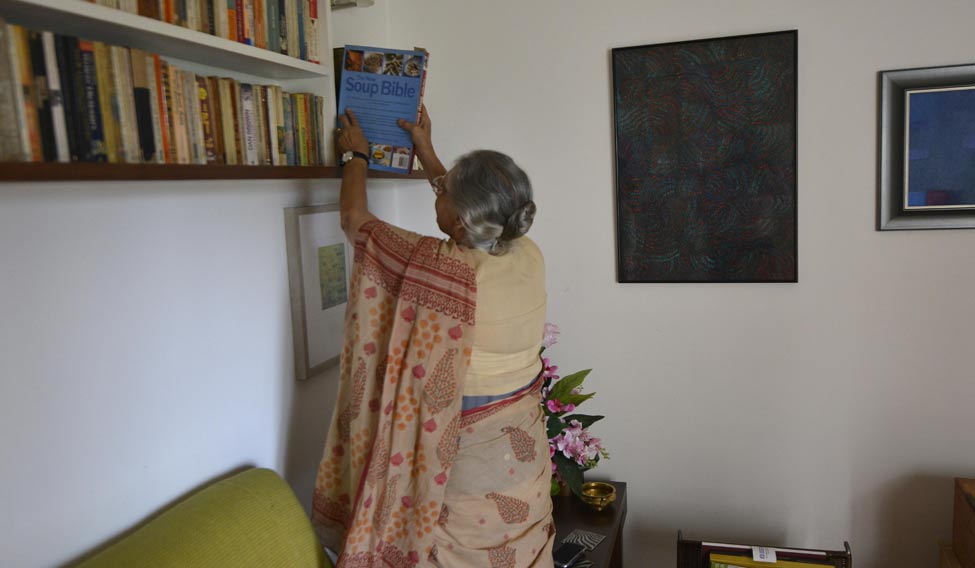 Dikshit, however, admits she was surprised when the party asked her to go to Uttar Pradesh. "I did not accept it immediately. I was reluctant because I had been away from Uttar Pradesh for 27 years," she says. But the Congress was firm in its decision. By fielding Dikshit, it hopes to win back the support of Brahmins, its traditional support base. Dikshit was a natural choice, owing to her Brahmin status and the fact that her father-in-law was a tall leader from the community.
The initial reluctance has now been replaced with an air of resurgence. The voters seem to be warming up to her party, says Dikshit, as they are fed up with all the other parties that had been in power in the last 27 years, like the Bahujan Samaj Party, the Samajwadi Party and the BJP. "Law and order is non-existent. Society is divided on communal and caste lines," she says. The youth, too, is disenchanted because of lack of development and opportunities.
The overwhelming response to the Congress's Varanasi roadshow, says Dikshit, showed two things. First, that all kinds of people wanted to explore the Congress. Second, it showed a kind of negation of Prime Minister Narendra Modi's policies in his own constituency.
Dikshit is still vocal about Delhi and her nemesis—Arvind Kejriwal. She does not mince words while criticising the Aam Aadmi Party leader's 'daily drama' and confrontations with the Centre. "Demanding complete statehood is one thing and functioning within the current framework is another thing," she says. "We functioned, we did all our jobs in collaboration with the Government of India, with the lt governor."
Kejriwal had run an aggressive campaign against her, alleging massive bungling in the preparation for the 2010 Commonwealth Games. "Twelve of his MLAs have been arrested so far. He is getting exposed for what he really is," says Dikshit.
After having lost Delhi in 2014, Dikshit was appointed governor of Kerala. But she quit after Modi came to power. Back in Delhi, she indulged in her favourite activities. "I have a hectic social life. I have a lot of friends. I got time to catch up with them and have long gossip sessions. I could spend a lot of time with my family, with my grandchildren," she says.
An avid reader that she is, a book is the best gift one can give her. "Alice in Wonderland is my all-time favourite," says Dikshit. She also has an enviable collection of paintings. "I bought them all cheap when nobody would buy them," she says. When she vacated her official residence as chief minister in Lutyens Delhi—the house is now occupied by former prime minister Manmohan Singh—she personally packed her huge collection of books and paintings.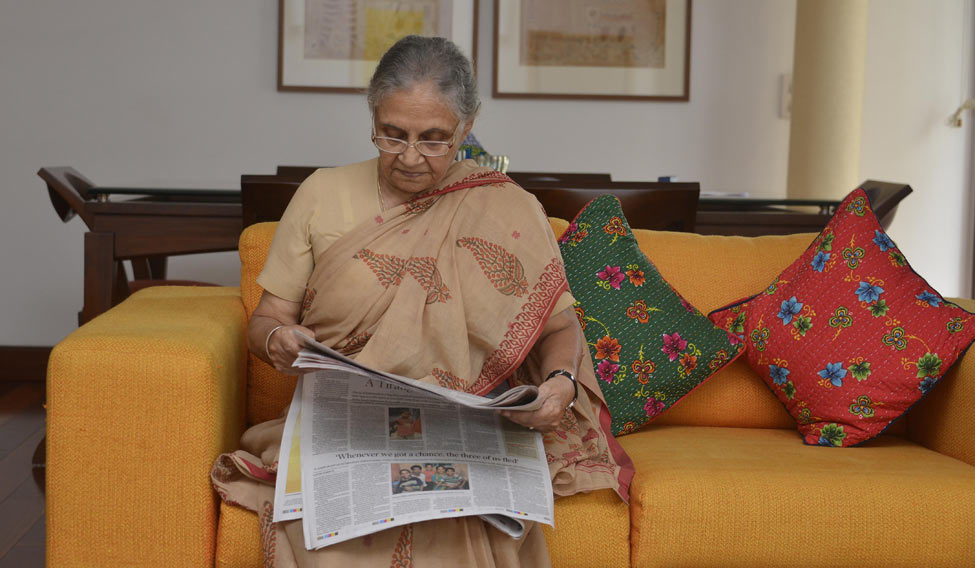 Dikshit is also known for her rich collection of handloom saris. She loves to visit the state emporia and makes it a point to check out the handloom exhibitions in the capital so that she can add to the collection. A self-confessed movie buff, she would find time to catch up on the latest releases even as a chief minister. She is a big Shah Rukh Khan fan and also admires Shahid Kapoor. But a young Dikshit once only had eyes for Dev Anand and American actor Rock Hudson. Life, however, has now moved from first gear to fifth gear again, says Dikshit, leaving her little leisure time. "I am not reading these days. I hardly get time to read newspapers," she says. And, it may be the Prashant Kishor—Congress's poll strategist—effect, but Dikshit, who had no presence on social media, is now active on Twitter.
But what keeps her going even after years of hectic politicking? Dikshit insists she does not follow any special regimen. "Yes, I do my walking, my yoga. I eat a very simple diet. But that's about it," she says. She, however, reveals the source of her stamina. "Stamina comes when you find a new challenge in front of you," she says. The Uttar Pradesh challenge has breathed new life into Dikshit, the politician. The challenge for her is to breathe new life into the Congress.