Way back in 2000, outgoing president Bill Clinton offered to help his vice president Al Gore with campaigning for his presidential bid. Gore declined. Monicagate had tainted Bill, he thought. Gore lost by a slim margin, chucked his presidential dreams and sat down to create An Inconvenient Truth instead. It is ironic that Gore has finally put his weight behind getting Hillary Clinton to the White House. He recently campaigned for her in Florida, a state that he had lost in 2000 by a margin so slim (around 500 votes) that even a handful of the votes that went to the independents could have changed the course of history.
Gore predictably urged the crowds not to squander their votes; a near win is a loss was his message. For Gore to put his weight behind Hillary is a big A for her campaign. He has been ostensibly absent so far, even as the Obamas and the Bidens were fighting on her behalf. Hillary needs every vote, every endorsement now as she never did. Despite the wave of misogyny he is facing, Republican candidate Donald Trump is managing to hold his own even now. Just a few votes gone astray, and the Hillary story is over.
However, it is not just Gore's A-plus endorsement she needs. It is the three Bs in her life at present—Barack Obama, Bill Clinton and Bernie Sanders—who matter. "They are her three surrogates," says Democratic fundraiser Frank Islam. "Barack Obama is appealing to all of America, and so is his wife. Bill is reaching out to the traditional Democratic base and Bernie to the millennials."
Barack has done the best he could, there's not much more he can give, say observers. His thumping endorsement of Hillary should assure that at least a large chunk of his voter base votes for her. Wife Michelle can convert some more. Her recent speech in New Hampshire, where she opened up about being disturbed by Trump's misogynistic comments, could shake up even a few Republicans to vote for Hillary. "The men that you and I know don't treat women this way. They are loving fathers who are sickened by the thought of their daughters being exposed to this kind of vicious language about women."
The Barack endorsement, however, comes with its own catch. Positioning Hillary as the person who will carry forward his legacy is, in a way, like running for a third term, and this brings a heavy dose of the anti-incumbency factor, Bruce Stokes of the Pew Research Centre had noted in a public talk in Delhi. In an election where America wants a change, the incumbency factor is massive.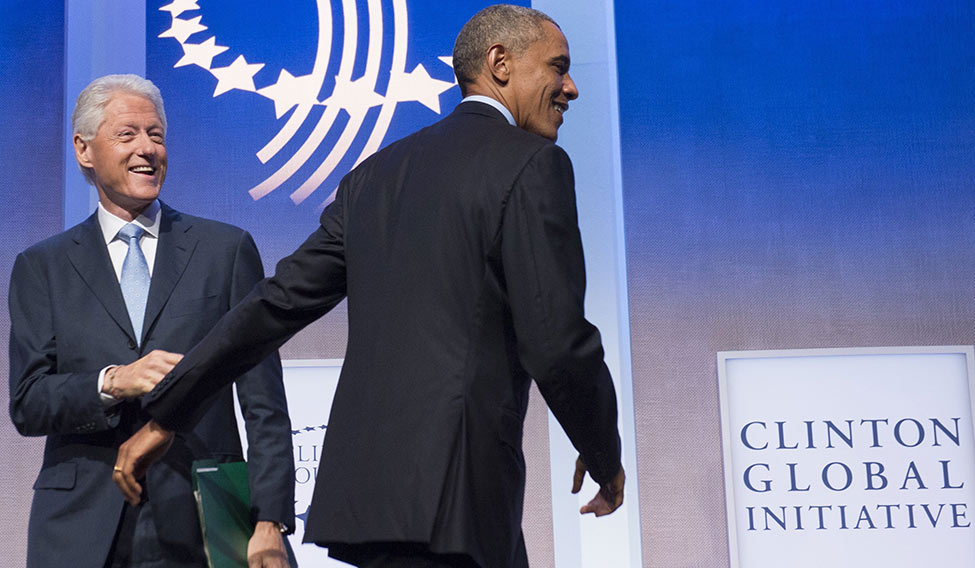 Bill is a mixed bag. His personal charm is undeniable, the retirement from active public life makes his recent appearances quite a novelty. He is still able to elicit smiles from women, both old and young. Ordinarily, women like a bad boy. But in this campaign, when Trump is turning out to be a terrible boy himself, and when he tries to mask his remarks by exposing Bill's actual philandering, the husband does become a liability in the wife's campaign. Bill and Hillary together comprise that Washingtonian elite which Americans want to free themselves from. It was from the traditional voter base of Democrats that the disillusioned saw Bernie as saviour.
Bernie, therefore, is Hillary's make or break man. Though Hillary won the Democratic nomination, a large swathe of Democrats, especially the millennials, were "feeling the Bern", as they used to say. Transferring those votes to Hillary, ensuring that they aren't squandered away in third party alternatives or non-votes, is crucial. While soon after the Democratic convention only 55 per cent of Bernie's followers were willing to vote for Hillary instead, there has been a climb in this category. According to Islam, it is as high as 85 per cent now. But there are vast differences in this perception. Recently, Miley Cyrus, the youth icon who switched her support from Bernie to Hillary, reached out to her fans once again, seeking votes for the Democratic candidate.
The Bernie base is substantial, and even as the former presidential hopeful is now campaigning for local leaders and against drug pricing, his voter base is being eyed with greed. Bruce Carter, a former Sanders supporter who had founded Black Men for Bernie, is now appealing to the African American community to vote for Trump. Gary Johnson of the Libertarian Party has said his ideology is similar to Bernie's and is reaching out to the millennials. Johnson will not win, but the votes he squirrels away could tip the balance.
Can Hillary ensure it is in her favour? She has just three weeks left.
Little India
The yard sign caught my eye. Ro Khanna for Congress, it said, standing pretty on the kerbside near an elementary school in Fremont. It was early morning, I was watching the drill with which children entered the school. Most came by cars, and then they were handed over to the school staff, who wore fluorescent jackets to be seen from afar. Roads leading to the school were cordoned off for other traffic during this half hour. It was interesting to watch the systems of a foreign land. Except that it seemed not so foreign. Nearly every child appeared to be of Indian origin. I tried figuring out which were first-generation migrants and who may have been around longer. Wisps of accents, the style of their clothing and the amount and style of gold they and their mammas wore, were little clues.
This is the Silicon Valley neighbourhood. You throw a stone, it'll most likely hit a Patel or a Reddy, that is, if a Chinese-origin person doesn't catch it before. Khanna, all of 40, and a visiting professor at Stanford University, is the kind of candidate the youth likes. Several Indian-origin youngsters are tirelessly working for him.
Khanna isn't the only Indian name to be seen on the yard signs this election cycle. As you travel around nearby townships of Union City and Los Altos, so many other names pop up, that it almost seems like back home. Apart from the big presidential race, there are several other federal, state and local races being held simultaneously, and Indian names naturally pop up with the frequency that is to be expected in a place where the local Costco outlet stocks Nanak brand ghee and rasmalai.
The big names from California are Ami Bera, the only Indian-origin person in the Congress, and Kamala Harris, the half-Indian, half-Jamaican attorney general of California, who is bidding for a Senate seat. Harris is the frontrunner, appealing to both the Indian and African disapora. Bera is in a good place as a sitting Congressman though a recent financial misdeed involving his father has been a setback. Khanna is making his second bid, stronger after the first loss.
As we travel across Silicon Valley, Indianisms pop up frequently. There's a billboard advertising a dubious Andhra Silicon Valley University. The local community is preparing for a Dussehra-cum-Diwali nite in one of the townships. We listen to Amitabh Bachchan's birthday being celebrated on a radio channel with hit songs from his films. Half a world away, I'm almost at home.