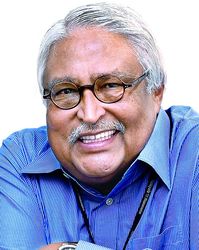 On September 2, 1945, Japan signed the instrument of surrender aboard the USS Missouri in Tokyo. It brought to a close the most brutal war in history and launched a wave of decolonisation across Asia and Africa as the war-torn colonial powers could no longer fend off the rising tides of nationalism. The world subsequently witnessed the birth of several new states. When an elaborate session of the Afro-Asian Conference was held in Bandung, Indonesia, in April 1955, as many as 29 nations were in attendance, all enthusiastic to chart a new course.
Sixty-one years after Bandung, not many of those states retain the same enthusiasm. Barely a handful remain democracies. As I introduce the Independence Day special issue of THE WEEK, I feel blessed to see that India stands united, independent and democratic against heavy odds. As Senior Special Correspondent Mandira Nayar, who anchored the Independence Day package, notes, India's birth and survival exemplify the audacity of hope. It represents the dream fuelled by a man who had chosen to fight oppression with nonviolence.
We feature an array of writers, who share their thoughts as we enter the 70th year of independence, telling us how best we can go forward in our tryst with destiny. Union Finance Minister Arun Jaitley reiterates the importance of equitable growth, the only hope for vulnerable sections of society. In its absence, only the privileged will benefit. For instance, according to Union Minister for Power Piyush Goyal, nearly 30 crore Indians continue to live without access to something as basic as electricity. But growth is not an answer for everything. Unmitigated growth, in fact, will accentuate challenges like climate change, which can only have a collective solution, warns writer Amitav Ghosh. He says routine responses like the talk about renewables are a way to avoid the conversation that we really need to have, which is about limiting consumption.
On the geopolitical front, India does not want to be China, says former national security adviser Shivshankar Menon. In his view, our foreign policy should concentrate on making India strong, prosperous and modern. Such a transformation could herald the establishment of a South Asian economic community, like it happened in post-war Europe, says eminent British historian John Keay. The cover page of this special issue was designed by eminent artist Bose Krishnamachari, who writes a regular column titled Everyone Is a Camera.
Among other columnists, Farrukh Dhondy writes about the Indian diaspora; Gautam Bhatia on the evolution of the Punjabi baroque; Kalki Koechlin on women's rights; Devdutt Pattanaik on the rise of religion; Ruchir Sharma on the Indian growth story and K. VijayRaghavan on new opportunities for Indian science. Mandira completes the package by discussing critical issues like urbanisation, gender equality and communal harmony.
In other stories, Principal Correspondent Lakshmi Subramanian looks at the reasons behind the delay in building a memorial for former president A.P.J. Abdul Kalam. Our Olympics coverage from Rio continues.
When dawn breaks on August 15, Dipa Karmakar, the young gymnast from Tripura, would have completed her vault finals. If she wins a medal, it will be a memorable Independence Day gift. But even if she fails to do so, she can hold her head high. She represents the brave new India, surefooted and confident to take on the world.
Wishing you all a happy Independence Day.