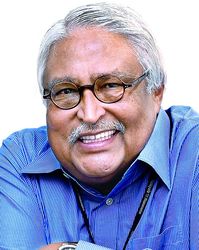 This is a common query in newsrooms across India: How do you spell actor Kamal's second name? Hasan? Hassan? Haasan? It has been an enduring conundrum, apparently. His schoolmates thought he was a Muslim, and his lawyer father said, "Good, don't correct them." In school, he was S. Kamal Haasan, the initial stood for his father, D. Srinivasan. Later, Haasan legally severed the initial with his father's permission.
He wanted the confusion over his identity to continue, the actor told THE WEEK's Contributing Editor Barkha Dutt, during the latest edition of The Town Hall. The event was held at the Grand Chennai by GRT on November 4. The Town Hall is a series of conversations hosted by THE WEEK and Mojo, supported by Federal Bank. In Chennai, we received additional support from Nippon Paint. The event's TV partner, Mirror Now, will air the interaction on November 25 (3:30pm) and 26 (6:30pm). It will also be available on THE WEEK's YouTube page. The Haasan event was the third in the series; former guests were actor Kangana Ranaut and Union Minister Nitin Gadkari.
During the Chennai event, Haasan made his first public announcement about his political party. But, the actor requested guests and THE WEEK to refrain from sharing the declaration on social media. The embargo was set for November 7, his birthday. As I write this, he is all over TV. Happy 63rd, Kamal Haasan.
There has been intense speculation about his faith, too. During the event, he clarified that he was not an atheist, but a rationalist. "There might be a higher being, bigger than all of us," he said. "But, why worship it? Try to understand it." A young man then asked him what he thought about his fans calling him aandavan. One meaning of the word is God. But, Haasan said aandavan or aandavar actually meant ruler. "Perhaps, it was used in reference to my ruling the person's attention for the length of a movie," he said, to thunderous applause.
Haasan said his party aimed to make everyone vote. He cited the specific example of a flood-hit area in Chennai which had around 15 lakh voters. He said that around seven lakh voters in the area did not vote. So, whoever secured over 3.5 lakh votes won. "You are not sheep, that you need a shepherd," he told the audience. "You appoint a representative. And, when you do not vote, you postpone hope."
What held me in thrall was the wide canvas he covered during the conversation. I'll stop with his reference to Vatapi Ganapati. I grew up with the eponymous Muthuswami Dikshitar hymn as my mother loved Carnatic music. Haasan referred to the oral tradition of how Ganapati worship came to the south after the Pallavas defeated the Chalukyas. Paranjothi, the Pallava general, brought the Ganapati idol from Badami to his hometown, Tiruchenkattankudi in today's Nagapattinam district. Badami got corrupted into Vatapi.
He is impressive, no doubt. But, will he win? In his own words: "I don't mind losing, as long as you [the voter] win."