Modi has tried to fulfil most of his election promises. The on-ground delivery, however, might not have been effective.

Modi, aided by Sushma Swaraj, wants Indian delegations to establish contact with every country by the end of this year.

Throughout Modi's rule, and through thick and thin, the BJP has stood firmly behind its most successful mascot.
When Prime Minister Narendra Modi announced the demonetisation of high-value notes on November 8, BJP president Amit Shah was on an aircraft. And, to anyone who called to complain, Shah said he was not aware of the move and that even the usually nosy media could not get a whiff of the latest "surgical strike".
However, many leaders, including Delhi Chief Minister Arvind Kejriwal and Bahujan Samaj Party president Mayawati, alleged that the BJP had prior information about the decision, which gave it an unfair advantage while the poor were in distress.
As Modi, 66, reaches the halfway mark of his tenure on November 26, his two bold moves—demonetisation and the Army's retributive action across the Line of Control—have set his personal graph soaring. While the jury is still out on whether demonetisation would get the BJP votes in the upcoming state elections—there was immense public anger in the initial days after the decision—it certainly left his detractors fumbling for an appropriate response. In fact, it has been Modi's boldest gamble, and has affected every family in the country.
"Unpredictability has become a hallmark of Modi's governance style," said a BJP general secretary. "Every few months, a new policy decision is announced. After the surgical strike, demonetisation has enhanced his status several times. If the BJP has gained something out of it, Modi has gained several hundred times more." He will keep everyone busy and continue with more policy initiatives, the leader added.
Politically, during the last two and a half years, Modi has tried to fulfil most of his election promises. The on-ground delivery, however, might not have been effective. From initiatives against corruption, improving infrastructure, announcing welfare schemes, moving towards a Uniform Civil Code, or even building the Ram temple, the government has progress to show.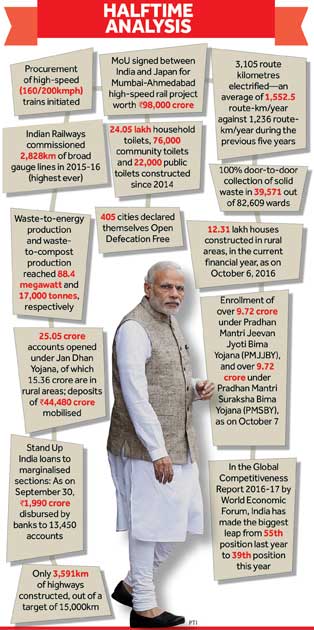 However, as 2016 comes to a close, it will also be remembered as the year that saw atrocities against dalits, cow vigilantes running amok, the students' protest at Jawaharlal Nehru University, the One Rank One Pension controversy and escalation of tension on the border.
Jammu and Kashmir, for instance, was full of hope when the BJP formed the government with the Peoples Democratic Party in March 2015. However, the unrest following the killing of Hizbul Mujahideen commander Burhan Wani, in July, has plunged the valley into an abyss. The government's strategy of not bending before the separatists has not yielded any results.
The attacks on the Army camps in Uri and Pathankot showed the country's security apparatus in poor light. It was only through the commando raid across the Line of Control, in September, that the government tried to redeem its pride. And, through this strike, Defence Minister Manohar Parrikar's stock rose. Under him, in September, India signed a major defence deal with France to buy 36 Rafale jets, which are expected to significantly improve India's strike and defence capabilities. But, if OROP was Parrikar's biggest decision, the suicide of ex-serviceman Subedar Ram Kishan Grewal, allegedly because of shoddy implementation of OROP, stopped his momentum. Quoting figures till September 15, Parrikar said the government had been able to disburse more than Rs 5,507 crore to ex-servicemen. "Only one lakh ex-servicemen (of more than 20 lakh) were not getting pension as per OROP because of some documentation problems, which will be resolved soon," said Parrikar.
However, Major General Satbir Singh (retired) told THE WEEK: "They are lying; 99 per cent [of ex-servicemen] are unhappy. The government did not the accept the definition of OROP as it was defined in the executive order of February 26, 2014. They have misled the nation."
Another aspect of Modi's rule, which has been met with criticism and ridicule, has been his foreign visits. However, he has been able to engage with world leaders and create a positive image of India. He has made 27 foreign visits, of which eight were this year, and 12 last year. Apparently, Modi has cut down on foreign visits to fight the perception that he was always on tour.
Modi's engagement with foreign countries has resulted in strategic agreements with the US, Japan and France. His goals include India's entry into the UN Security Council as a permanent member and into the Nuclear Suppliers Group (NSG). Neither has been realised. However, Modi, aided by an able external affairs minister in Sushma Swaraj, wants Indian delegations to establish contact with every country by the end of this year.
It is only in the neighbourhood that Modi's success has been limited. The surgical strike has led to a change in India's engagement with Pakistan and, though Modi has engaged economically with China, which is trying to increase its influence in the region, he has not been able to tide over its politics of power.
Former foreign secretary Bhupatray Shashank told THE WEEK: "They have been very energetic and thought they should build strong ties with neighbouring countries. But, gradually, they have come down to reality. Sometimes, you may not be able to gain everything you are looking for. Also, with the situation in Asia in general, you have to meander your way very carefully. It is not that you visit there and tell them to build a relationship. Fortunately, the situation has been changing in favour of India, which is helping."
Internally, Modi has kept a sharp eye on the implementation of various key schemes by holding regular meetings. And, he has kept his ministers on their toes. Nitin Gadkari, one of the better performing ministers, has been promising a revolution in the highways sector. He had set an ambitious target of building 42km of highways every day and claims to have reached 22km. He said the highways and shipping sectors would get an investment of Rs 25 lakh crore in the next five years, which he said would create five crore jobs.
His target for the current fiscal was 15,000km, but, till October, only 3,591km has been constructed. Moreover, against the target of 25,000km, only 18 per cent of the highway projects have been awarded during 2016-17. Land acquisition and environmental clearance were said to be the reasons for the delay.
From roads to trains, Railway Minister Suresh Prabhu, who has attempted to bring a professional touch to operations, wants to make trains human discharge free by 2021-22. According to the latest ministry figures, 14,000 bio-toilets have already been fitted in coaches, and 16,000 are to be added in the current fiscal.
The railways will invest more than Rs 2 lakh crore next year, compared with previous year's Rs 1.21 lakh crore, to expand the network. The punctuality rate of the railways hovered around 80 per cent, while the ministry wants to increase it to 95 per cent. Also, the ambitious bullet train is yet to be announced.
Among Modi's pet projects, Start Up India seems to be doing well. According to a recent Nasscom-Zinnov report, India was the third largest base for young businesses, just behind the US and the UK, and nearly 1,400 new startups are expected by the end of 2016. However, according to government data, only 1,144 applications were received, of which 385 had the required documents and have been recognised as startups by the Department of Industrial Policy and Promotion.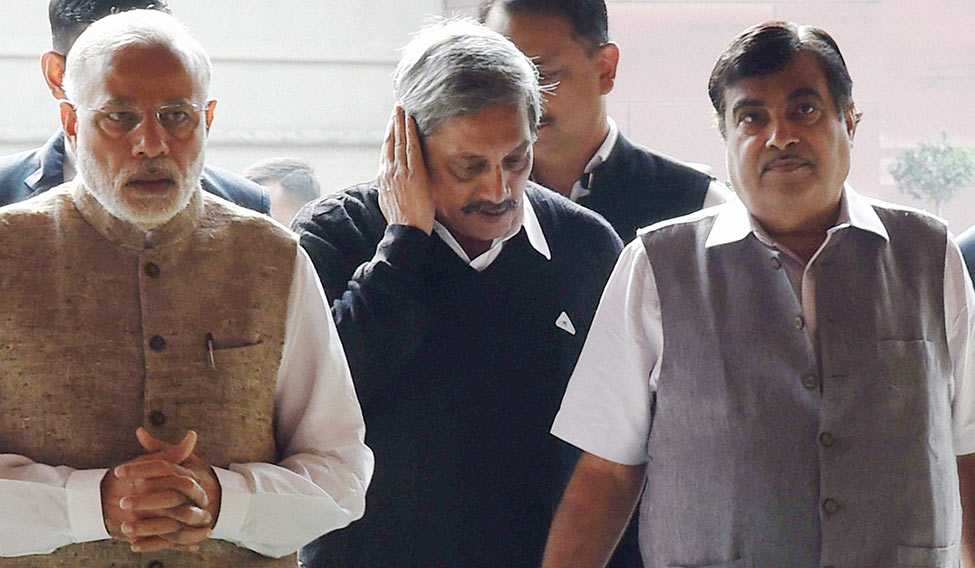 With Modi pushing for Digital India, the government had to embrace Aadhaar, the UPA's flagship scheme, which the BJP had derided before the 2014 Lok Sabha elections. According to a report prepared by the information technology ministry, more than 98.9 per cent of the country's adult population was covered under Aadhaar, as unique numbers were generated for 107.36 crore people till October 31. Also, demonetisation has led to money being deposited into the dormant accounts created under the Jan Dhan Yojana.
Throughout Modi's rule, and through thick and thin, the BJP has stood firmly behind its most successful mascot. "The past 29 months have shown that the idea of politics of performance has been fairly established," BJP vice president and MP Vinay Sahashrabuddhe told THE WEEK. "He has shown his willingness to initiate reforms. The recent demonetisation is a manifestation of that will. Through his (emotional) speech, he has been able to convert a government administrative order into a popular movement."
Modi's opponents, however, are not impressed. "Economic anarchy, absolute autocracy, and an uncaring attitude and approach to people's problems defined the sum total of Modi government's governance module in its two and a half years in office," Congress spokesperson Randeep Surjewala told THE WEEK.
Modi, he said, should realise that a country is not run by slogans but by a sense of responsibility.