He hobbled into his studio and perched himself on the beige sofa in the centre of the room before looking at me. "I want my coat," he whispered to Syed Alawi Elanthical, his man Friday. Syed fished in the wardrobe and held up two black coats for approval. One passed his scrutiny and his gnarled fingers, with chipped nails, pulled the sleeveless black coat over the white shirt that supported his gaunt frame. He straightened his hair and with an impish grin, said, "Acha, bathao"[Ok, tell me]. I realised he wanted to look good for me. That was a year ago when I met him at his home in Qatar.
His baritone, the chivalry and the melt-your-heart smile—that is how I wish to remember Maqbool Fida Husain.
He was a simple man, who never fussed over anything and let his work do the talking. He never had a secretary and picked his calls and fixed his appointments himself. "He was an honest, outspoken man, who was willing to meet people," says photographer Pradeep Chandra, who is bringing out a pictorial tribute to the artist. He narrates an incident of a man from Udaipur who came to meet Husain when he was working at the Pandor Art Gallery in Mumbai: "The man brought an atrocious portrait of Husainsaab as a gift. He did not say anything, but sent the man away with an autographed book of his work. Such is his simplicity."
Syed, Husain's aide during his four years of self-imposed exile in Doha, too, endorses that: "He was a good man, almost like a father to me. I could ask him anything and he would oblige. He would give me money to run the house and never ask for the accounts. If I insist he would only say, 'Write it down and show me later'. And in these four years I never got a chance to show him the accounts."
When THE WEEK met him at his home last year, he had completed 36 of 99 paintings he was commissioned to do for Mathaf, the Museum of Modern Arab Art in Qatar. And when he left Doha for London on May 8, on less than half the easels stood unfinished canvases. "If he got into the mood, he could sit and paint for hours over endless cups of chai. But most of the time he was travelling," says Syed.
His work was commissioned by Qatar's first lady Sheikha Mozah bint Nasser al-Missned. The museum will be officially inaugurated in 2012. Says Syed: "He had called me from London and asked me to take a few of the unfinished canvases off their easels so his son could come and collect them and take them there. But then this happened."
His project in Qatar was on the history of Arab tradition. The completed canvases that donned his studiocum- home hinted at a new flavour. Sand dunes, camels and hijab-clad women dominated many a canvas. Was he happy? "At this age to come here and get all the facilities to work, I think I am really fortunate. If you are sitting in one place and cribbing, you will be cribbing all your life. It is your choice. I take life as it comes," Husain told me.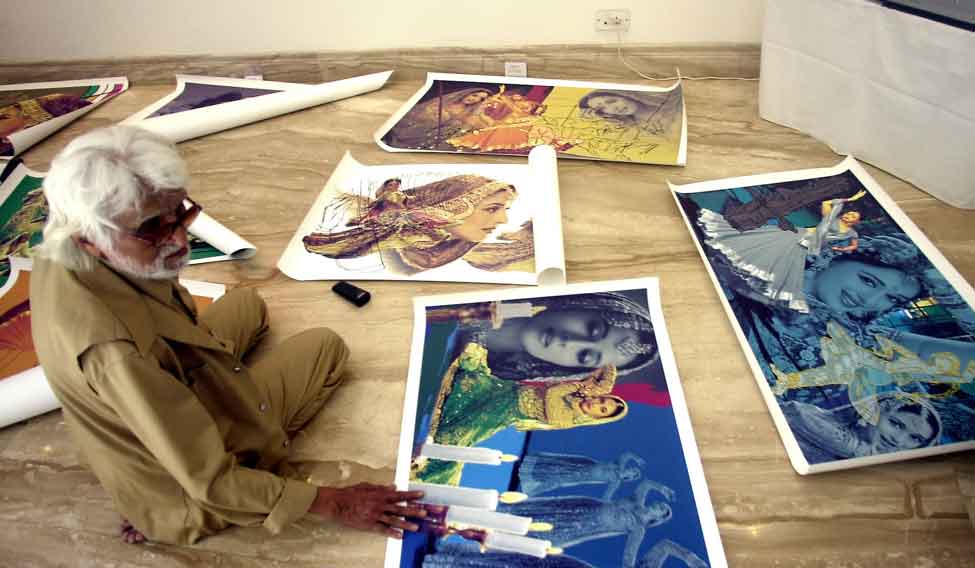 The nonagenarian was also involved in a project with the Mittal Foundation. Said Lakshmi Mittal, who was also one among Husain's close friends: "I am deeply saddened by the news of M.F. Husain's demise. He was a great artist and much like Picasso, legendary in the world of contemporary art. Usha (Mittal) had asked him to paint the history of India. A lot of the commissioned work is complete and we will display it at an appropriate time in the near future."
After the much-talked about controversy about his Qatari citizenship erupted, his son Owais reportedly told a newspaper, "You might take Husain out of India, but you can't take India out of Husain." His love for his country was there in the idli and appam he enjoyed for breakfast and in the Shah Rukh Khan flicks he watched. He kept himself busy with work because he missed India, says Chandra. "He was the richest artist once he left India. But everyone wants to be in their country when they are old, right?"
Husain had his unique way of doing things. Be it his reason for being barefooted or celebrating Eid with the people who were around him during the time he did hoardings on Mumbai's railway tracks for 8 annas. Every Eid, he would go back to his mohalla in Badar Baug and invite everyone from the imam of the masjid to the biggies in Bollywood to be a part of the feast. Invitees to his last Eid celebrations in India included actors Tabu and Urmila Matondkar and filmmaker Aziz Mirza, says Chandra.
When Prime Minister Manmohan Singh expressed grief over India's loss, artists across the country screamed themselves hoarse saying the legend should have been in his country. Says artist Riyas Komu, "Losing a legend in such a way makes me feel that secular India has been conceptually defeated by his death."
A fiercely independent Husain never asked for favours. "He did not like being led by the hand, he might hold yours," says Syed. The painter never asked you to do something he couldn't do. He was against plastics and avoided it, be it grocery bags or paper cups.
Did he have any dream projects? "No, but I just want to paint as long as I live," he had told THE WEEK. "What is important to me is continuity. As long as long as you live you paint, there is no end to it. Creativity is a circle. You start at some point and take it further, then someone else comes and takes it up. That's how the world progresses. Just like the Great Creator, you have to create."
A part of him will always remain in my living room, in the signature that endorsed the line drawings of an elephant and tiger for the pregnant journalist who waddled into his studio to disturb his siesta on a summer afternoon. Sleep well, Husainsaab.