Friends and neighbours remember Omar Mateen as a fun-loving, "regular young kid" who liked a good party. But relatives and colleagues give clues as to what lay behind his transformation from an ordinary neighbourhood guy to a deranged gunman who pledged allegiance to Islamic State before killing 49 people at Pulse, a gay club in Orlando in Florida.
As a teenager, he was "cool, calm and collected", according to Ryan Jones, an acquaintance of Mateen's from school days. "He loved to hang out with women, and party with young kids our age. He was a normal teenager with a normal life—never crazy, never," said Jones.
How things had changed since they last saw each other more than five years ago. Jones is now a father and Mateen shot dead by the police after carrying out the worst mass shooting in US history. Yet, something of Mateen's composure remained while he was holed up in the club with hostages. John Mina, Orlando's police chief, used the same words as Mateen's childhood friend to describe his tone in negotiations with police: "Cool and calm."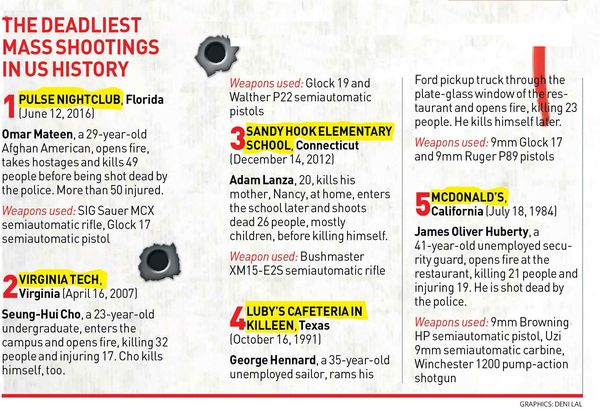 The world's biggest private security company found nothing out of the ordinary when it hired Mateen, who had ambitions to become a policeman, in 2007. He passed two background checks to qualify for employment with G4S, the British company. Indeed, before Sunday morning at Pulse, the 29-year-old killer had collected only a traffic ticket.
There were worrying hints, however, of a shift to the violence to come. His former wife described him as a violent, bipolar man who used steroids and held her hostage when they lived together. Sitora Yusufiy, from Uzbekistan, met Mateen online through MySpace and moved from New Jersey to Florida to marry him in 2009. A few months into the marriage, she fled to her parents' home in New Jersey. He never showed any extremist leanings, she said. "To be in some way affiliated at one point in my life to somebody that caused such a tragedy—it shook me," said Sitora.
When they divorced in 2011, Mateen travelled to Saudi Arabia to take part in the hajj, repeating the pilgrimage the next year. He remarried. He and his second wife, Noor Zahi Salman, have a three-year-old son. But they appear to have lived apart. She is listed as living at an address in San Francisco.
He continued to work for G4S. Former colleagues said Mateen would voice hateful abuse while he was at work. "This guy was unhinged and unstable. He talked of killing people," said Daniel Gilroy, a former police officer who worked with Mateen as a security guard at a well-to-do retirement community in Port St Lucie, Florida.
Eric Baumer, another security guard who worked with Mateen, said, "He had bad things to say about everybody—blacks, Jews, gays, a lot of politicians, our soldiers."
Colleagues complained about Mateen's hate-fuelled rants and the Federal Bureau of Investigation was informed. Mateen had said he had links to Al Qaeda and Hezbollah—claims that made little sense given that the former are Sunni extremists and the latter, Shia militants. He also said he hoped the authorities would raid his apartment so that he could carry out a suicide attack.
During interviews with the FBI in 2013, Mateen admitted making the statements, but said he "did it in anger, because he thought his coworkers were discriminating against him and teasing him because he was Muslim," said FBI director James Comey. The case was closed after ten months.
Mateen again came under the FBI radar a year later, when he was linked to Moner Mohammad Abu-Salha, a Palestinian-American who fought in Syria for the Nusra Front, a militant group aligned with Al Qaeda. He became America's first suicide bomber in Syria. Abu-Salha had worshipped at the same mosque as Mateen in Fort Pierce, a modest town of palm tree-lined roads and clapboard houses neighbouring Port St Lucie. The FBI questioned Mateen again, but ended the investigation when no close ties could be established between the two men.
Mateen may have been radicalised by a firebrand imam with links to the "blind sheikh" behind the 1993 World Trade Center bombings. Marcus Dwayne Robertson, a former US Marine who once led a gang of New York bank robbers nicknamed 'Ali Baba and the 40 Thieves' and served as bodyguard to Omar Abdel Rahman, the extremist behind the attacks 23 years ago, was said to have been questioned by the FBI as they investigated Mateen.
Robertson, 47, an anti-gay islamist activist who was released from prison last year amid warnings from prosecutors that he might try to recruit disciples for terrorism purposes, runs an online Islamic seminary in Orlando, in which Mateen was said to have enrolled. Robertson and several associates were rounded up for questioning after the massacre at Pulse.
Robertson was released from jail after serving four years for tax fraud and possessing illegal weapons. He told a student to file false tax returns to get cash to pay for terrorism training in Mauritania. He has preached openly against homosexuality.
While in prison, Robertson was considered such a risk that he was kept in shackles and transported to court appearances in a seven-car convoy of US marshals. Prison authorities feared that he had been attempting to radicalise fellow inmates.
Syed Shafeeq Rahman, the imam at the Islamic Center of Fort Pierce, wept when he learnt that a second worshipper who had attended his mosque had turned to extremism. It was anathema to what he taught, the imam said.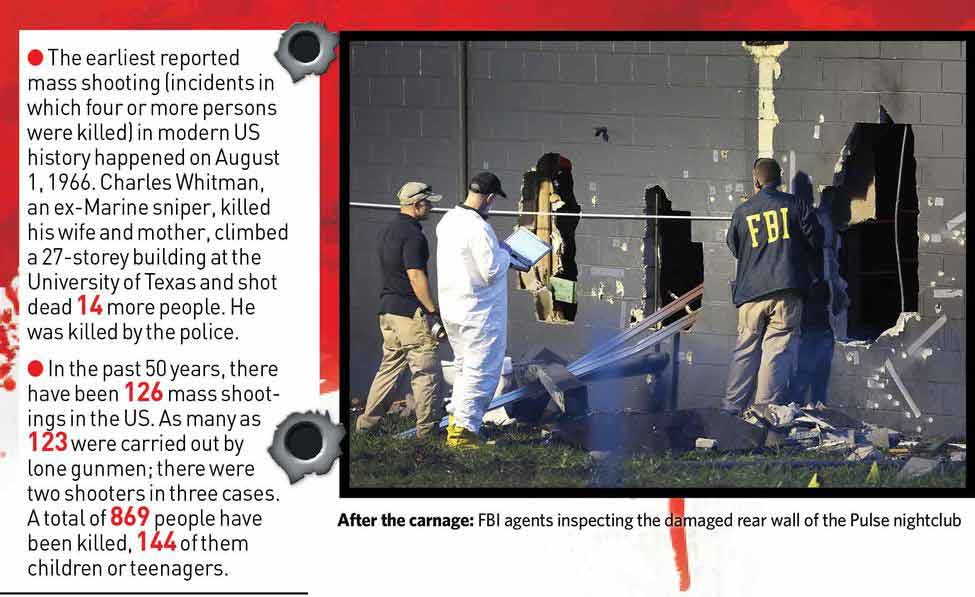 Mateen's three sisters volunteer regularly at the neat, yellow-painted mosque. His father, Seddique Mateen, is an Afghan immigrant who grew to be comfortably off from his success in the insurance industry and was said to be known and well-liked in the community. He has also pursued a quixotic role as an online activist in Afghan politics—he once claimed to be running for the Afghan presidency and voiced support for the Taliban. His son was born in New York and attended high school in Florida, playing American football and working at a vitamin supply shop.
The elder Mateen condemned his son's actions, calling them "an act of terror". "I am as sad as the rest of the country and I hope all of my American brothers and sisters heal faster and we make sure this doesn't happen again," he said, wiping a tear from his eye.
He had spoken to his son just a day before the shooting and said nothing seemed amiss. "He was a good boy," said the father. "I wasn't aware of this even 1 per cent. It's painful." He said he was yet to forgive his son. "Fifty people passed away," he said. "I am more sad at this than the loss of my son."
Police searched the gunman's flat at the Woodland condominium complex in Fort Pierce after the shooting, not allowing residents back into their homes until late on the night of June 12. Another investigation at a home in Port St Lucie owned by the Mateen family ended in the afternoon. A gun was found in Mateen's grey Toyota at the Fort Pierce flat.
Robert Shepard, 34, who lives near Mateen's flat, learnt of the tragedy when an officer knocked on his door at 7am on June 12. "I knew people that were going to that club. They had car trouble and didn't make it. There were six of them in the car. I have done promotions for people who have performed at that club," he said, shaking his head.
Shepard had never met Mateen. "He has been here since 2007, and he just bought the guns," he said. "Who would expect something like this?"
The Times/The Interview People