In the presidential section of the Smithsonian National Museum of American History in Washington, there is a poster of Kisses for my President, a 1964 Hollywood comedy. The film is about what happens when a woman goes to White House as president. For starters, the 'First Husband' finds he has been allotted a boudoir in pink and lace, and that his day is packed with garden parties.
Comedy, they say, is an exaggeration of truth. That "moment of truth" might well be upon the United States in the autumn of 2016, over half a century after Hollywood foresaw what American civilian society was not ready to accept then—a woman president.
American pop culture has always been ahead of the social mindset; 1964 was also the year when Irving Wallace published The Man, a novel about a black man as America's president. The Barack Obama era, however, is wrapping up and the US seems poised for a change. That change, however, isn't about a woman president succeeding a black one. It's a bigger sociological churning. The US is grappling with a host of issues: from unemployment to rising debt, widening social inequities to fears of compromised national security. America is not happy, and Americans don't know what they want—someone to highlight what's not right or a messiah who will put things straight.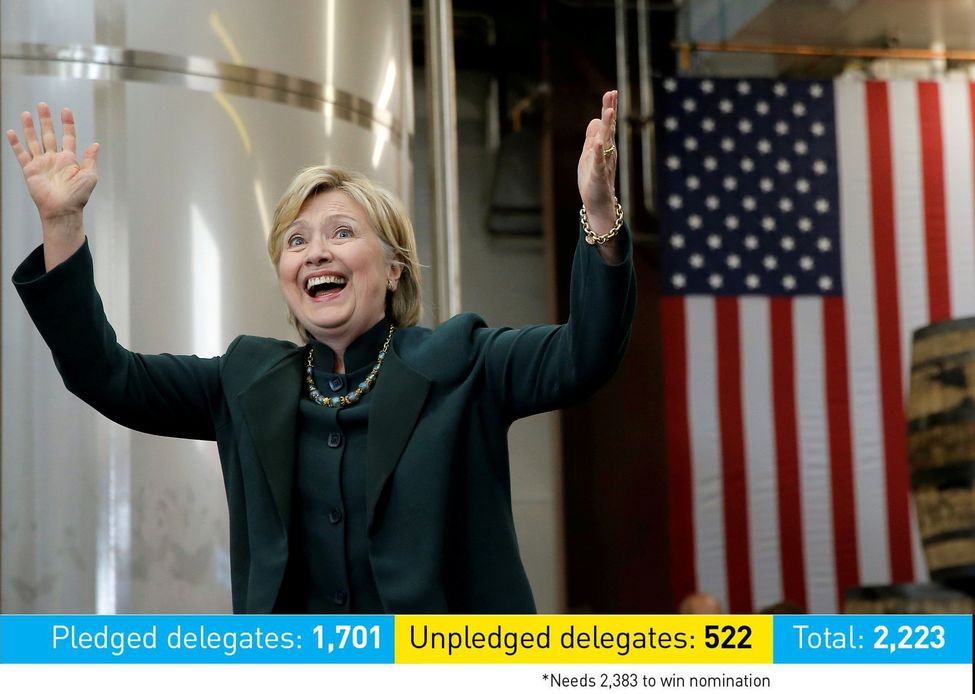 It's this scenario that's giving Hillary Clinton—considered largely to be the most qualified among the candidates for the post—some nasty headaches. Her challenger for the Democratic nominee, Bernie Sanders, a senator from Vermont, may be a newcomer to the party, but he has got what she hasn't— momentum. He has collected more from humble donations than she did through her Hillblazers (individuals who have raised more than a hundred thousand dollars each for her campaign). Hillary, of course, has the maths, sailing comfortably ahead of Sanders towards the magical 2,383 before the July convention when the parties will select their nominees. Sanders, who now accepts that his chances are bleak, has significantly not yet withdrawn.
It's time for introspection when you realise that a 74-year-old outsider can take the wind from your sails and worse, crowds from your rallies. It's just not the numbers Sanders attracts, but their composition that's as significant. He has the youth and the millennials—America's today and tomorrow—behind him. The youth sure are 'Feeling the Bern', a slogan that's making Hillary feel the heat.
Hillary lacks in mass connect what she has in experience. When she addresses a gathering, she isn't reaching out to the masses as much as she is articulating the finer points of her grand policies as president. Sample this: "The best way to combat climate change is to create jobs in renewable energy. I plan to have half a billion solar panels by the end of my first term and solar energy to every home by the end of the second," she told a modest gathering of traditional Democrats—educated and middle class—at a rally in Baltimore. Somewhere, tucked between her plans for minorities and gun control, she makes a feeble appeal to the electorate to come and vote for her.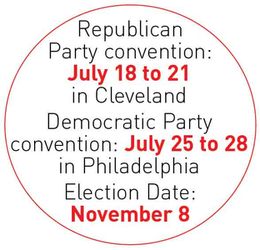 Hillary was smart enough to tweak her electoral points when she felt the Bern. She called for increasing minimum wages. Sanders threw a tantrum, accusing her of stealing his idea. Sanders, with lesser exposure to high offices, could airily promise raising minimum wages to $15 an hour without caring to explain where the money comes from. But when Hillary speaks, the former secretary of state in her cannot take a back seat. She feels compelled to articulate the approach, too, promising $12 initially, raising it to $15 subsequently. "It's easier to diagnose a problem than try to solve it," she says.
For someone who doesn't make concessions for her femininity, Hillary, unsurprisingly, doesn't have much resonance with women voters, especially younger ones. Rarely does she project herself as a woman. For instance, when she made a pitch for gender wage parity, she said, "It's a family issue, not a gender issue. You don't get discounts at the superstore because you are a woman." Even her claim to have 50 per cent women in her cabinet doesn't evoke much applause.
Denise Martin, a retiree, is an Obama fan and will vote for Hillary because "she has plans to take forward Obama's legacy." Hillary has Obama's backing and knows that by referring to him and even her husband, Bill Clinton, in her speeches, the public is happier. Take, for instance, Tuku Jalo who says, "Bill [Clinton] signed my citizenship when I migrated from west Africa. I owe the Clintons a debt."
Some feel Hillary is judged too harshly, even criticised for not being feminine enough. "But if there's any woman who can harden herself to such criticism, it's her. Life has forged the steel in her. We are ready for a woman in the White House, but she should go on merit, not gender," says Martin. Some feel there's something distrustful about the Clintons. As James Clad, former deputy assistant defence secretary, says, "She offers the tired, compromised and very phony 'progressive' perspective of Democrats."
What no one can take away from Hillary is her work in public service. Kripa Jalapathy recalls a time in the early 2000s when she was a post doctoral student in New York. Her husband had gone to India, and couldn't return as his visa wasn't being renewed. "He was into tuberculosis research and those days, the US was freaking over bioterrorism. Finally, I wrote to Clinton," she says. A few days later, an excited colleague told her Senator Clinton was on the line. "We spoke; in a few days, my husband's visa was sorted out,'' she recalls. Several years later, when her husband was returning to the US from a Singapore visit, the immigration official couldn't resist asking, "Sir, if you don't mind, what's your connection with Mrs Clinton?" He was zapped, till the official said, "No, no, it's just that her name is mentioned in your record."
Any body of work, however, can be washed aside by a populist tide. A tide that has overwhelmed the Republican shore. Billionaire, builder and now more brat than anything else, Donald Trump has motor-mouthed his way through traditional American politics, sometimes so shockingly that even his wife, Melania, has to nudge him. Not that he heeds. Political incorrectness is his style, though he promises to be more "presidential" later. Trump is the last man standing in the Republican race, with Ted Cruz and John Kasich bowing out finally.
Some time ago, Hillblazer Shefali Razdan Duggal presented Hillary with a small Ganesh statuette for good luck. Luck is what she badly needs, especially now if the fight is between her and Trump. Also her email row (she was using her personal email for official mails as secretary of state, thus allegedly compromising confidentiality and security), though on the back burner now, could resurface uncomfortably anytime.
Trump wears a red baseball cap, just like a blue-collar worker. So, when he speaks to them, they don't see the billionaire builder, they see him as one of them, part of the labour force. Trump speaks their tongue, too. He blames migrants who dig tunnels through Mexico for dumping drugs into America and taking away the jobs of hardworking Americans. 'Make America Great Again' is his slogan, and he regales crowds with mean imitation of Indian call centre workers.
Trump says the US should get out of the North Atlantic Treaty Organization because it's giving more than gaining from it. The US should also charge Japan, Korea and Saudi Arabia for military aid. It should build a wall on the Mexican border to keep away migrants and make Mexico pay for it. There are a score other such observations, ranging from US policy for China to attacking German chancellor Angela Merkel's "migrant folly". Even Obama, who as president tries keeping away from the electoral drama, has had to point out that Trump has no idea of foreign policy.
Trump, however, like Sanders, has an idea of what Americans want. "While Sanders points to the problems, Trump offers himself as the solution," says Sumit Ganguly, the Rabindranath Tagore chair in Indian cultures and civilisations, Indiana University. "It's all bluster, but he has managed to polarise the country." Trump has made politically shocking remarks on homosexuals, minorities, Muslims and even birth control. He articulates what many Americans think but would never dare utter. Were it not for him, the Kardashians would not have been edged out of reality television. He is the darling of news channels, which often goad him into utterances that boost TRP. Not that he's complaining.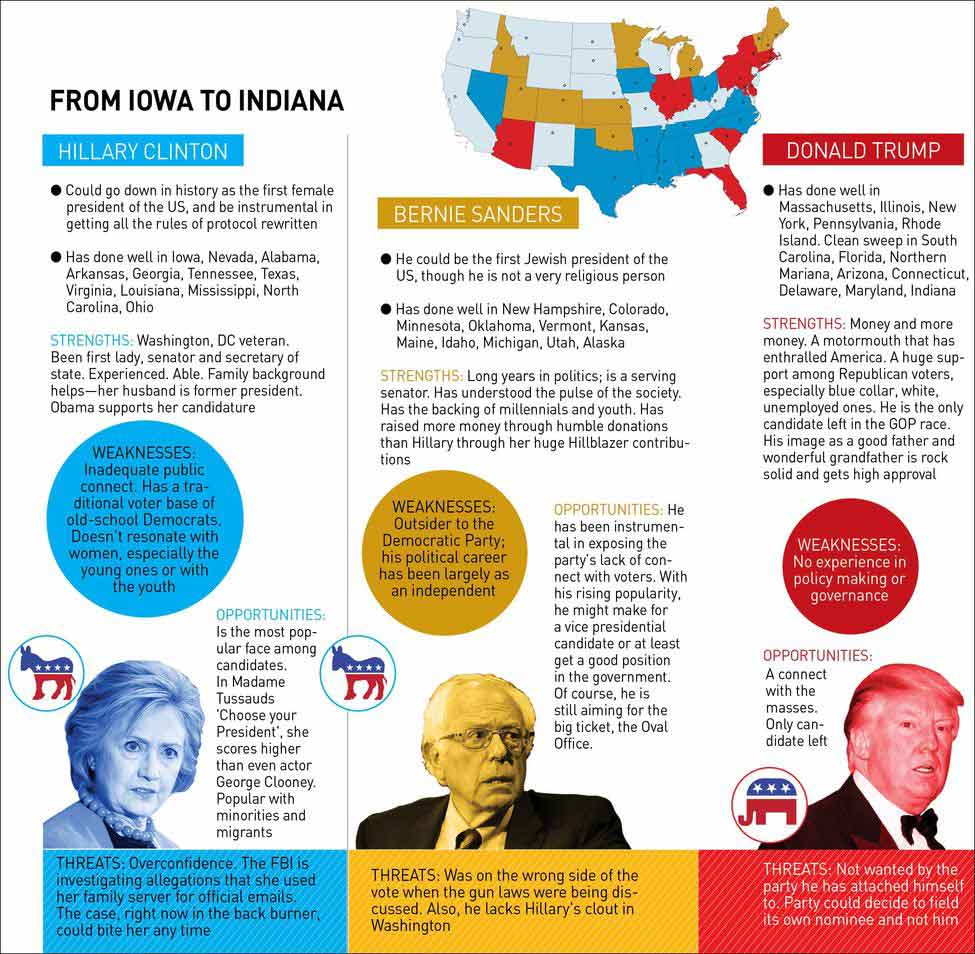 Trump rallies make the outsider decidedly uncomfortable—the crowd is what Margaret Mitchell would call the poor white—blue-collar, semi-literate Caucasians, whose anger and latent violence is only just sheathed with a veneer. His meetings are also never free of protesters. Before the New York primary, homosexuals, blacks and religious minorities converged outside the Grand Hyatt with 'Dump the Trump' protests for hours.
But Trump has other followers, too. Educated and moneyed people like those belonging to the Indian-Americans for Trump 2016, who feel that much of the American self-esteem and international regard that have been eroded over time can be restored by Trump. "He is a businessman; he understands economy,'' says A.D. Amar, president of the organisation, dismissing many of Trump's utterances as crowd wooing. "When it comes to running the country, he won't behave so."
'Trumpters' cite certain qualities of Trump that are not usually discussed. "He stands by his people," they say, referring to Corey Lewandowski, his campaign manager accused of assaulting a reporter at a Florida press conference and grabbing a protester by the collar in Arizona. The incidents brought bad press and many suggested Trump fire Lewandowski, but Trump said he couldn't do that to someone who was working for him.
Former Republican candidate Ben Carson was among the first to support Trump, though while he ran, Trump said nasty things about him. Carson brushes aside those insults as part of the game. Politics make strange bedfellows and there is the lure of a vice presidential running post, too.
'The Donald' heads towards the Grand Old Party's July convention, polarising both party and nation. The GOP is wondering what to do, even as party members are making their pro- and anti-Trump stances clear. Some weeks ago, around 100 former Republican appointees wrote to the party, calling Trump very bad news. Till Cruz was in the race, there was at least the face-saving option of going to the November hustings with a 'Lose with Cruz' attitude, but that door is shut now. If the party selects another nominee, Trump has made it clear he is not going to take it quietly.
Politically, Trump's loyalties have shifted from Democrat supporter to now aspiring Republican nominee. Once, he was a Clinton supporter and even said Hillary would make a good president. But then came personal aspirations. Today he calls Hillary the enabler for her husband's infidelities. Beyond political free for all, Clintons and Trumps have good relations. Chelsea Clinton is a friend of Trump's designer daughter Ivanka, who says that as daughters they were supporting their parents, but as friends they were still friends.
"It's now established both parties misjudged the mood of the electorate. National security and economy have played a bigger role in these elections than expected. It's an interesting paradox that anti establishment candidates, Trump and Sanders, have done an effective job of conveying the idea that DC needs change,'' observes Ronak D. Desai, affiliate of India and south Asia progam, at Harvard Kennedy School's Belfer Center for Science and International Affairs.
"There's a sense of fury with a smug political class and rich tax evaders... and an unease with the extent of failure in US governance," says Clad. "The biggest worry for Clinton is that independent minded voters see her as a relic of the past; for Trump it is: can enough angry, undereducated Euro American men be mobilised to vote?"
This election has turned out to be as much about the candidates as it has been about inner-party dynamics. "Among Democrats, there were precedents when Obama challenged established norms in 2008 and Kennedy earlier," observes Desai. He believes the party will emerge stronger post the Sanders challenge. "Hillary will be forced to take a hard look at why she is not resonating and work at broadening her demographic appeal. The GOP, however, has pronounced fractures, the establishment on one side, Republican voters firmly on the other. Its very survival will depend on a complete rejig to stay relevant in times to come."
As both parties head for their conventions, they have been knocked into understanding that voters are not mindless entities who will accept whatever is served them—like establishment-endorsed candidates Jeb Bush and Hillary. The oldest democracy in the world has a lot of thinking to do.