Dassault Aviation is planning to set up a facility in India to manufacture parts of the Rafale aircraft and may help develop India's Tejas Light Combat Aircraft.
On January 25, Prime Minister Narendra Modi and French President Francois Hollande's meeting spilled into the afternoon. The two leaders met for an hour at Hyderabad House in Delhi and the delegations interacted for an hour and a half. There was the inauguration of the proposed International Solar Alliance Institute's interim secretariat at Gurgaon at 3.30pm and observers wondered whether the leaders would take a chopper ride to the venue if they were to be on time. Officials at the ministry of external affairs, who had given every detail of the proposed visit earlier, had been vague about the Gurgaon trip. Spokesperson Vikas Swarup casually said, "The details would be intimated later." But he never actually did so.
Modi, however, took his guest to the Race Course Road metro station and together they boarded a train to Arjan Garh station at Gurgaon, their offices tweeting appropriate pictures of the two waiting at the platform and sitting in a coach. On their return, they took the train at Guru Dronacharya station and got off at Jor Bagh.
In a visit that was otherwise devoid of glamour, the ride had the Modi touch of springing a talking-point surprise. More importantly, taking an eco-friendly mode of mass transport underscored the latest dimension in Indo-French ties, which is to act as partners in mobilising a carbon-neutral world by focusing on clean, renewable energy. As Hollande noted, one of the main reasons for his visit was to take forward the decisions made at the Paris climate conference in December. "France wants to build a post-carbon world with India by launching projects now," he said.
France is committing 300 million Euro to the International Solar Alliance to scale up solar energy production. The developed world used to consider India, which had strong ideas on climate justice and historical liability, a huge challenge to the passing of the climate agreement. India tweaked its stance, and a grateful France supported Modi's ISA initiative.
The clean energy boost saw another agreement: to build six nuclear reactors at Jaitapur, Maharashtra. The previous agreement was for two reactors. The nuclear boost, say observers, is a followup on India's INDC (intended nationally determined contribution) to work towards a 40 per cent renewable component in its energy mix. The combined hope is to start work at Jaitapur by 2017.
France is India's "original strategic partner", as Foreign Secretary S. Jaishankar puts it. "There is strong convergence of views on political issues. France supports India's claim to a permanent seat in the United Nations Security Council," he said. The strategic partnership is seeking to evolve into a multidimensional one. French business houses are looking at the Make in India and Skill India initiatives of the Modi government to enhance their presence in India. France is India's third leading business partner and 1,000 French companies are active in India. "I have set a target of $1 billion of additional investments per year in India from French companies," Hollande told a business conclave in Chandigarh. "And we can make it happen even faster—$8 billion over the next three years." Having "adopted" Chandigarh, Puducherry and Nagpur, France has committed heavy investments and technological help in India's Smart City mission.
Hollande's visit saw India and France signing agreements to cover a swathe of areas, from culture and counterterror to science and security. France has committed itself to a joint venture to manufacture 800 electrical locomotives at Madhepura in Bihar and upgrade the Delhi-Chandigarh railway line to a high-speed one. There are talks of upgrading Ambala and Ludhiana stations.
Last year marked the golden jubilee of Indo-French space collaboration. Taking it forward, Hollande put the ink on three fresh space tie-ups, including India's next Mars mission. This time, the ambition is to land a rover on Mars; France might contribute the rover.
France hosted the climate meet in the aftermath of the Paris bombings, while India's Republic Day celebrations were clouded by heightened threat alerts following the Pathankot terror attack. The French consulate in Bengaluru even received a letter warning Hollande against visiting India. The security arrangements for Hollande's visit went into an overdrive. More than two dozen men, suspected to be making terror bids, were arrested in the run-up to the visit. On Republic Day, armed men were stationed every 20 metres in central Delhi.
The joint statement against terror was an obvious takeaway of the meet. Both the leaders went beyond the Paris-Pathankot dimension to include other countries, too. This was followed by commitments to enhance information sharing on cyber security and step up joint military exercises. France is participating in the Indian Navy's International Fleet Review in Visakhapatnam in February. The French military contingent that marched down Rajpath on Republic Day was the first foreign contingent ever to do so. The decision was a last-minute one. A detachment of French soldiers were already in India for Shakti 2016, a joint army counterterror exercise in Bikaner, when the invite to march down Rajpath was received. France sent more soldiers and, after a few days of rushed practice, the 123-strong contingent created history, their tall caps standing out amid the Indian safas and berets. Commenting on the anti-terror joint statement, Jaishankar said, "We have been quite effective in getting the international community to look at India [as a victim of terror] in the way it should have been years ago."
Despite all these steps forward, the biggest business deal on the block was left unsettled. Last year, during his visit to Paris, Modi had presented France with an order for 36 Rafale multi-role combat aircraft, scrapping the previous tender for 126 such aircraft. More than eight months later, the deal is still hanging fire. India and France are yet to finalise the contract as many factors, such as the per unit cost of the aircraft, are yet to be decided on. On January 25, Modi and Hollande signed a memorandum of understanding for the purchase of 36 Rafale jets. The aim, apparently, was to show progress in the acquisition process and to help the French president show some successes back home.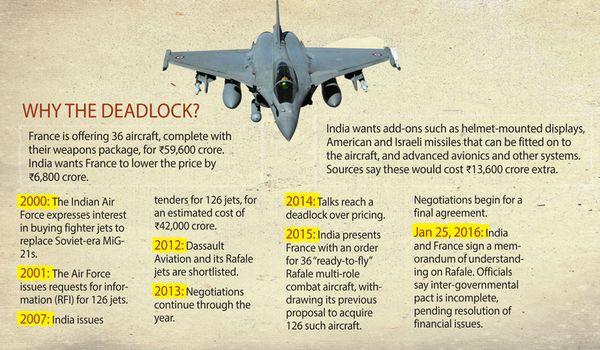 France has agreed to include 50 per cent offsets (use of components made in India) as part of the deal. The two sides, however, are still fighting it out on the price issue. "The French side is offering us 36 aircraft, complete with their weapons package, at around $8.9 billion (Rs59,600 crore), whereas we are looking at somewhere around a billion dollars less than what they are asking from us," defence ministry sources told THE WEEK. They said Modi and Defence Minister Manohar Parrikar wanted to buy the jets at prices lower than what had been offered in the previous tender scrapped by Modi. India has asked France for add-ons such as helmet-mounted displays, American and Israeli missiles that can be fitted on to the aircraft, and advanced avionics and other systems. Sources said the add-ons would cost $2 billion extra and the weapons package, another $1 billion. "The delay in finalising the deal for the last ten years has cost us dear, as we would be paying almost 30 per cent more money for buying only 36 aircraft," said retired air marshal A.K. Singh.
A team led by Stephane Rebb, the French director-general (armament), had landed in Delhi almost a week before Hollande's arrival. Rebb was involved in several rounds of negotiations with the Indian Contract Negotiations Committee, headed by Air Marshal R.K.S. Bhadauria. The talks focused on the technical and commercial aspects of the deal, but they failed to break the deadlock.
To fulfil the offsets clause in the proposed deal, France agreed to invest half the worth of the project in India. This, sources say, could be in the defence, civilian aerospace and homeland security sectors. Dassault Aviation, which manufactures Rafale jets, is planning to set up a facility in India to manufacture parts of the combat aircraft and may help in the development of India's Tejas Light Combat Aircraft project. "Setting up the facility to produce parts of the aircraft would not only help in reducing costs for us, but also allow us to fulfil offsets commitments," said a French source involved in the negotiations. Dassault Aviation is also eyeing a 'Make in India' contract to produce 200 twin-engine combat aircraft for the Indian Air Force.
According to retired air marshal R.K. Sharma, there was a need to go for a government-to-government deal for 36 aircraft instead of the previously planned 126 jets. "It was a much needed one, as the Indian Air Force was facing shortage of fighter aircraft and there was an urgent need to fill the gaps being created by the phasing out of older planes," he told THE WEEK. According to Sharma, who was involved in the previous deal, the move to buy 36 Rafale jets would help the Air Force remain competent and combat-ready.