In August 2022, I was travelling by an overnight train from the west Ukrainian city of Lviv to capital Kyiv. Co-passengers with small children, returning from refuge in Europe, showed photos of their destroyed homes in Bucha near Kyiv. Their resolve to return and rebuild their homes and lives struck me. In the morning, the lady conductor offered me coffee. I asked her, "Shall I manage? The train is about to reach." She calmly said, "We must have time for everything in life now. Never worry." Amazing realisation! Yes, I do manage everything. Being in Kyiv under constant threat of missile attacks, like millions of others in Ukraine, my life is used to this coexistence of outer war and inner peace. As I write these lines, there is an air raid alert in Kyiv. I move to a safer place, quietly writing my humble thoughts to you. Dear reader, life goes on in this large country of 40 million people.
And what can be more surreal and splendid at this midday hour, February 20, 2023, than watching US President Joe Biden walking in Kyiv, meeting the Ukrainian President Volodymyr Zelensky? Nine years ago, on this day in 2014, more than 100 peaceful protesters were shot to death in the central Maidan in Kyiv in front of my eyes. The same day the world saw the covert entry of the Russian military without insignia into Crimea and later into Donbas. The war started then in 2014, many say. In 2022, before Russia's all-out invasion, most countries warned, Kyiv will fall within a week. Today, Kyiv and Ukraine are alive and kicking.
Ukraine and its people have shaken the foundations of big power complicity in making shady deals, and appealed for global action. Most of the big powers shook off their inertia and are slowly on track. They hesitate provoking Russia of course, but they realise that the mistake of another Budapest Memorandum, which guaranteed Ukraine territorial integrity in exchange for all its nuclear weapons, cannot be repeated. It will be catastrophic for global security. For most of the Global South, Russian expansionist designs are far less understood. The reasons are, among others, their policy hangover identifying Russia with the former Soviet Union, as a supporter of anti-colonialism as well as the Russo-centric approach of academics in these countries viewing the post-Soviet space through Russian narratives alone.
Over decades, I realised these as an Indian who knows both Russian and Ukrainian. As one of those, who has never left Ukraine since last February, I wonder why this noise about one year of a war which is basically as old as history. Imperial Russia had no scruples in its expansion, like most of the other European colonisers. The latter went to faraway lands, distant from their own. Russian colonialism in Ukraine was not racial, it was social, assimilative, denying the roots of identity, language and culture to the colonised, mentioning Ukraine as "Little Russia" (Malorossiya). The Soviet era carefully masked this Tsarist era Russian chauvinism under "internationalisation".
The Ukrainian language has been and is a special target: the 1622 ban on Ukrainian church texts, the 1720 Decree of Peter I to prohibit publishing books in Ukrainian, the Valuev Circular of 1863 and the Ems Ukaz of 1876 denying the existence of Ukrainian language are among the few documentary evidences that resonate with today. Ukrainian speakers are being tortured in occupied Crimea, Mariupol and other parts of Ukraine and Ukrainian books and libraries are being burned. Ukrainians are jailed for what they are today.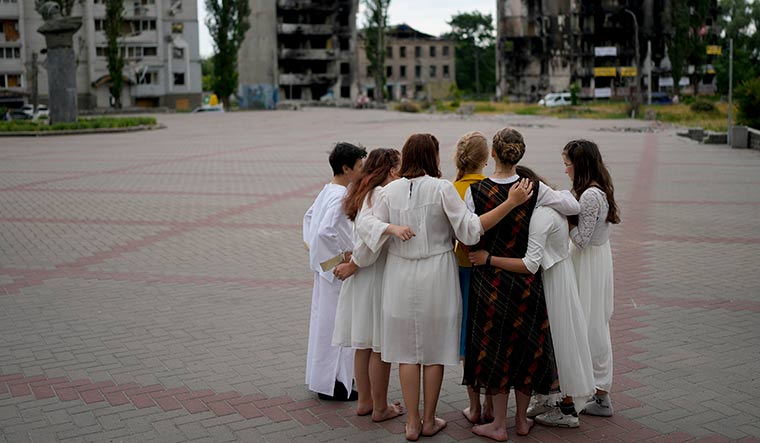 All Ukrainians are bilingual and now they speak many European languages. There are many who know Sanskrit and Hindi as well. I wish Indian scholars and experts will learn Ukrainian and fill up the lacuna of their knowledge someday by reading original texts. And they would know that Pavlo Ritter translated Kalidasa's Meghaduta, that Rabindranath Tagore is revered by hundreds of poets and his works are translated into Ukrainian, that the famous Ukrainian poet Lesya Ukrainka wrote The Forest Song getting inspired by the hymns of Rig Veda she read in German and French translations. Interestingly, Ukrainian dissident Viacheslav Chornovil was arrested by the KGB when a Russian language copy of Tagore's essay, "Nationalism", was found in his bag. Yevhen Hrytsiak, who practised yoga in the Gulag and led the first non-violent Norilsk uprising, translated Paramahansa Yogananda's Autobiography of a Yogi into Ukrainian. There is deep respect for Mahatma Gandhi in Ukraine and the Crimean Tatar movement always followed the peaceful path; the Mahatma inspired its leaders like Mustafa Dzhemilev. Such stories are in plenty―unknown and less known. Let us come back to the war today.
The day Vladimir Putin launched his latest attack on Ukraine―February 24, 2022―changed our lives. For everyone in Ukraine, no matter what nationality, there was life before and then there is this life―after February 24. Witnessing the war, contained within one country after World War II, is a challenging experience for most people. Thousands of Ukrainians took up arms against this existential threat to their homeland. Whenever possible, the fighters read books, talk to their families, and even take part in video roundtables from their hideouts, of course when the command permits. Many of my friends are on the frontline; their motivation and patriotism unparalleled. My heart bleeds whenever I bid farewell to them. I pray for their safe return. These "satyagrahis" who had to take up arms represent a peaceful nation, which, without ever conquering or colonising anyone, is today most unfairly branded by Russian propaganda as "Nazi". Recognising its contribution to fight Nazism and, therefore, even as part of the Soviet Union, Ukraine became one of the founders of the United Nations. Today, the struggle of the Ukrainians is to reveal the brutal, expansionist, genocidal intent of Russia to destroy Ukraine, under the garb of "special military operation", a term familiar for KGB style operations.
On the civilian front, there is another satyagraha. Ukrainian society and its people resemble a virtuoso orchestra, resiliently catching every note, rhythm and moving like an uninterrupted clock: doctors, teachers, public transport drivers, cleaners, sellers and traders―all work. I continue teaching my courses on diplomacy as usual in the university. The regular academic year 2022 ended and a new one began, degrees were awarded, exams undertaken. Volunteers have no age, you see nonagenarian people helping, sending supplies to the war front; young children doing their bit to raise funds. I don't hear either quarrel or laughter; people are focused, reserved and concentrated. Even children are aware of the air raid alerts and know the brutalities of war. Perhaps, most people derive their strength from history.
Each Ukrainian today fights for the truth, for their identity. India's careful stand raises many eyebrows. An appeal to Prime Minister Narendra Modi, signed by 279 Ukrainian Indologists from various fields, requests India's proactive role. Ukrainian MP Oleksandr Merezhko expressed pain and called for secondary sanctions on India, which was heavily criticised by the Indian media. The truth is India's soft power and humanistic ideals are on spiritually higher levels than billions spent and earned in trade or military hardware. One year into this brutal war, these appeals are but signals to uplift and strengthen that image. People-to-people contacts matter most.
The air raid alert ended. I come out and finish writing. In this coexistence of outer war and inner peace, I hope this satyagraha wins and the war ends soon. I see a new Ukraine being born. To be part of it is my honour, just as I saw the birth of a new Eastern Europe, when the Berlin wall fell.
―The author is an academic and heads an NGO based in Kyiv. She was formerly with the UN.