Thirteen thousand miles, 23 countries, and one woman—Tracey Curtis-Taylor. The 53-year-old aviatrix on her historic solo trip from the United Kingdom to Australia made a halfway pit stop in Delhi in November with her 1942 Boeing Stearman biplane. Dressed in a Banarasi silk sari, fingering a fitting 'gold globe' pendant given to her as a talisman by British actor Dame Diana Rigg, Taylor says the journey is a tribute to her idol, Amy Johnson, who flew the same route in 1930.
Where Johnson scrambled hard to make it possible for women like her to come into their own in the 1920-30s, considered to be the golden period in aviation, Taylor calls her journey a "celebration" of that struggle. "Because of Amy, I can do a sightseeing tour of the world today over places such as the Dead Sea, Arabian Sea, Thar Desert, flying low in my open cockpit plane," she says. "It is biblical to drop thousands of feet below sea level and see all that beauty in nature. Everything man-made, like these fancy buildings, pale in comparison. Sadly, she perhaps missed these sights, pressing hard to get where she did. I am able to toast to what the pioneers achieved."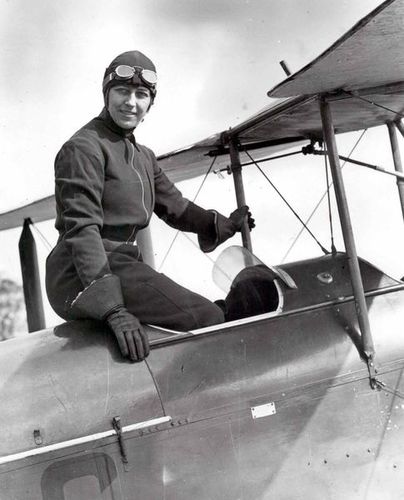 Tracing congruencies and changes in Johnson's journey with her own, Taylor explains that Johnson, who was all of 26 with just 100 hours of flying behind her, was in a "rush" to create the world record. "I am doing in three months what Johnson did in 19 days," she says. "Unfortunately, I can't follow her route that included places like Syria, Iraq, Iran, given prevailing political situations such as the bombings in Paris and the taking down of the Russian aircraft in Syria."
While Johnson had immersed herself in the study of aviation and engineering and came from a privileged background, Taylor studied art and literature, didn't go to university and "waitressed" her way through to pay for an aviation education. While Johnson flew a biplane considered 'state of the art' and advanced 85 years ago, Taylor is passionate about her vintage aircraft, which has an open cockpit, does stick and rudder flying with basic period instruments and a short range between landing points.
Taylor hopes to build an outreach on the ground, especially for women and girls. With the announcement of women being inducted into the frontline of the Indian Air Force, Taylor says she found it particularly exciting to have been received by some of them during her stop. "I feel the right message of equality and opportunity has gone out to them: to live life on their own terms," she says. "Most of us spend so much of our time in marriages and families; the idea is to follow one's aspirations."
What have been her challenges along the way? "Amy didn't face many border issues back then," she says. "Today, the airspace has become a complicated one. There is a constant high state of alert at most places. Procedurally, it is more expensive to undertake an adventure like this. The hours spent in processing permissions and other aspects—two-three hours before takeoff and the same amount post landing—can take a toll and take the edge off the romance."
It took 18 months to put this trip together that included getting sponsorships, networking and logistical planning. India became the geographical centrepiece of the flight. "Given India and Great Britain's historic ties, I also consider it to be the spiritual centre of the journey," says Taylor, who is also a keen gemologist and scuba diver. She has been taking pioneering women with her on the way, one of them being Princess Reema bint Bandar Al Saud of Riyadh. "She is considered a role model for Saudi women and it was fun getting her to jump into the front seat with me," she says. "It was also exciting given that driving is a political issue there, and women are learning to fly."
What is she looking forward to next in this journey? "Ever since people got to know I am recreating Johnson's historic flight, anyone who knew her has got in touch," she says. "This includes a woman in Australia who bought a clock and found her driving licence inside it. I am looking forward to connecting with them."