A young man runs along the beachfront, flops onto a mattress, and is swept up in memories of a lost love. A group of sexually unabashed youngsters in their twenties on a holiday in Goa pour their angst into dancing, tequila shots, selfies and expletives. Two friends discuss career philosophy in idioms centred on beer, speaking in Hinglish, as one entrepreneur urges the other to resign from the 'safe' job and launch his dream startup. Each of these videos spans the length of two Hindi film songs or a third of an episode of a regular television soap. This is the world of web series, a growing trend in entertainment. These are bite-sized videos in a serialised format made for the internet. Fiction or non-fiction, they are telecast daily, weekly or fortnightly.
Creating shows for the web started with amateurs shooting their content with simple equipment and minimal budgets and uploading them on YouTube or similar platforms. Over time, the standard of content production improved. Although it is relatively new in India, in America the trend started in 1995 with an online story called The Spot, which was about a group of trendy youngsters in California. Over the years, as the internet gained foothold and video streaming technology began to improve, web series became popular. Big companies such as MSN and independent producers got into it and several dedicated festivals celebrating the best web series sprang up in the last decade.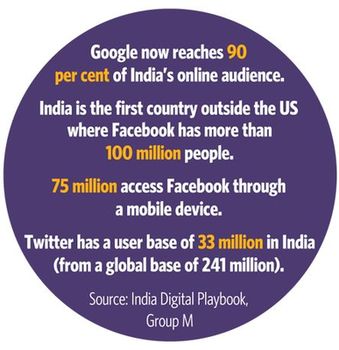 "In the current context, web series are more sharply targeted compared to concepts for TV, given the nature of the viewers and platforms where these get featured," says Monika Shergill, senior vice president, content, Viacom18 Digital Ventures, which is bringing out four new web series.
The story lines of digital originals are finite, she explains. The treatment also tends to be less exaggerated than some television serials. "A lot of content doesn't have 'centre of plate' appeal and therefore might be 'not fit for traditional TV'. Digital has the advantage of catering to individuals and hence, the viewer can choose to view content he or she is interested in and not what a family or group is viewing."
A web series needn't be passive like television; it can interact with its audience in the form of a live chat with the characters when the show is on. Advertisers use web series to get their brands out to consumers, either through sponsorships or brand integrations, but it is the cheaper smartphones and wider telecom reach that are attracting more people to web series in India.
Some of the Indian web series include Ladies Room, where two girls lead a man into the world of women's cloakrooms; Confessions—It's Complicated, which follows the story of three girls who try to make a living in Mumbai; and Permanent Roommates, about the startup culture. According to Ashish Patil, head, Y-Films (the youth arm of Yash Raj Films), 462 million people are expected to use the internet by June 2016. "To put that in perspective, it is a figure bigger than the population of the US and Japan put together," he says.
The advent of the web series could give competition to the jaded television soaps. Web series have fewer number of episodes and shorter play time. They are quicker, snappier and can be easily uploaded on multiple platforms and watched any time, not necessarily in a linear fashion. The story or topic is key and there are no multiple tracks and flexible plots based on ratings.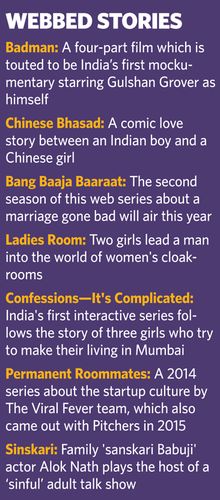 "The protagonists [in the web series] won't be wearing heavy saris, jewellery worth lakhs and three kilos of makeup while taking a shower unlike most fiction on Indian television series right now," says Patil. "They won't try to poison their mothers-in-law or vice versa. The tone is candid, characters relatable and dialogues casual. We will touch upon subjects that many young people identify with, like unwanted pregnancy, smoking up and relationships. The series is finite with a clear start and end, unlike some shows that go on even after baa turns 837 years old. Also, there are no women turning into snakes here."
The future of web series is looking bright with the focus on content and the space to experiment with stories, formats, actors and technicians. "You eliminate the middlemen—the broadcasters, distributors and exhibitors," says Patil. "It is a direct equation with the viewer. Feedback is in real time. Entry points are low—all you need is a good idea, a smartphone or a simple camera, a basic edit software and you are ready to go."
While Indian television is still ruled by conventional soaps and drama, an evolved audience is looking for alternative content. But the era of TV soaps is not over, says Shergill. Given the diversity in India, there is a market for all. "A convergence can happen in the future. Web series that have worked well have been imported to TV and vice versa, an international example being the Emmy award-winning series Arrested Development, which moved from television to web," she says.
Web series give fresh opportunities both to aspiring television and film actors and to veterans who want to reinvent themselves or take on a new challenge. The 1990s pop star Baba Sehgal will be seen in a show that will be a spin-off on the popular reality show Roadies and yesteryear actor Zeenat Aman will reportedly appear in a show made by an independent director. "I come from the old world where watching television or film was about community viewing," says theatre personality Dolly Thakore, who will play a socialite activist in the show with Aman. "That has got lost with life becoming more individualistic and people more selfish. The upside with concepts like web series is that they give a lot more people work and a chance to showcase their talent. I found the creators of this show to be nice, young people attempting to break ground with LGBT issues and relationships."
"It is still early days for web series in India compared to other countries," says Ron Crasto, senior vice president, Fremantle Media, which debuted with India's first interactive web series in April. "Currently, we are big on comedy in the web world, followed by music and confessions. As the concept of web series picks up, the next trend will be to pay to watch."