Television actor Angad Hasija's daughter, Angel, hides every time she sees Adaa Khan. And, it is not her fault. Every Saturday and Sunday, the eight-year-old watches Khan transform into an icchadhari naagin (mythical shape-shifting serpent) in her favourite TV show Naagin on Colors.
"Angel thinks I am a shape-shifting snake in reality, too. Every time we meet, she hides behind her father as she is scared of me," says Khan, who plays Shesha, one of the lead characters in the show. "But she can't resist watching the show."
That is not all. Now even Khan's friends pull her leg and call her a naagin. "Recently, at a get-together, as I was grabbing some snacks, my friends stopped me from touching the plate and said, 'Don't poison our food'. While I was embarrassed, everybody else had a good laugh," says Khan.
While Bollywood has had its share of films on mythical snakes and other creatures, it was an unexplored genre so far in television. For the past decade or so, saas-bahu serials or soap operas have dominated the scene. However, the trend is slowly changing. Now, mythical shape-shifting creatures like serpents, mongoose and even a tiger are the new stars of the Indian small screen. And, almost all general entertainment channels are cashing in on this trend.
So, &TV has a show, Adhuri Kahaani Humari that tells the story of a shape-shifting serpent and another one called Yeh Kahan Aa Gaye Hum, which has a shape-shifting tiger. Apart from Naagin, Colors has yet another show, Sasural Simar Ka, in which one of the lead characters is a shape-shifting serpent. Life Ok's Supercops vs Supervillians and Epic channel's Daanav Hunters, on the other hand, had a variety of shape-shifting characters. However, it was Star One that started the trend in 2010 with a show called Pyaar Kii Ye Ek Kahaani, in which the protagonist was a vampire.
"Naagin has eaten into the TRPs of saas-bahu sagas and slithered her way to the top of the ratings ladder," says Khan. So, does it mean that the saas-bahu serials are losing their charm? "It is an indicator of a paradigm shift that our television industry is witnessing," says Imran, creative director of Balaji Telefilms, the producer of Naagin. "From kitchen politics, the focus has now shifted to fantasy."
So, what makes the concept such a huge hit? "Such shows offer an eclectic mix of action, drama, romance and suspense, which keeps the audience hooked," says Mouni Roy, who plays the lead in Naagin. "In fact, the element of mystery is so high that while reading the script even the actors are curious to know what will happen in the next episode. Imagine the curiosity it must be generating in the viewers."
Indian audience has always been thrilled by stories that have a certain sense of mystique to them. The genre gives the audience a chance to revisit the tales from their childhood, says Manisha Sharma, programming head of Colors. "We have grown up listening to stories involving supernatural beliefs, magical elements and folklore," she says. "When it translates on television, with superlative production quality and a gripping narrative, it is bound to create an edge-of-the-seat viewing experience."
A time-tested formula has been the battle between good and evil. "It has been the bedrock of Indian myths and tales of folklore," says Ekta Kapoor, promoter of Balaji Telefilms. So, there is no doubt that it would work on television as well, especially when tempered with superlative visual effects, which make it edgy, says Kapoor, who made her mark with saas-bahu serials. Visual effects (VFX) of this kind are new to TV programmes, and the audience is loving it.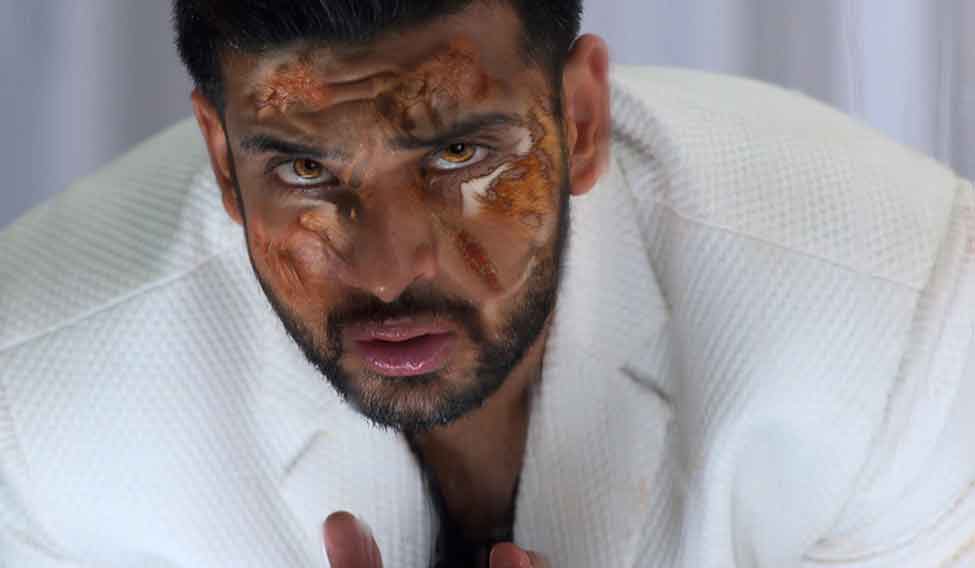 According to experts, such shows do well because they help the audience escape into a make-believe world, away from their stress-filled daily life. However, bringing such characters to life is not an easy task. Because of budget and time constraints, making serials in this genre is extremely challenging, says Lalit Mohan, director of Adhuri Kahaani Humari. Compared with saas-bahu serials where the focus is on emotions, in the fantasy genre, the technological intervention is very high and it demands a lot of time and money. "For example, recently we had to shoot a 12-minute-long sequence where Goddess Durga's lion comes alive and saves the protagonist. It took us 25 days to create that scene," says Mohan.
Pre-production work begins months before the show goes on air, says Ankur Sachdev, owner of Pixel D Studios, which specialises in high-definition and digital post-production. "We work in close coordination with the scriptwriters, directors and actors of the show to ensure that everyone has a clear idea about the character and the subject."
With two people working at any give time, it takes two weeks on an average to create a full-fledged character. "The time taken in creating such characters and the fee depend on the intricacy of the character," says Hardik Gajjar, founder of Vertex Volt, which creates VFX. Roughly, it comes to Rs 1 lakh per episode.
The cost, however, has not proved to be a deterrent for the production houses. When it comes to detailing, a lot of research goes into creating life-like characters, says Dimple Dugar, cofounder of Pixellence Studio, which does the graphics for Naagin. "To get an idea about the body language, demeanour and behaviour of the character, we did a lot of research," says Dugar. "We spent hours watching footage on snakes available online, and on Discovery and National Geographic channels."
The actors face the challenge of finding a practical reference for characters that don't exist. They have to give the right expression to creatures that are added later, with the help of VFX and graphics, says Khan, who watched a lot of snake movies for reference. "I had to also work on my Hindi and Sanskrit to get a hang of the dialogues," she says. "As most of my scenes are shot at night, sleep gets affected and accidents happen. For a sequence, I had to climb a tree as a snake and take human form on a branch. I did so, but the branch was brittle, I fell and hurt myself." At times, however, it could also get really funny. "With no real lion around, I acted like one on the sets to get the right expressions from my actors," says Mohan. "It left everyone in splits."