An affluent African lady is refused entry into the swimming pool of her apartment. Two African women are shooed away while hailing a taxi to return home after an event. These are just some of the instances of racism that Africans face daily in India. Photographer Mahesh Shantaram focuses on their stories through his solo exhibition, 'Racism in India: The African Portraits'.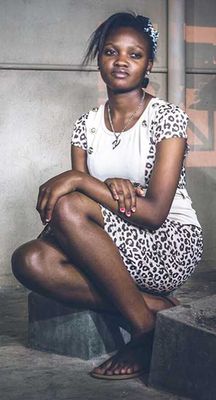 Shantaram felt the urge to create awareness about the plight of the Africans after a mob assaulted a Tanzanian student in Bengaluru in January this year. "It took a few days for the media to give proper attention to this issue. I felt saddened and wanted to do something," he says.
He befriended an African boy at Soladevanahalli on the outskirts of Bengaluru, and won his trust by telling him about his trip to Uganda. "The lad took me to one of his parties, where I met many of his friends, who shared their experiences with me," he says.
Shantaram met Africans in Manipal, Delhi, Jaipur and Hyderabad, and tells, through photographs, the tales of 35 Africans, most of them students. Asked if the intensity of racism varied from city to city, he says, "The one cultural aspect that unites all Indians is our racism."
One of the photographs shows Vitu, a psychology student from Malawi, sitting pensively, the shadows of a structure falling on her. In another picture, Ameenou, from Nigeria, leans against a car in front of an elephant in Jaipur. They are not mere portraits but reflections of emotions of people grappling with the insecurity they face daily. Most of the photographs were taken at dusk or night. "At night, I have the power to shape the light in interesting ways, direct the imagination of the viewer and create mystery within the situation," says Shantaram, who has been a portrait specialist for more than a decade.
Currently, Shantaram is in Delhi attending a six-week residency programme at the Khoj International Artists Association. The programme, titled 'The Coriolis Effect', is on India-Africa relations. Eight artists will come out with their work on the theme by the end of September.
'Racism in India: The African Portraits' is on at the Tasveer gallery in Bengaluru till September 23.