Tamil Nadu expected that 'Superstar' Rajinikanth or 'Ulaganayagan' Kamal Haasan would become the next actors to enter politics in the state. But, Vijay—or Joseph Vijay, as the state unit of the BJP called him—might jump the queue.
True, while Rajinikanth said that the "system is ruined" and Kamal decried the current state of affairs, Vijay has neither criticised politicians nor declared his political ambitions. But, there is a hint in the words of Vijay's father, director and producer S.A. Chandrasekaran. "One does not have to be in politics to serve the nation," he told THE WEEK. "I want my son to be a leader. A leader need not be in power to work for the people." Joseph Vijay Chandrasekaran, 43, aka Ilaya Thalapathy (junior commander), is the son of Chandrasekaran and classical vocalist Shobha Chandrasekaran. The actor is married to Sangeetha Sornalingam, a Sri Lankan Tamil.
Fans say that there is no standout element in a Vijay movie, but that he has stuck to a formula that works best for him. Unlike his contemporary actors Surya or Ajith, Vijay neither experiments with roles that demand extraordinary acting skills, nor dominates with physical prowess. But, he has made a smooth transition from the romantic roles of the 1990s to scripts heavy with social messages.
He can dance like a dream, fight the baddies and deliver politically loaded dialogues with a punch. In most of his movies, he plays a middle-class boy who treats women with respect. And, most movies have punchy, one-word names: Gilli (Risk-taker, 2004), Kaththi (Knife, 2014), Pokkiri (Rogue, 2007), Sura (Shark, 2010) and Thuppakki (Gun, 2012). And, in most of them, he played the title role.
Critics say the shift in Vijay movies came with Kaavalan (Bodyguard, 2011). In Theri (Spark, 2016) he played a police officer who was tortured for investigating a gang rape case. "He is a youth icon," said Chandrasekaran. "He has crores and crores of fans. His films have a message: Thullatha Manamum Thullum (1999) was about organ donation, Thuppakki was against terrorism, Kaththi was pro-farmer, and Mersal (Stunned, 2017) is against corrupt doctors. What is wrong in this?"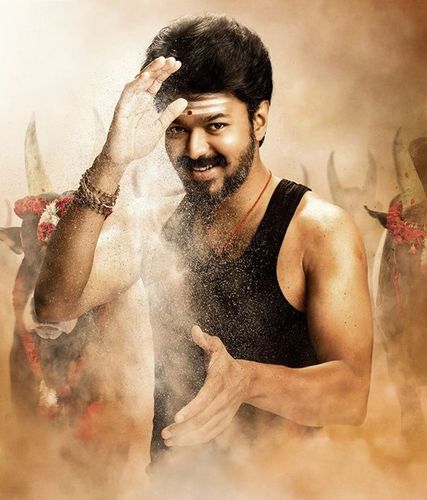 Interestingly, in the 1980s and 1990s Chandrasekaran delivered powerful movies like Sattam oru Iruttarai (The Law is a Dungeon, 1981), which catapulted actor Vijayakanth into stardom, and Neethikku Dhandanai (Punishment for Law, 1987), based on a story written by M. Karunanidhi. Vijayakanth founded the Desiya Murpokku Dravida Kazhagam and became opposition leader of the Tamil Nadu Assembly, while Karunanidhi was a five-time chief minister of the state.
Film industry watchers say Vijay's political ambition became clear as early as July 26, 2009, when he pitched his fans' association, Thalapathy Makkal Iyakkam, as a social welfare organisation. On screen, too, he built up his image as a saviour and leader.
Ravi Raja, one of the organisers of Thalapathy Makkal Iyakkam, called Vijay a social reformer. "He always wants to do things without any noise," Raja said. "Our fan club conducts more activities than any other fan club in the state. We just work quietly." Raja said the club did everything from de-silting lakes, to funding marriages for the poor and helping underprivileged youth get a college education.
In 2011, Vijay flew to Delhi at the peak of the India Against Corruption movement and shared the dais with Anna Hazare. He had met Congress vice president Rahul Gandhi in 2009 and Prime Minister Narendra Modi in Coimbatore in 2014. This year, during the jallikattu protests, Vijay turned up at Marina Beach to express his support. Photos of him at the protest site went viral. And, when S. Anitha of Ariyalur committed suicide protesting the National Eligibility cum Entrance Test, Vijay met her parents and offered his condolences.
The fan club had reportedly pledged its support to AIADMK leader J. Jayalalithaa in the 2011 elections, saying it was time for change. Chandrasekaran visited Jayalalithaa and extended support. But, Vijay did not campaign publicly for the AIADMK. But, film industry watchers say the prospect of his entry into active politics is one of the reasons why his movies have courted controversy. Kaavalan, Thuppakki and Puli ran into trouble. Even an average film like Sura, in which Vijay plays a fisherman who fights a corrupt politician, courted controversy.
Chandrasekharan shrugged and smiled when THE WEEK asked him if politicians in Tamil Nadu feared Vijay/Rajini/Kamal entering politics. "When MGR was around, he strongly believed that no one from the film industry would get into active politics as long as he was alive," said Chandrasekharan. "But, these days, politicians lack that belief. Insecurity is the reason. An actor coming up like MGR, with a strong fan base, causes this insecurity."
Mersal ran into controversies because of Vijay's dialogues on GST and demonetisation. In this movie, too, he is projected as a middle class man rooting for change. The film opens with Vijay doing push-ups. In the background are his own childhood photos, and one of MGR. Vijay plays a triple role—as a father and his two sons. Director Atlee has portrayed all three as change agents in their own way. Thanks to the controversy, Mersal grossed over Rs 200 crore in the box office, a big number for a Vijay film.
All the same, Vijay knows that politics is a hard road. To borrow a dialogue from a Vijay movie: "It takes a year for a child to be born, three years for a graduate to come out, but it takes an era to make a leader."