A stretch of land is filled with red sand and barricaded with wood. A spirit of daredevilry fills the air. It is around 6:30am, and a man enters the ground jumping over the barricade, keeping his camera close to the chest. He walks around the ground and finds a position for himself and sits there. Soon, wiry young men, clad in lungis or trousers, walk in with a flush of pride and excitement on their faces. He gets up and captures their expressions.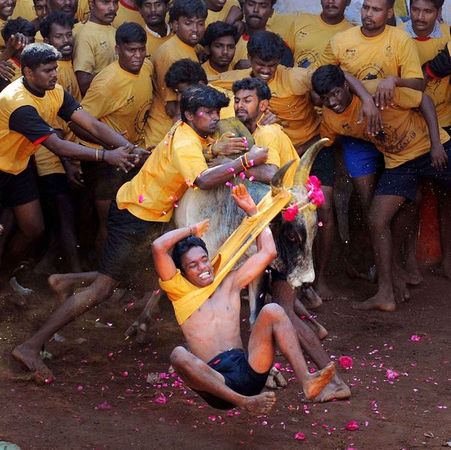 An unusual noise fills the air. The excitement on the men's faces changes to caution, as bulls start charging down the gates on either side, their foreheads smeared with vermilion and turmeric and their horns decorated with ribbons. As he photographs a bull bounding out of the gate, another one comes charging from the other side. He rolls on the muddy floor and his camera flies in the air. He gets up, ignoring the wound on the neck, picks up the camera parts, pieces them together and clicks another picture. He stays on till the bulls are tamed, clicking pictures one after the other.
It has been two years since the Supreme Court banned the sport jallikattu, the sport of men taming stud bulls. The grand Alanganallur jallikattu and some five dozen smaller ones have been silent ever since. Most tamers have quit the sport and bull owners have sold their prized fighters. Photographer J. Suresh, however, is very much in the game. He has captured more than 25,000 images of jallikattu and chosen the best 80 of them for an exhibition named Veera Vilayattu (The Game of Valour) in Chennai. "It took me three years to select the best pictures," he said.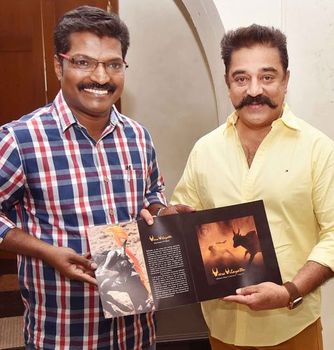 The exhibition (November 2 to 8) was a tribute to the bulls and the brave men of Madurai. "These pictures talk much about the power and valour of the sport that I got it in my movies like Virumaandi," said actor Kamal Haasan, who inaugurated the exhibition.
Hailing from Thiruvananthapuram, Suresh started romancing the camera a quarter of a century ago. He joined the Malayala Manorama newspaper after working for seven years as a freelancer. It was in 1998 that he first saw the jallikattu in Alanganallur. The lure got only stronger every year and he landed in Madurai every season. Even the injury in the neck in 2009 did not stop him.
Suresh's works are widely acclaimed and have earned him many awards, including Unesco's Humanity Photography Award, Government of India's professional photographer award and the Press Council of India award.
Suresh does not approve of the ban on jallikattu. "There is no harm done to the animal here," he said. "It is a game of valour and the bulls are worshipped by the owners. Only that we need more safety precautions, and we can promote the sport."