Sarita Mandanna says the image that cropped up for her new book, Good Hope Road, was that of a large black mirror hanging on a wall. Having no conscious memory of it before, she was led, serendipitously, to the Claude mirror while researching the book. But a haunting motif that opens the novel would have to be the human hand. When Obadaiah Nelson, a Louisina native and a volunteer with the French Foreign Legion in Paris, finds a buried hand sticking out of the muddy trenches in the land he is manning, the evocative imagery sets the tone: the hand of a dead man buried after a bloody fight; the hand that pulls the trigger; the hand that goes up in prayer; the hand of protagonist Jim Stonebridge, son of World War I veteran James Stonebridge, at the end laying the black mirror—an old war souvenir—at the bottom of the river, in a symbolic attempt to put his father's memories to peace.
After her critically acclaimed first novel, Tiger Hills (long listed for the Man Asian Literary Prize in 2011), which traced love across generations set in Coorg, Good Hope Road is about the legacy of war across countries. The fundamentals of both books are the same, she says: deeply felt human themes, relationships forged between husband and wife, parent and child, of friendships and betrayal. "The settings, too, while disparate, felt similar," she says. "I love Coorg's pastoral nature and when living in NYC, would often take off for the hills of New England. This backdrop has been described in Good Hope Road— the hills, the stone walls and apple orchards, the bucolic, small town nature of it all."
Being an Army daughter naturally had an imprint on Mandanna's work. For years, she had Siegfried Sassoon's poem tacked over her desk at work: And while the dawn begins with the slashing rain/ I think of the Battalion in the mud/ When are you going out to them again?/ Are they not still your brothers through our blood? "When I started on Good Hope Road, this then was the theme that emerged: the special brotherhood forged on the battlefield, the impact of war long after the guns have fallen silent, and the toll it extracts on survivors and their families," she says.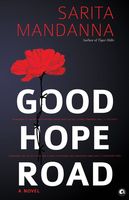 In the book, one day, the free-spirited Madeleine Scott literally drops from the sky to enter the lives of the Stonebridge family. Jim rediscovers his father, who goes from being a recluse to take on the fight for the rights of the war veterans. Does Mandanna find parallels between the Major's fight and the recent agitation for One Rank, One Pension in India? "In both cases, that of the Bonus Bill and the OROP, soldiers have unfortunately had to demand what is rightfully theirs," she says. "Modern society grossly undervalues three of its most important underpinnings: nurses, teachers and soldiers. The other striking parallel is how singularly peaceful they have been.... It is heartening to see that the OROP issue, at least, has gained traction."
Good Hope Road
By Sarita Mandanna
Published by Aleph Book Company
Price Rs.595; pages 368