Dressed in a pair of brown leather trousers, crop top, jacket and gloves, and sporting a golden brown wig and brilliant blue contact lenses, Niha Novacaine wields her sword. An Iranian based in India, Novacaine is cosplaying Akame, one of the lead characters in the Japanese Manga (comics) series Akame ga Kill!
"Cosplaying is one of the best forms of entertainment. It is an art where you are both the artist and the canvas," says Novacaine, as she poses for a photo with cheering spectators at the Delhi edition of Comic Con recently. Popular in the west, cosplaying is a combination of costume and role play in which a person dresses up like a fictitious character from a comic book, film or television show to express admiration for the character or to simply have fun. It has its roots in the Japanese fan culture.
Cosplayers present their costumes at niche gaming and comic conventions, after spending months creating the costumes. So, don't be surprised if you find Gandalf sitting next to Cinderella, Spider-Man posing with Superman, SpongeBob SquarePants sharing space with Thor and Batman striking a pose for you, all in one place.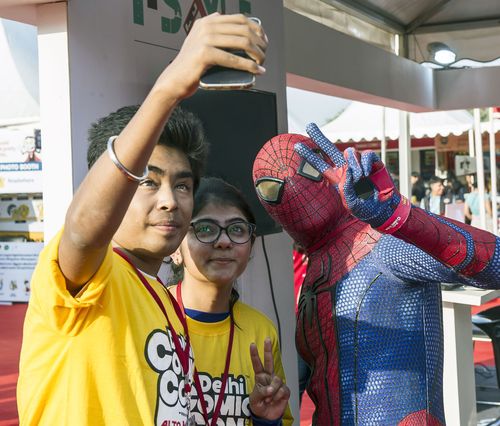 "We are treated as celebrities by comic book fans, as they understand and appreciate the thought process and the hard work that go into cosplaying," says Ayush Gupta, 20. The engineering student from Uttar Pradesh bunked college to cosplay Kisame Hoshigaki, a character in the Naruto animation series, at the Comic Con. "It took me more than a week to create the costume—black cloak with red abstract patches, headgear and Samehada [a sentient sword that looks like an ice-cream bar covered with bandage]. But it is all worth it," he says.
"You get so much attention as the cosplayers and the fans are on the same page," says Ayush Mittey, 22, another engineering student who is into cosplaying. Mittey, too, picked a character from the Naruto series, Tobi, who wears a black cloak and a red mask with just one eyehole.
So, how is it different from dressing up for a costume party? For Aorin Shariyari, another Iranian cosplayer, it is a form of self-expression. Most cosplayers, she says, feel a deeper connection with their chosen characters. "Cosplayers don't just dress up as their favourite character but also adopt their mannerisms, posture and accent," says Shariyari, who has been a professional cosplayer for more than a decade now. "We embody the character rather than imitating it. It elevates the experience, making it more profound." Shariyari cosplays Ruby Moon, a character in the Cardcaptor Sakura animation series.
Though it may sound like an easy thing to do, cosplaying is no cakewalk, says Ajay Kapoor, who is a software engineer. "The biggest challenge is getting the costume," he says. "While some accessories can be sourced through online stores and later modified, costumes have to be built from scratch."
Most cosplayers have to conceptualise, design and tailor their costumes themselves. "You get very little help from tailors, as they hardly have any idea about comic book characters," says Kapoor. So, almost all cosplayers are amateur tailors, who do not hesitate to cut up their favourite T-shirt to create the perfect outfit.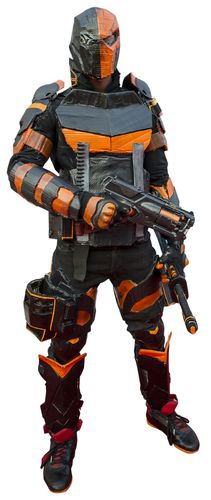 Novacaine went a step ahead and did a course in fashion designing. "No matter how complicated the costume is, now I am equipped to make it using different textures and materials," she says.
Depending on the complexity and detailing, a costume could take a couple of days to months to make. Novacaine spent six months and $2,000 to create her most complicated costume, that of Tyrande Wisperwind, a character from a popular video game series, Heroes of the Storm.
Like other artists, cosplayers have to keep looking for inspiration and reinvent themselves to keep the entertainment quotient high. Also, attention to detail and people skills ensure better rewards. "Since our body is the canvas, one has to invest time, money and effort in maintaining it and looking good," says Kapoor. "You have to work regularly on enhancing your overall personality to appeal to people and connect with them instantly."
Depending on the experience, people engagement skills and difficulty level of the costume, professional cosplayers charge Rs5,000 to Rs25,000 a day for an appearance."Sometimes, costumes are very heavy, uncomfortable and suffocating," says Novacaine, who also does anchoring and modelling. "At times, you have to stand or pose in a particular way for hours. But no matter how uncomfortable you are, it can't show on your face, which makes the job extremely challenging. For instance, these blue contact lenses are really uncomfortable."
Sometimes, overenthusiastic fans damage the costume by trying to touch it, says Shariyari. "Women cosplayers face harassment at times," she says.
Cosplaying, however, is here to stay. Companies are hiring cosplayers to promote their brand. "In a fete, where there are several participants, people do not stop by every stall. You need to have something special to lure visitors to the booth and keep them engaged. Cosplayers serve that purpose," says Shariyari, who charges Rs25,000 a day.
The money may be good, but with just 20 such events happening across the country, maintaining a steady income through cosplaying could be tough, says Shubhankar Singh, an aerospace engineering student. "That is why most cosplayers still have a parallel profession like anchoring, modelling or a corporate job," says Singh, who designs costumes for other cosplayers and is waiting to find a job so that he could pursue his passion. "But it is only a matter of time," he says. "Cosplaying will be recognised as a full-fledged art form and a serious profession."