"I was raised to not be afraid or at least to not show that you're afraid even if you are." - Priyanka Chopra, actor
Baywatch was one of the world's biggest TV shows when it aired in the nineties. The plots might have been silly, but then people weren't tuning in for the high drama, but the sight of sand, surf and ridiculously buff people running in slow-mo. Two decades later, a reboot has arrived on the big screen.
While the women's minuscule swimsuits remain, along with the iconic run, it's the men, namely Dwayne "The Rock" Johnson and Zac Efron, who are taking centre stage as the objects of our ogling.
"That was a deliberate move," says Bollywood superstar Priyanka Chopra, 34, who plays the villain of the piece, Victoria Leeds. "Like Dwayne and Zac being objectified and my character being a woman, all of those things were a very deliberate move by our director [Seth Gordon, who's helmed Horrible Bosses and Identity Thief]. He was really clear when he brought Baywatch back, he wanted the fun and the sexiness and the sass to belong to everyone, so he said, 'If we objectify the girls, we're definitely objectifying the boys'. So you see, this film is a lot more for the girls actually."
The story plays out as a comedy, with lots of crass jokes, interspersed with the all-important action sequences and a running gag questioning why Mitch (Johnson) and his good-looking team of lifeguards are doing the job of the emergency services instead of simply patrolling their strip of sand.
The focus of their investigation is Victoria, the glamorous and ruthless club owner who is involved in drug trafficking and determined to do all that is necessary to extend her empire.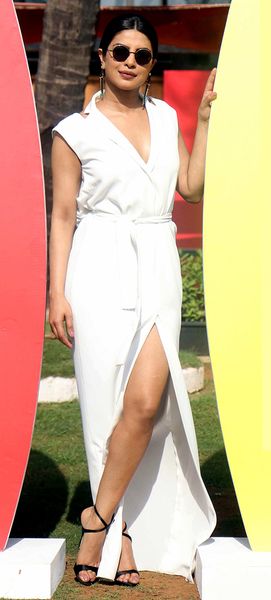 Chopra, who was born in Jamshedpur to military medics, relished playing such an immoral character. "I enjoyed it tremendously because it was the only new character that was added into this whole slew of Baywatch lifeguards. I had the liberty of being able to do anything and think anything and it wasn't wrong," says Chopra, looking flawless in a knee-length cut-out blue dress.
"Especially when you're a villain in a comedy, you can take those liberties," she says. "So I had a stool that came out [when she steps from the car on to the beach] because I didn't want to take off my heels, or somebody asks Victoria for a raise and she throws him to the sharks. She's so absurd, she's fabulous and I had a great time."
Chopra might not throw anyone to the sharks but she has earned a reputation for being forthright and fearless. Just recently she was on the receiving end of online abuse when she dared to wear a knee-length dress to meet Prime Minister Narendra Modi. Her response to the ultra-conservative trolls was to post a defiant picture of her and her equally leggy mum with the caption 'Legs for days' to her 17 million Instagram followers.
"I was raised to not be afraid or at least to not show that you're afraid even if you are. So yeah, even when I get afraid, I buckle up and say what I want," says the charismatic actor, who had aspirations of becoming an engineer before her mother entered her into a Miss India competition.
She went on to win Miss World in 2000, and then the Bollywood offers began to roll in. Towards the end of Baywatch, Victoria tells Efron's character, Matt Brody: "If I was a man, you'd call me driven." It is something Chopra can relate to.
"Yes, oh my god," she exclaims. "I mean the dichotomy and the hypocrisy of what men can do and it's okay and what women can do and it's okay, exists in the world. I mean, we're in 2017 and we still have these conversations with women around the world. And you know for eons we've been told, 'You can do this', 'It's better if you wear this', 'It's better if you say this', whereas I think feminism basically stands for women saying, 'Give us the opportunity to make our own decisions the same way men have all this time'," she continues, gesticulating wildly. "So I have, of course, dealt with that a lot through my life, as any other woman would have."
She will soon be shooting the third series of FBI thriller Quantico. It is the first time an Indian actress has played the lead in a mainstream TV show. "I'm always looking for variants, I'm always trying to look for different things to do to make a path that's mine, to do empowered roles," remarks Chopra.
"Like Quantico, for example, it was not written for an Indian girl at all. It was written for an American girl and it's my job as an actor to be able to deliver, so I like doing that. I want to be able to just be an actor and be able to do great parts and then where life takes me is destiny."
It requires ambition and planning, too, and she reveals she's currently in negotiations "with a few films in America and a few films in India". "I definitely want to be able to do both. I don't think they're mutually exclusive," says Chopra. "I mean it will spread me thin but I want to do both and there are some really interesting parts and I'm a greedy actor."
Does she see herself as a trailblazer? "I see myself as an actor, but more than that I see myself as an achiever, as a woman, as a girl," she responds. "I feel like I don't know where I will reach [in the future], what will happen. I don't sit and harp on about the achievements or the successes. [But] eventually at the end of my life I want to have a legacy."