"The failures taught me that it was time to tell a story.... That worked for me—when I started telling stories without fear." - Aanand L. Rai, director
As director Aanand L. Rai sat on a couch in a neatly put together room in his office at Andheri West, THE WEEK's photographer tried to click his reflection in a glass across the couch. Posing doesn't come easy to Rai, and his unease is palpable. He is usually on the other side of the camera. "It seldom happens with me," he said, laughing.
We met Rai a few days after the release of Newton, a film that he presented. The quiet in his office was a little unsettling, but he made us comfortable. It is a quality he possesses, as several actors have mentioned. Zeeshan Ayyub, a supporting actor in two of his films, had once told me about the ease he felt on Rai's sets. Dhanush, whose first Hindi film was Rai's Raanjhana (2013), had said how Rai was like a big brother to him. Deepak Dobriyal, who played Pappiji in the two instalments of Tanu Weds Manu, said each actor on his set felt like a partner in the film. At the recent We The Women Summit, Sonam Kapoor said that in the male-dominated world, she felt like an equal on the sets of Raanjhana.
Tanu Weds Manu Returns (2015) was Rai's last film as director. He is now working on Zero, in which Shah Rukh Khan plays a dwarf. Meanwhile, his production house, Colour Yellow, has been part of some of the most appreciated films like Nil Battey Sannata, Shubh Mangal Saavdhan and Newton, which was India's official entry for Oscars 2018. Next in line is Anurag Kashyap's Mukkabaaz, to be released on January 12.
Setting up a production house, however, was not part of Rai's plan; he just wanted to direct films. But then he realised that a lot of directors go through the same struggle that he went through for seven years to find the right path. "So after completing a bit of our journey, Himanshu [Sharma, the writer for all his films] and I thought of using the production house for like-minded people. It was never a business agenda. It was purely to enjoy the process," he said.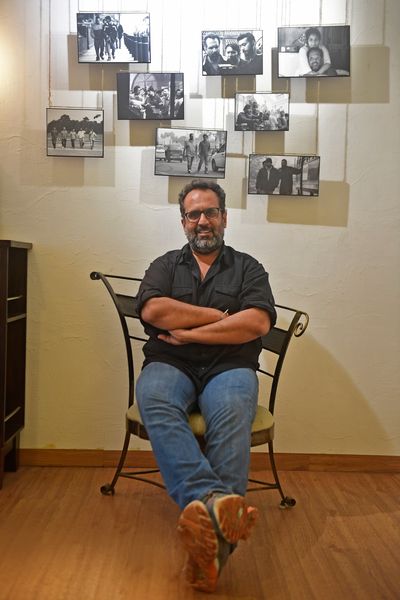 Actor Jimmy Shergill, who was the lead actor in Rai's debut film, Strangers (2007), said Rai was one of the nicest souls in the industry. "For someone who has been through a tough journey professionally, he is trying to make sure he can help other people in ways possible for him," he said. Though Strangers failed commercially, he didn't have any apprehension in accepting the antagonist's role in Tanu Weds Manu and its sequel. Shergill, who will next be seen in Mukkabaaz, said Rai also has a knack of selecting really good stories and that he hasn't met a director as gutsy as Rai.
But, despite making a string of hit films, Rai denied that he has cracked the success formula. "I wouldn't say that we cracked it, but we discovered a path," he said. "It is a very directors' production house. It is not a production house that is looking for a certain kind of a slate in a year or a certain kind of turnover. That is helping us."
Rai comes from a middle class family; both his parents were teachers. He lived with them in a government colony in Sadiq Nagar in Delhi before moving to Aurangabad to pursue engineering. Towards the end of his course, something changed. Though he always thought engineering to be a creative vocation, he realised there was something more in him. His elder brother, Ravi, was already in Mumbai, working on TV shows, and Rai followed suit—he landed up in Mumbai and joined TV in 1993. But his television stint was all about money; there was no creative satisfaction, especially after daily soaps became the norm. "Something was killing me inside. Money and no satisfaction were taking me away from what I am basically. I didn't want to lose on that. I had to make a choice," he said.
By 2003, he had decided to move to filmmaking. Around the same time, he met Sharma, who had come to Mumbai from Lucknow and was struggling to make a mark. His first two films—Strangers and Thoda Life Thoda Magic (2008)—however, tanked. "I realised what was going wrong. Somewhere I was trying to prove myself as a director in films. I was just waiting for somebody to look at me and say, 'you shoot so well.'" Had his third film, Tanu Weds Manu (2011), failed, it would have been his final outing. "The failures taught me that it was time to tell a story. That is what I am here for. That worked for me—when I started telling stories without fear. I had nothing to lose."
He has been on the right path since then. Rai brings alive stories of the middle class, from Delhi, Uttar Pradesh and Haryana, that are not just relatable, but also believable. "I kept on hearing at every stage of my upbringing that the middle class is conservative. Maybe they are. But it has been changing. And I wanted to do films that bring to the fore the changing times. Like, Shubh Mangal Saavdhan [directed by R.S. Prasanna], completely set in a middle-class world, talks about an issue like male impotency. It was designed as a family film and brought out issues that we generally don't talk about," he said.
What was exciting for him during Tanu Weds Manu Returns was the pitting of two Indian girls opposite each other. "All that crafting of a double role was there, but I was living the story to reach the scene when Datto meets Tanu where she says 'what is wrong if I make chapatis for my husband?'. That Indian woman was striking," he recalls. "I think when you see Shah Rukh's film, you will be on a trip again. It is again in a small-town—Meerut. It is what lets you be real."
The idea of Zero struck Rai before Tanu Weds Manu Returns. Superhero films were all the rage in India then. But he thought India was not ready for "our superhero". He realised there was still time for an Indian filmmaker to come with an original superhero. "Abhi hum kad me chote hain. That 'kad me chota' thing stuck. I said, 'We are not even normal right now, we are midgets.' We realised this is a great space to be in, let's tell a story of a dwarf and treat it as if there is no problem in being short. However, when we started working on it we learned a lot—how the perspective changes, how the emotion changes because of height. This is what I am enjoying and learning," he said.
Khan and Kashyap have been through a lean phase recently. We wondered if Rai's association with them was to bring them back to their famed positions. "I don't think they are people to be affected by failures," he said. In Kashyap's case, he felt "it was time to believe in himself more and go for what he is basically. I told him, 'Go and play your innings. You are known for your guts. Make it what you are known for. Enjoy the space.' That is what I have understood in the last one decade—that you should enjoy your pitch as a player."
He quoted a sher by Javed Akhtar: Khushi se faasla bas ek kadam hai, har ghar me bas ek hi kamra kam hai. He said he understood that quite early in life. "That greed of having a bigger house or a bigger car, I realised, is just an extra room," he explained. And, that has kept him sorted.