The name says it all. The Tiger Express, a first-of-its-kind train service, takes one through the tiger corridor of Bandhavgarh and Kanha national parks in Madhya Pradesh. But the train journey to the rain-kissed forests from a parched Delhi is no less thrilling.
Inaugurated by Railway Minister Suresh Prabhu on Environment Day (June 5), the train leaves Delhi at 3pm. The fully air-conditioned, semi-luxury train has a dining coach that can feed 64 diners at a time. Perhaps realising that tiger spotters have large appetites like the cats they are obsessed with, the Indian Railways has ensured a scrumptious spread. "Our effort is to redefine tourism and hospitality through trains like this," says Jitendra Kumar, deputy general manager of tourism at the Indian Railway Catering and Tourism Corporation.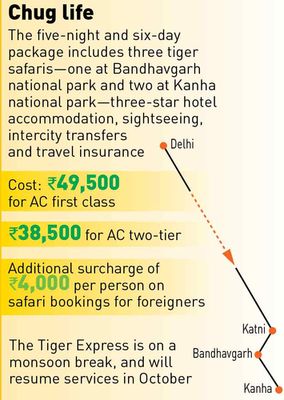 The dining coach soon becomes a hangout, with passengers swapping stories with each other. For instance, S.K. Singh is travelling with his wife for reasons romantic. "She had seen a tiger up close when she was young. We are here to rekindle her memories," says the retired economics professor. Then, there is the library, brimming with books on wildlife and nature—the perfect place to curl up and read.
The train reaches Katni at 4.30 the next morning. A two-and-a-half-hour car ride brings us to Mogli Resorts at Bandhavgarh. After lunch, we hit the tiger trail. The Gypsy makes its way through dusty tracks, flanked by thick sal and bamboo trees. We halt at Nigha Nala, the watering hole, and spot langurs and a sambar. It looks like a scene straight out of the animated The Jungle Book. A loud roar brings us back to reality. The langurs, chattering, flee, as does the sambar. And, in strides the striped beauty, for his ten-minute dip. Even as the tiger walks out of the pool, an Asian paradise flycatcher streaks through the sky in answer to its mate's call.
Next morning, Kanha calls. After lunch at the resort, we head to the national park. The sal forest is emerald and gleams. We spot the gaur first. "Summer is a good time to see gaurs, as they move uphill during winter," says our guide Dinesh Soni. As the waterhole nears, the chatter dies down; anticipation peaks as one senses the big cat nearby. But he stays hidden.
P.K. Verma, assistant director, Banjar range, Kanha, says: "Kanha is the best national park in the country as the forest staff take care of it like home. And other national parks are following what Kanha is doing in terms of conservation and wildlife welfare."
The trail ends, but the journey continues as we head to Jabalpur to board the Tiger Express yet again.