These are days of the Big Ban Theory. Even Agent 007 was recently stripped of his licence to kiss in India.
That, however, reminded me of a time when the bane of a ban turned into a boon. In R.C. Paterson's words, "In 1948, a great event took place in Madras...."
Well, Paterson, aka Fat Pat, was an Englishman who moved to India in the 1920s. And, the "great event" he wrote about was the prohibition—booze ban—imposed in Madras.
Fat Pat, who retired as chairman of Consolidated Coffee Ltd in 1960, was enraged. The quintessential bachelor loved the good things in life, especially golf and his pegs after the putts.
With the prohibition on, the only way he could enjoy his chhota pegs was declare himself as an 'addict'. He resented it, but had no choice, like many other Bacchus devotees in Madras.
He then wondered why not form a group of putt-and-peg addicts. Golf, incidentally, is one of the most addictive games on earth.
"Golf, let us say, is a trip," wrote American author John Updike. He called it a "non-chemical hallucinogen".
For good reason. As sociologist Robert Lynd said, "It is almost impossible to remember how tragic a place the world is when one is playing golf."
Some 'addicts' can go to extremes.
An Irishman named Ivan Morris had his pregnant wife induced, so that he could play a local tournament. And, on winning the tournie, he celebrated at the 19th hole—the watering hole— by dunking his newborn in the trophy! He was declared the Golf Nut of the Year 2001—an informal award given by the Golf Nut Society.
Another Golf Nut would come as a surprise to many. "I have done some pretty crazy things to feed my golf habit," writes basketball legend Michael Jordan in the foreword of I Golf, Therefore I am—NUTS! by George Fuller. "Like the time that I was a no-show for my first NBA MVP [Most Valuable Player] award presentation. Everybody was in Chicago—except me. I was at Pinehurst Country Club playing 36 holes a day with my golf buddies."
And then, there are thousands of nuts who have turned golf into an endurance/adventure sport. The Nullarbor Links in southern Australia is world's longest golf course, stretching across 1,400km. You will find few humans in the Nullarbor plains, where the American Skylab crashed in 1979.
You, however, will find plenty of bush flies, wombats, kangaroos, death adders and a "kleptomaniac crow". Incidentally, the brainwave to convert the area into a golf course, where fairways look like "a Martian landing strip", was born over five bottles of Shiraz!
It was similar passion for the sport and the spirit that brought together Fat Pat and his golfing brethren. They concluded that golf would not be the same convivial sport if the 19th hole was restricted to nimbupani.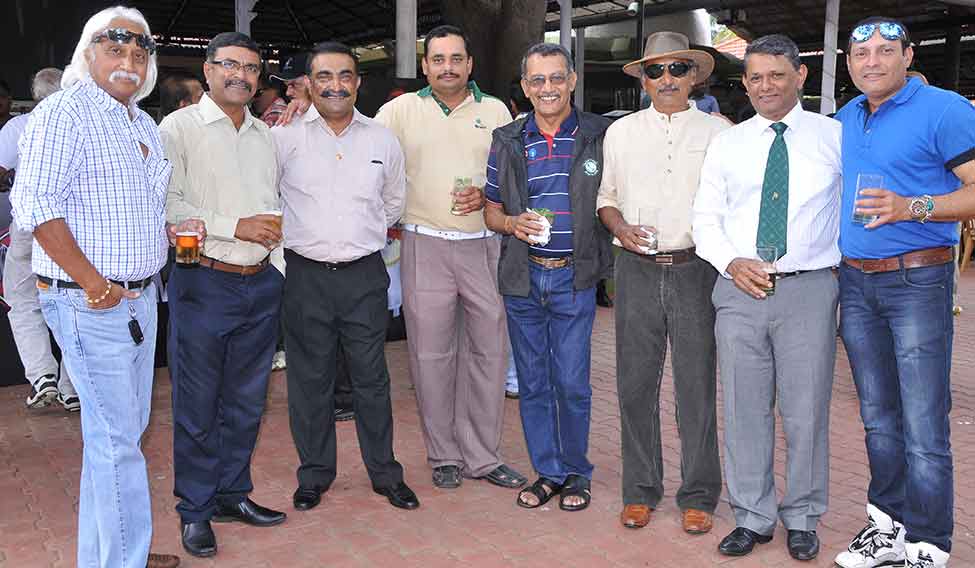 Thus, Fat Pat and his friends declared themselves as liquor addicts. And, in June 1949, the Addicts Golfing Society of Southern India was born.
The society, to date, has no club house of its own. The Madras Gymkhana Club is its nominated headquarters. Rumour has it that the founding members wrote the by-laws over thirst-quenching libations at this club.
They kept the rules simple. The primary objective was to gather in the name of golf and have fun—'all for fun, fun for all'.
And the tradition continues. The 19th hole always takes precedence over the 18. Even the person who scores the least points during our meets gets to celebrate. He, too, is given a trophy—a large wooden spoon.
A letter titled Mann ki baath by Colonel Elwin Fernandez, after a recent meet in Coorg, captures the spirit in all senses: "God! You gave me everything; give me one more thing, i.e. a grateful heart to give a big thanks to this Coorg Parivar.
"Perfect playing condition, that, too, in the most picturesque surroundings. Looks like a beautiful slice of Mother Earth. Scottish weather with that heavenly sprinkling of raindrops escorted by God-send mist was out of this world. That captivating beauty would tempt any philosophical to take time out from golf. At least that would work out to be an antidote for euphoria that some golfers experience in golf.
"That traditional Coorg dance joined by ladies in good numbers added uniqueness to the occasion like a Marassi party. After all, 'panni (pork) and thanni (liquor)' are your patented inventories. We did full justice to it before any ban kicks in in these domains!
"In short, you left us with dil mange more...."
It was unlikely that the founders had hopes of the society's continuance in India, with limited domestic following for golf at the time. The society, however, flourished. And, today, we have about 1,500 members representing most golf courses in south India.
During the society's grand golden jubilee celebration, held in Ooty in 1999, a BBC show hosted by popular presenter Chris Evans, covered its activities.
Like most golf clubs, the Addicts also has its own quirks. The captain of the society, for instance, traditionally takes up his office on a Sunday during the Chennai meet. And he launches his captaincy by striking a golf ball, perched on an up-ended matchbox, across the Adyar river. (Our respects to the victims of the recent floods, and cheers to Chennai's resilience.)
Another quirky tradition is one that leaves many with moist palms. It is customary for the captain to make at least a couple of golf jokes at each Addicts' meeting.
Here is an old gem published in A Short History of Addicts Golfing Society of Southern India by former captain K.R.N. Menon:
Two Scots, golfers and friends of many years, Jock and Tam, were at the nineteenth after nine holes of golf which was all their advancing years would permit.
Jock, who was a year older, said to his octogenarian friend that he was preparing to meet his Maker soon, and asked whether Tam would help with the last rites of his last journey.
After the presbyter had said his final words and the last sod was turned over his grave, would Tam pour some very expensive, matured Scotch, which Jock had saved for this purpose, over his coffin and grave?
To which request Tam, who secretly mourned this grave loss of good spirit, asked meekly: "Jock, sure I will do that, but do you mind if it passes through my kidneys first?"
Not that the society is just about fun. It has strived to promote golf in India. That includes sponsoring caddies to open championships in north India, organising coaching camps for youngsters, financial support to local golf clubs and donations for junior championships.
I can vouch for the fact that golf, at least in south India, might have suffered without support from the Addicts in the initial decades post independence.
And we are growing. Initially limited to Bengaluru and Chennai, Addicts meets are now held in Kodaikanal, Mysuru, Coimbatore, Ooty, Hyderabad, Coorg, Kochi and Thiruvananthapuram.
In recent years, an annual international meet also has been added to the society's calendar. Our members have enjoyed golfing in Dubai, Malaysia, Thailand, Indonesia, Cambodia, China, South Africa, the Czech Republic, Australia and Turkey.
Notably, some of our members have made it big in the national and international golfing fraternity—Dilip Thomas, board member of the International Golf Federation, chairman of Indian Golf Union and vice chairman of the Asia-Pacific Golf Confederation; Ishwar Achanta, advisory member and accredited rules official of The R&A's Rules Ltd, Scotland, and the Indian Golf Union; and Raian Irani, former captain of the Indian Golf Union.
I am certain that more Addicts will join this list soon. These are good times for golf. The Rio Olympics this year will feature golf, after 112 years.
These are good times for golf in India, too, with the likes of Anirban Lahiri 'putting' things in place. "Anirban, I am sure, will be a part of the Olympics and he will be great and hopefully he wins. That will be an explosion for all of India," Tiger Woods recently told the Indian press.
Here is another testimony. "India is the fastest growing golf market in the world," says Oliver Chip Brewer, president and CEO of Callaway Golf, the world's largest golf club manufacturer.
After all, India is home to the oldest golf club outside the British Isles—The Royal Calcutta Golf Club, set up in 1829.
It's time for me to tee off, and I shall do it humming the Addicts' song:
I'm a member of the Addicts,
and golf is my game,
I cannot chip and I cannot putt,
but I play it all the same.
I play not for the glory,
I play not for the cup,
I play for what's inside it,
I hope there'll be enough.
Easy does it, easy does it, easy does it.
Kurien was captain of Addicts Golfing Society of Southern India in 2014-15.