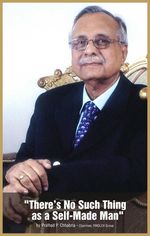 Pralhad P. Chhabria, founder and chairman of Finolex Group, began his career at age 12 as a cleaning boy in a small cloth shop in Karachi. Today, his company is one of the largest manufacturers of cables in India. The book charts his rise from a cleaning boy to a domestic servant, a collection agent, a trader in electrical accessories and a defence contractor. The lessons he has learnt along the way make it useful for aspiring entrepreneurs.
There's No Such Thing As a Self-Made Man
By Pralhad P. Chhabria
Published by Vishwakarma Publications
Pages 239; price Rs250.