It is a Mahabharat being fought over Lord Ram. And like many things in publishing, blame it on Chetan Bhagat.
The battle that started with Half Girlfriend has snowballed into an epic war. Literally. Last year, Flipkart had exclusive rights to sell Bhagat's book online. But Amazon decided to play spoilsport. Now, Flipkart has returned the favour with Amish's Scion of Ikshvaku, tearing asunder Amazon's two-month exclusive deal with Westland, the novel's publisher.
Legal merit apart—infringement of copyright and the IT Act—the question is: is it worth being exclusive? Or does playing the field work? So far, apart from Westland and Rupa Publications, the biggies have chosen not to be faithful. As Caroline Newbury, vice president, marketing and publicity at Random House India, says, "We want our books to be available across various channels."
The two publishing houses that chose to take the bold and untrodden path refused to comment, but the issue of exclusivity is a bit like the debate between choosing a crash diet and exercising to lose weight.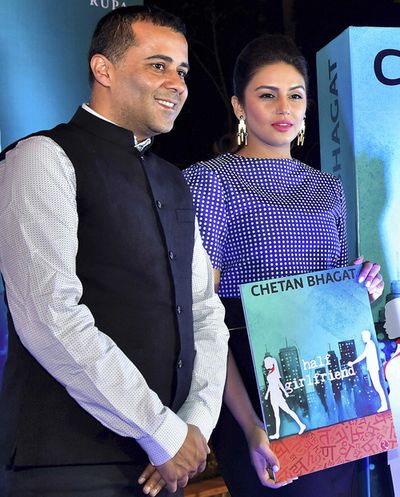 With e-commerce slowly overtaking the brick and mortar space, and bookshop chains collapsing, a tie-up is not without temptation. It ensures that the book gets ample publicity—front-page advertisements, television spots and hoardings across cities. Think Bhagat's Half Girlfriend plastered across papers at Rs1.25 crore. But more than the publicity, there is the advantage of guaranteed sales. Like the crash diet, it ensures drastic results and soon.
It is rumoured that Flipkart picked up five lakh copies of Bhagat's book. This, of course, ensured that the book was a super-hit even before it reached the store. President Pranab Mukherjee made a 'dramatic' entry with the first part of his memoirs in the market. Going a step ahead of Bhagat, the book was made available only with Amazon for the first 20 days. The traditional retailers were up in arms. Sales for the book, however, soared with Amazon reportedly picking up 35,000 copies registering another hit for Rupa.
As one publisher puts it: "E-commerce is a segment that is likely to grow. It is obvious that publishers will tie up with it. FMCG [fast-moving consumer goods] brands have. It doesn't mean that they ignore the kirana [local] stores. Ten years ago, it was chain stores, now it is portals."
Online sales may be the future, but they account for an estimated 45 per cent of book sales. The rest is traditional publishing. Last year, there was pressure from the portals to push publishers towards a commitment. The tie-up was a win-win situation for Rupa and Bhagat, but it is believed that Flipkart was left with more copies than it could handle. The president's book also had a similar track record. The first 5,000 copies went like a breeze. The rest was like a hot day in Delhi summer—still. There was also some backlash from traditional retailers, with many boycotting Rupa for a month to make a point. But, for Rupa, which started a trend of sorts innovating, the gamble did pay off.
This arrangement, however, is not for everyone. It makes sense for the big stars of the mass market in the book world, but for the rest, it is still best to be traditional and unfaithful. It certainly hasn't put off e-retailers from chasing publishers either. The sales for Amish, so far, have been incredible. And for Amazon and Flipkart, the battle has just begun.