His manager, who has become a good friend of mine, often tells me that this is Beckham's one red line: no commercial opportunity will interfere with picking up the kids from school.
David Beckham turned 40 on May 2. He flew out to the Amanjena resort in Morocco, where he and his wife, Victoria, renewed their vows in 2004. He paid for his friends to fly out, too, including Tom Cruise, Guy Ritchie and Gordon Ramsay.
To many people, Beckham is the personification of the celebrity culture. When the phenomenon is debated, its ironies discussed and its superficialities condemned, it is often Beckham and Victoria who are held up to be the high priest and priestess who set the bandwagon rolling.
I confess that I take a very different view, but I will come to that shortly. Let me start by telling you about the moment when I became interested in Beckham. It was the 1998 World Cup in France and he had been dropped for the opening match against Tunisia. Like most sports fans, I was surprised by the decision and wondered how the youngster would cope with it.
Only later did I discover, while helping to write his autobiography, that he had reacted by going out on to the small training ground at the England base and practising his free kicks for two hours in the scorching heat, while listening to Tupac on a beatbox. Needless to say, when he got his break to play in the third match against Colombia, which England had to win to qualify, he nailed a beautiful 25-yarder, announcing himself on the world stage. It was some feat.
I first interviewed Beckham in Paris in March 2013, the opening salvo in a series of meetings over the next six months. I turned up at his suite at the Bristol hotel near the Champs-Elysées with my wife. It was the only time she had ever expressed an interest in coming to an interview with a sportsman. He was wearing ripped jeans, a white T-shirt and a beige beanie, and the three-hour chat set the tone for the rest of our collaboration.
He spoke in short sentences, smiled at moments when I least expected him to, was never afraid to show his emotions, particularly when talking about his children, and was an assiduous host, regularly asking if we wanted more drinks. Indeed, he asked so often that I eventually acceded to another Diet Coke just to make him feel comfortable. He spent a lot of time rearranging the cushions, perhaps a consequence of his OCD.
He was also punctual. He arrived before me to every interview, even the one time when I got there half an hour early just to wind him up. It is difficult to exaggerate how unusual this is, particularly for a celebrity who has been described as the most recognisable on the planet. When I asked him about it, he found it odd that he should be expected to consider himself more important than the person who is interviewing him. "It would be disrespectful to treat people like that," he said.
We talked a lot about kids. My wife and I were thinking of having our second child at the time of the Paris interview (we now have two) and Beckham spent a good ten minutes persuading us to go for it. He showed us a video of Harper (who was about two then) walking in Victoria's heels, and talked about the challenges of fatherhood. His manager, who has become a good friend of mine, often tells me that this is Beckham's one red line: no commercial opportunity will interfere with picking up the kids from school.
His day-to-day life is admittedly bizarre. In China, so many people flocked to greet him at a provincial airport in 2013 that the local government had to arrange for a football stadium to be opened so he could wave to the fans. He once went for lunch with his mum at Pizza Express and 200 people were outside within ten minutes. At an event in Manchester, it seemed as if a thousand people materialised out of thin air at the very moment he arrived.
It was fascinating to observe the way people stared, pointed, asked for autographs and photos, pursued him through corridors and screamed. Beckham never escapes the bubble, something that he often combats by wearing caps that conceal part of his face. "It is surreal," he said. "But I can't complain because there are so many aspects of being famous that are a privilege."
What struck me most about Beckham was his work ethic. As an academy player at Manchester United, he would stay behind almost every day to do extra practice. I learnt that he had continued with this work ethic all the way to his final season with Paris Saint-Germain. "You never take your foot off the gas," he said with a rueful smile. Gary Neville, his friend and former teammate, put it pithily: "He is a machine. His appetite to win is nothing less than phenomenal."
And this brings me back to the notion of superficiality. Is this really an accusation that can be levelled at someone who grew up in modest circumstances in East London, son of a gas fitter and a hairdresser, and who excelled in the world's most competitive sport, not just for a few seasons, but for more than a decade? Can it be said of someone who endured sporting adversity and invariably demonstrated both resilience and resolve?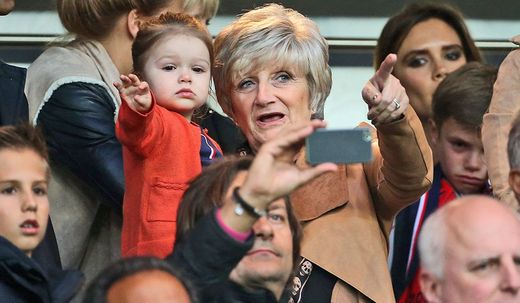 Perhaps the most savage experience occurred soon after scoring that free kick against Colombia in 1998. Beckham was selected for the knockout match against Argentina, but was sent off early in the second half. And England lost the match. He was vilified, burnt in effigy and booed every time he touched the ball the following season for United. Yet he turned in performances that propelled United to an unprecedented treble and earned him second place in the Fifa World Player of the Year. He never stopped practising or believing.
He learnt this work ethic from his parents. Ted, his father, still works long hours, despite not needing the money, while Sandra, his mother, is a whirlwind of energy. They both talked, in their different ways (they are now divorced), about their pride at what their son had achieved. But I had the impression that they were far more gratified by his diligence as a father. Ted and Sandra are well-known because their son made it in a high-profile sport, but it is the values they represent that are infinitely more important. "There is nothing more important than family," Sandra said. "Life is not about taking; it is about giving."
Today, Beckham is trying to discover a new meaning, post football. I doubt he will go into club management, although he is keen to get his football franchise in Miami up and running. He will also continue with his commitments to various charities. Yet, I would not be surprised if he attempts something countercultural in the coming years. He has always liked to subvert expectations. His willingness to do a cover shoot for a gay magazine, against the wishes of his management, was considered a watershed in sport.
Beckham is by no means perfect, of course. He has undoubtedly made mistakes (although certainly fewer than me) and occasionally struggles with the Truman Show nature of his life. But, on the whole, he is punctual, decent, hardworking and courteous. And, he is crazy about his children.
His only defect, and it is a grievous one, is that my wife still fancies him.