Dressed in black pants and sleeveless top, a very athletic, yet glamorous looking Serena Williams walks into a Hollywood cavernous photo studio all smiles. She is looking warm and fuzzy, too—not words usually associated with this tennis diva—carrying her little canine companion tucked under one arm. For a woman who captured the U.S. Open at age 17 and has gone on to break tennis records ever since, including three Olympic gold medals in women's doubles, Serena has dominated the courts with her signature grunts and colourful display of tennis garb.
"I like really bright colours because I think they brighten up any mood and can make me feel sexy," says the 5'9" powerhouse, who is now ranked #1 in the world of women's tennis. "They also empower me as a woman, especially sitting in a boardroom full of men." Williams likes to surprise her fans by revealing her feminine side, something seen rarely on the court. After all, she has relied on her uber-muscular body to get her to the ball in time with speed, agility, strength and discipline. At 33, when most female tennis players hang up their rackets, Serena is busier than ever—she won the French Open this year, her 20th Grand Slam singles title.
Off court, she has equity deals owning a piece of the Miami Dolphins, an American football team, and an investment in a sports gear company. And she has just signed up for the Master Class online programme, where for $90 you can receive video lessons and learning tools from the pro. Excerpts from an interview:
You might be the most powerful woman in sports today. What makes you feel feminine and what empowers you as a woman off the court?
Besides clothes? I think it is learning about the business side of life—that is very empowering. I think you are brought down to earth after being with a lot of men, so you are definitely the most feminine in the room. You feel you need to stand up for yourself and really make important decisions. So it does get empowering at the same time.
No one has dominated women's tennis over the last few decades as you have. How has your relationship with the sport evolved over the years?
It has changed a lot in terms of having a bigger, more special relationship with tennis, developing a greater love for it and just a different sort of appreciation. I think it has definitely changed for the better.
You have had health setbacks in the past. Have these experiences changed your life at all? Maybe it has a silver lining to it and you take better care of yourself.
Absolutely, I do. I am already into better nutrition. And I have learned the business aspect of my game. As an athlete, I know some products that athletes really need. I attended college taking business courses. I think the more you play or the more you are around different things, your mind has to go to another level. I know I won't be playing tennis forever.
What tips can you give readers on how to keep their bodies in top form and how to live a healthy lifestyle?
A good healthy diet is really important. Sugar is basically the devil even though it is so good. I love sugar, but I know it is not good. A lot of people say not to eat carbs but some are very healthy… they can help improve your brain function. So it would have to be complex carbs, and get them from vegetables and salad. Beans have become a really big staple for me whether it is red, kidney or black eyed peas… those are really important to me because they are both protein and carbohydrates.
Any food you have completely omitted over the years?
I don't eat red meat and haven't in over a decade.... And I don't drink coffee.
What are your guilty food pleasures?
Those chocolate covered peanut butter cups and licorice. Sometimes I will have fun with those things and do something crazy, but then again I don't think it is crazy... it is just normal and keeps me balanced. I think being crazy is saying no to everything.
Please finish this sentence: nothing is sweeter than….
Love. And I will leave it at that.
What do you think love gives you that nothing else does?
Companionship.
Some people say when you are in love, there is that endorphin rush and feeling young again. Do you feel that?
Yeah definitely. I am all like that. I am happy and maybe too much, you know what I mean. So I think I am to the extreme. But it is a really good feeling.
What or who inspires you on a daily basis?
I tend to think that Venus inspires me regularly.
You are over 30. Do you think your body can still stand the rigours of such stiff competition and practice that you do?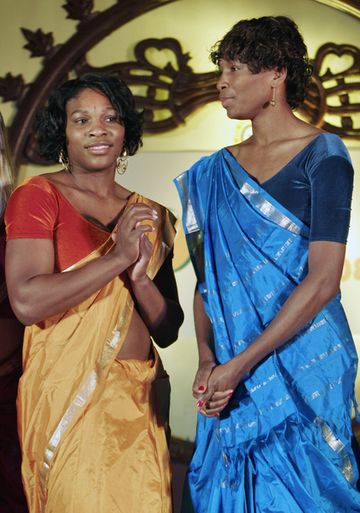 Yeah, I think so. I feel really young again. I was thinking about that the other day actually—when I was warming up and thinking, I don't feel too bad overall; this is really kind of cool.
In the field you are in, there is constant pressure and stress. What are some stress reduction tips that work for you?
Prayer is important, at least for me. Reading. I play some games on my iPhone. I read fiction… silly reads. And watching TV can shut your brain off sometimes and can be a stress reliever. I like to watch The Voice. I like reality TV.
What do you fear most in life?
I don't really fear. Or I try not to fear.
What can you not live without?
My Bible.
What do you never leave home without?
That cell phone.
What would you like to be remembered for most?
I do a lot of charities with a lot of schools in Africa and in the United States. I send girls to school who can't afford it, so I would like to be remembered for the work that I do to help people because I do a lot. I don't talk about it a lot because I want to do it for the pure love of it.
Much has been written about your diva antics and temper. What would you like the readers to know about you though?
I don't really care what they say. I think I am really funny and not really a diva. My whole thing about it is, life is too short to worry about what someone else says or thinks about you. So I don't really care.
Are you more an emotional person, angry person, sad person, happy person?
Definitely sad at times. I was trying to figure that out and I think maybe because I try to do too much. Lack of sleep maybe. I should probably get six to eight hours every night and I am only getting five to six at times.
What type of music is on your playlist?
Everything—from country to rock to hip hop to classical. I also like the 70s and 80s music. There is nothing I don't listen to, except Christian gospel music though.
How would you describe yourself?
Extremely caring, really, really funny and young.