"What I love the most about creating and displaying art in a marketplace is that it allows you to reach out to people of all kinds" - Gopal Namjoshi, artist
On a hot afternoon, Harriet Riddell, dressed in a pair of blue denims and a cotton kurta, gets off a taxi and enters South Delhi's busy Malviya Nagar market lugging a floral suitcase, folding table and chair. Spotting a shady place in front of a tailor's shop, Riddell opens the suitcase, takes out a sewing machine, an inverter and two batteries, and places them on the table. "One battery I charge while the other one is used to run the sewing machine," says Riddell, as she stitches the portrait of the tailor on a fabric, surrounded by a bunch of curious onlookers.
A London-based textile performing artist, Riddell has visited different bazaars in India, and sewn stories based on her interactions with people as part of the InStitchYou project. Her artworks were exhibited at the Indian High Commission in the UK recently.
It all started two years ago. After trying almost every other medium for creating an artwork, when Riddell was not satisfied, one of her fine arts teachers nudged her to take up sewing portraits. "So I started stitching portraits on fabric in the bazaars of London," she says. A quest to develop her own style, enhance her technique and experiment with more fabrics brought Riddell to India. "I have been fascinated by India since I was a little girl," she says. "For anyone looking for inspiration, the colourful Indian bazaars that are a melting pot of culture, tradition and emotions are the best place to capture a slice of life and find new inspiration."
At 29, Riddell is making waves internationally for her work and she has also self-published a book documenting her journey. Her visit to India was so fulfilling that she plans to return in November for InStitchYou 2.0. "With every artwork, you get close to your subject—the place," she says.
InStitchYou 2.0 would see Riddell collaborating with fashion designer Aneeth Arora and making illustrations of people wearing Pero—Arora's label—garments during the upcoming Amazon India Fashion Week.
According to artist Harsh Raman, the experience of creating an artwork in a marketplace and seeking inspiration from there is a unique one. For instance, once while painting a life-size portrait of a mother and a child on a wall in G.B. Road wholesale market, the red light area in New Delhi, Raman and three female artists from Germany were confronted by a mob of about 40 people and cops "as they thought I was a pimp, who was striking deals for international girls". It took a lot of explanation and persuasion to bring the situation under control. "After a few days, however, the same cops and locals became friendly to us, sat while we worked on the wall art and even gave suggestions to improve it," says Raman, whose love for creating artwork in markets has taken him to places across India, Vietnam, Cambodia and Bangkok.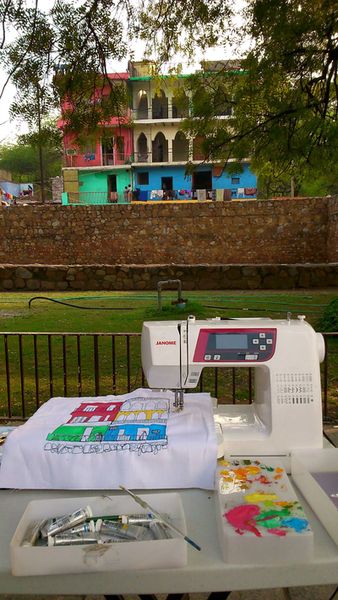 "What I love the most about creating and displaying art in a marketplace is that it allows you to reach out to people of all kinds," says artist Gopal Namjoshi, who makes sculptures out of scrap to spread the message of environment conservation. To highlight the bond between man and nature, the Jaipur-based muralist is currently displaying an installation at Delhi's upscale Select Citywalk shopping arcade showing a man relaxing under a tree surrounded by peacocks, deer and insects.
Most people hesitate to walk into art galleries as they fear they will not be able to understand art, especially modern and contemporary art, says Namjoshi. "Every time an artwork is placed in a marketplace, it busts the myth of art being the domain of the so-called intelligentsia and improves people's understanding of art."
Perhaps, that it is why, not just newcomers but established names in the world of art like sculptor Satish Gupta are showcasing their work at marketplaces.
Mumbai-based sculptor and painter Hemant Sonawane looks at it as a desperate attempt by budding artists to find fame and by established artists to stay ahead. "When you do something different you grab people's attention," he says.
Hundreds of fresh artists enter the Indian art market every year. So, in this highly competitive field, one needs to showcase one's work at a place that gets maximum and continuous footfall. "What could be better than a bazaar for that," says Namjoshi.
Corporate houses are making the most of the trend to advertise their products. To grab eyeballs, they rope in artists to create artworks that are in sync with the brand in marketplaces and malls. For instance, Sonawane created a sculpture of Bollywood actor Kareena Kapoor at South Delhi's Ambience Mall to promote the cosmetic brand Lakme. In the past, he has underlined brands like luxury hotel chain Leela. Likewise, Raman has created an artwork to underline Nestle's mother and child care products.
"Besides, with art galleries charging as much as Rs2 lakh for a week to display an artist's artworks, not everyone can afford it," says Sonawane. "In such cases, bazaars, which yield the same result in terms of grabbing people's and buyers' attention, come to your rescue."
While artists are known to work in isolation, how challenging is it to work amid constant public glare? "It is certainly not easy," says Raman. "While working in a studio, it is easier to zero in on the subject of the painting and one doesn't have to struggle to concentrate. In a marketplace, there are too many inspirations to choose from. Also, one has to tune the mind to ignore curious glares, questions and offers to be the subject, and focus only on the artwork. Overall, it is fun."
Artists working in bazaars have had to pay a price, too. "If there are avid fans who start following you wherever you go, there are also those who damage the displayed artwork by touching it or attempting to click selfies with it," says Namjoshi.