In Sea of Poppies I was exploring the nautical aspect of language. In River of Smoke I was exploring the business aspect. Here, I wanted to explore the erotic side of language
Amitav Ghosh is marooned in a sea of red. Two chairs, like two islands, sit across each other. A vase with off-white tulips is on the coffee table separating them. For a day or two, Ghosh will sit here, in the middle of a banquet hall at the Taj Mahal Hotel in Delhi, answering questions about his recently concluded Ibis trilogy. Flood of Fire―the third part of Ghosh's saga on India, China and the opium trade―has just come out. The book has two covers―the proof is white and copper with waves, and the real one is red and gold, which reminds one of Chinese silk fabric.
When Ghosh embarked on this voyage ten years ago, his children were teenagers. Now, they have jobs. "ten years," he says. "I think because it has been precisely ten years that I feel that they haven't gone away. Usually one feels that when you end the book. That it is over and they have gone away. But in this case one doesn't feel this postpartum [anxiety]. They are still all there for me."
His research for the thick books, epic in sweep as well as age, is staggering. He has discovered, expanded and recorded a new language. He has travelled through Southeast Asia and, for Sea of Poppies, he even learnt how to sail. "I was much younger then. I was able to do that kind of thing. When I realised that Sea of Poppies was going to be a nautical novel, I really did feel that I had to learn how to sail. It really taught me a lot of things. I didn't become a good sailor," he says with a laugh, and digs out a small paper packet from his pocket for his tea. He sprinkles some sugar in his tea, takes a sip and says: "Nautical dictionaries were the first books. That is something I wouldn't have understood if it wasn't [for sailing]. I realised that this whole technology of sailing was so wonderfully enmeshed with words. Words are so essential to sailing."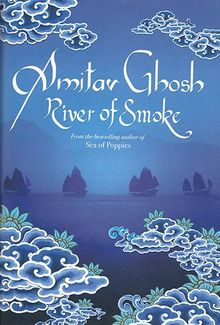 It has been a busy week for Ghosh, but he is unfailingly polite. The change in weather has gotten to him and he sniffs occasionally. The England stint before Delhi was "hectic", and the next three days are about the launch of one of the biggest books in the Penguin Random House stable.
Each time you point out anything flattering, he smiles, almost blushes and thanks you politely. Ask him about the elaborate love scenes and he smiles again. "In Sea of Poppies I was exploring the nautical aspect of language. In River of Smoke I was exploring the business aspect. Here, I wanted to explore the erotic side of language. I want to write these sensuous scenes without ever using an explicit word. To me, one of the great things of 19th century English is its wonderful use of euphemism," he says. And what about the elaborate subplot of Zachary longing for his lover? "I am not a prude. My other books have this kind of stuff," he says.
The first book of the trilogy was published in 2008 and Ghosh became an international star. He had always been a writer of note―he was atmospheric and blended history with fiction. The storytelling apart, Ghosh brought back into public memory the Girmityas, the opium trade and how it fuelled the growth of cities like Bombay and even Calcutta. He has made this period real, alive and relevant. The Indian troops who fought that war changed the history of China. The memory of the thriving futures market of opium, which he beautifully describes in Flood of Fire with tazi chittis and mandi chittis, seems to have disappeared. "It has no reality in memory. Where did it go?" he asks. "It is so astonishing. My character Kesri Singh is fictional. But there were those people who fought that war. Where did they go? How is it possible that we just forgot about them?"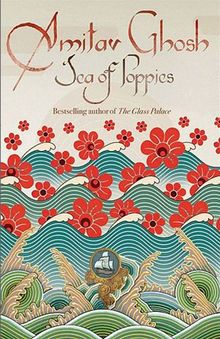 Ghosh is persistent and quiet, deliberately so. His is the kind of writing that seeps gently into your consciousness. It is a love that comes softly, and lasts an eternity. These are not books that dazzle, except in scope, size and scale, but are lit with wisdom, have generous dollops of history and are evocative, engaging and enlightening. His books are companions with personalities of their own. Over the years, they have charted their own course. "The books have really made lives of their own. I think that has been the most fulfilling [aspect]," he says with a smile. There was The Shadow Lines, which goes back and forth in time and was a reaction to the 1964 riots in Dhaka and Calcutta. It won the Sahitya Akademi award in 1988 and is now part of a Delhi University course. "It got a really warm welcome in India…. It didn't sell anything anywhere in the world. It has, over the years, done better and better," he says.
Then there was The Glass Palace, which won the national literature award in Myanmar two years ago; Hungry Tide, about dolphins in the Sundarbans; and then the Ibis trilogy. Ghosh learnt Judeo-Arabic for In an Antique Land, one of his earlier books. He is one of the few old-fashioned novelists who believe in being absorbed in the world that they recreate. He writes every day. "I don't see why people are surprised by that," he says.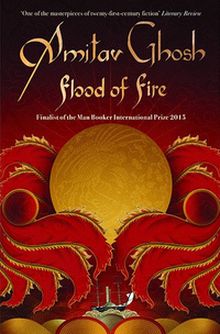 Conversation with Ghosh is easy. It flits between politics, journalism, food and China, which he has become acquainted with. His favourite dishes are starred in restaurants across the world. He loved a salad in Janet Deneefe's restaurant Casa Luna in Bali. In Goa, at the Burmese restaurant Bomra's, Ghosh's favourite food is again a starred item on the menu. He spends half the year in Goa, writing and cooking. "I grow all the ingredients in my backyard," he says. "It is one of my passions." The house, where he lives a secluded life, finds itself on the itinerary of those looking for some glamour in the state. "They are really surprised to find me in my lungi," he says with a laugh. But it is essential that he stays comfortable, for there is no rest. A series of lectures that he wrote will be published as a book in September. "The past never finishes. It reaches forward," he says. Straddling the past and the present, this graduate of history is a grab bag full of wonderful little details.
Flood of Fire
By Amitav Ghosh
Published by Penguin
Price Rs799; pages 616.