In filmmaking, the conventional approach to storytelling has largely relied on the use of visuals, often presented through a third-person perspective that can feel impersonal and detached. Filmmaker Binoy Karamen has defied those norms in his latest project, Blindfold.
An extraordinary film without any visuals, Blindfold follows the life of a visually challenged lottery seller in Kozhikode. The film showcases the world from a first-person perspective that transcends the limitations of traditional cinema.
Karamen, 34, says Blindfold uses the incredible power of sound to offer a breathtaking sensory experience that lets viewers immerse themselves in a world that is at once familiar and unfamiliar, and seen and unseen. "What the blind person, our protagonist, hears―and therefore the audience hear―creates the cinema," says Karamen. "So, it is like using your ears as the way to feel the world, and have a perspective about the world."
In 2017, during a visit to Tusharagiri waterfalls in Kerala, Karamen met a tribal man who had lost sight because of cataract. This chance interaction and an old 'virtual barber shop' video―that employed binaural sounds to give the feel of a real haircut―formed the conceptual framework for the film in Karamen's mind.
As part of his research, he met many visually challenged lottery sellers, who shared with him the hurdles they face, including robbery attempts and difficulty travelling long distances without assistance. "The experience of a person who had the vision and loses it later, and the experience of a person who was born blind are different," he says.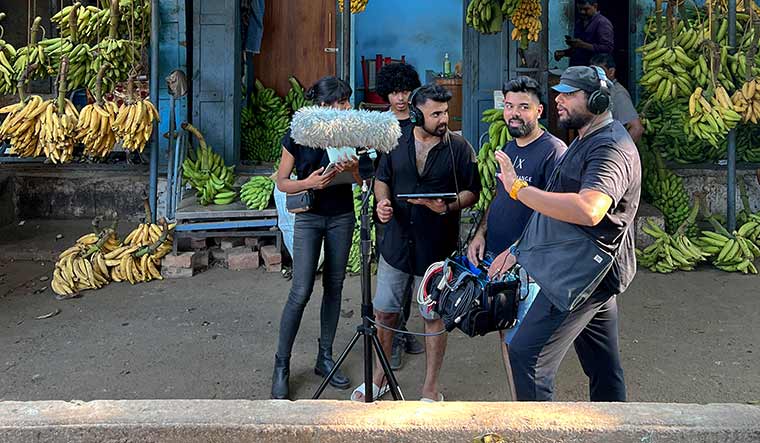 These stories are set to be incorporated into the narrative of Blindfold, which Karamen envisages as a thrilling crime story where a blind person becomes the prime witness in a murder case. To bring the cinematic world to life, Karamen and his crew members blindfolded themselves at a beach to gain a deeper understanding of the world they wanted to explore. "Within a few minutes, you will lose the sense of direction and coordinates," he says.
Karamen expects the film to open a new world of imagination for viewers, who can experience the Dolby Atmos audio technology with their "eyes wide shut". "Each person's experience of Blindfold will be unique," he says. "Like if one person is imagining the protagonist wearing a red shirt, another person may be imagining him in a blue shirt."
Why Dolby Atmos? "When we watched Avatar, we put 3D glasses, right? Our movie doesn't have visuals. So why don't we put a blindfold and experience it, because this is an experience to take the audience to a blind person's world for 50 minutes."
The sound design for movies involves dealing with three kinds of audio layers: the layers that set the ambience, the layers providing effects, and the layers of dialogues. Karamen designed Blindfold the same way. "However, one difference is we need to be more descriptive since we do not have visuals," he says. "For instance, if you want to communicate that something is happening in the afternoon, we cannot just show a clock, but have to bring it into the dialogue."
Karamen, who is an expert in digital filmmaking, photography, designing and music production, says the absence of visuals created an additional challenge on "placement". "Since we do not have visuals, we needed to create every element out of our imagination, and [convey them using sound]. For instance, if you want to convey the idea that your character is sitting, and in his right hand there is a glass of water and he is drinking it, that sound must come from the right side. That placement is difficult, and it takes a lot of time to create just one scene," he says.
For this reason, most scenes in the film were created with 85 to 100 audio layers to ensure the right ambience and effects while the characters deliver their lines. Ajil Kurian and Krishnan Unni handle the crucial sync sound and sound design departments for the film. Karamen's own production company Intellectual Monkey, is producing it, from a script by Surya Gayathri.
Along with Blindfold, Karamen is planning to showcase a documentary―with visuals―to give more context to the audience, especially about visually challenged lottery sellers in Kerala. The film's post-production work is progressing fast, and it will be released in Malayalam, Hindi, Tamil and English.
"We hope to reach the global audience with this concept," says Karamen. "We are expecting [to exhibit it] at all the major international festivals this year."