Vishwa Hindu Parishad has ordered that Muslims, Christians and members of other minorities cannot participate in garbas unless they bow down before the goddess, apply vermilion on their foreheads and let gangajal be sprinkled on them.
As the nine-day festival of Navratri is celebrated across Gujarat, men and women, both young and old, throng garba venues and housing societies to perform or watch the devotional dance form. Asif Saiyed, a 22-year-old fabricator, is in great demand and gets several orders to make permanent structures used during these festivals. But he won't be participating in a garba this year as the saffron outfit Vishwa Hindu Parishad has ordered that Muslims, Christians and members of other minorities cannot do so unless they bow down before the goddess, apply vermilion on their foreheads and let gangajal, or water from the river Ganga, to be sprinkled on them.
It is significant that this is happening in the state of Prime Minister Narendra Modi, the poster boy for inclusive growth and development for all. Gujarat VHP general secretary Ranchhod Bharwad says that the prime minister talks at a different level and the VHP is talking about hindutva. Although the VHP had issued a similar diktat last year, it did not have much impact. This year, too, the people seem united in opposing it despite several garba organisers denying entry to Muslims and Christians.
Fabricator Abdul Salam, 33, says, "Your mataji (goddess) and our mosque are the same. It is wrong to prevent people from other communities from watching the festival. But I'm scared to attend the garba because the VHP has said we are not allowed."
People like Saiyed and Salam might not go to watch the garba but they are instrumental in making it happen. Take Abdul Qureshi, 42, from Jamalpur in Ahmedabad; he is one of the most sought-after florists during Hindu festivals like Navratri, Diwali and Ganesh Chaturthi. His family has been in the business for four generations.
"It is such a good feeling when one of our garlands is used on a sacred idol," he says. The VHP's order has had no impact on his business and he works overtime during the festivals. He, however, is scared to attend a garba. "Women in our families would love to take part but we stick to watching the performances from a distance. This was not the case during my grandfather's time when all of us used to attend garbas."
There are some from the minorities, like Divya Alex, a class XI student from Ahmedabad, who simply ignore the VHP's order. She and her sister have been attending garbas for more than five years. Even though she does not subscribe to idol worship, she respects the Hindu religion and says the garba is important to generate a feeling of harmony and togetherness. "My friends and I do it together," she says. "It is not about the religion. Religion is something that should be confined within the four walls of your home."
Rajesh Parikh, one of the organisers of the Maa Shakti Garba, at which more than 30,000 people can be seen dancing together, says they allow people of all religions to take part. According to him, the VHP hasn't bothered them in the past and any form of interference won't be tolerated. "What is the harm in allowing people of other faiths to perform the garba when they come with respect for our religion?" he asks.
Another garba organiser asks whether a person can be converted by sprinkling gangajal on him. "The VHP is just trying to get some mileage out of the issue," he says.
Many organisers like him are letting Muslim artistes perform at their venues. Shakir Mirasi, 38, and his guru Ilyasbhai have been playing the tabla at these festivals for years. "These diktats do not affect us," he says. "For us, the garba is the same as the qawwali. It is all about presenting our art."
Parikh points out that the unity of Hindus and Muslims dates back to the pre-independence era. "They are dependent on each other," he says. "Even during a Hindu wedding, Muslims are involved in various aspects of the wedding—from drawing the mehendi to dressing the bride."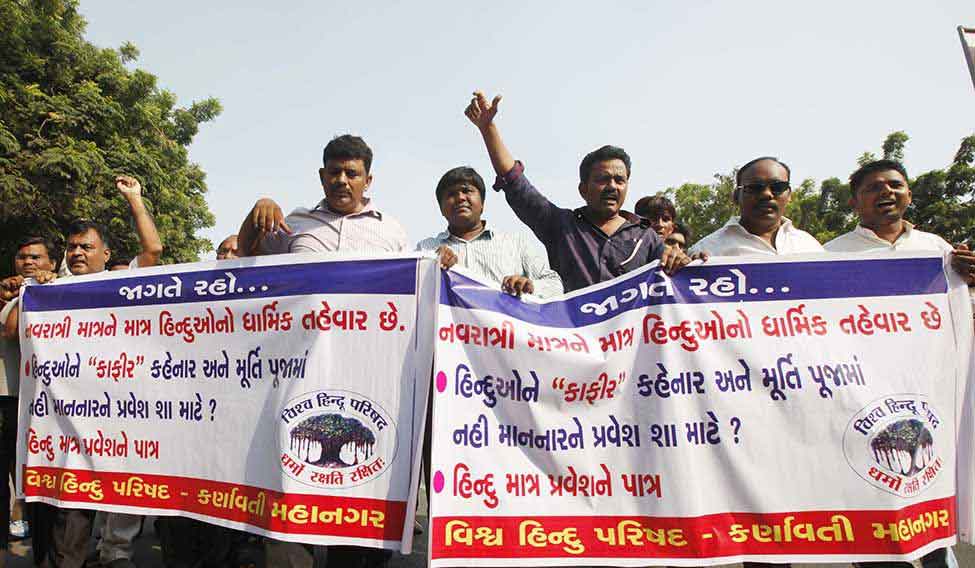 Father Cedric Prakash, director of Prashant, a human rights organisation, says that India's strength for many centuries has been its inclusive character and the VHP is trying to destroy this. The Navratri festival is also about bonding and togetherness, he says. He cites the example of St Xavier's High School, Loyola Hall, one of the most sought-after schools in Ahmedabad, which has been holding a garba during Navratri for many years now. Teachers and students from all faiths participate.
"I don't think any Christian should object to people from other religions going to Mount Mary in Bengaluru just as the Dargah of Ajmer is not a Muslim's monopoly," he says.